Sam Boyd Stadium
Las Vegas

,

NV
Las Vegas
Monster Energy AMA Supercross Championship
Hello, everyone, and welcome to the Rev Up. We're set for what could be the most exciting night of SX racing we've ever experienced as the 2013 Monster Energy Supercross series concludes in fabulous Las Vegas. The heavy timber has already been captured by Ryan Villopoto, as the newest three-time champion raced to win an epic main event (his 9th) in Salt Lake City. That's all well and good, but we still have two crowns to be fitted, plus an additional dust up for major bragging rights and cash in the East/West Shootout. That's right, the packed house inside Sam Boyd Stadium will own the privilege of watching four main events in wrapping up this record setting SX series! Las Vegas hosts some the biggest sporting events in the world, and when I look at the Kawasaki Track Map I think this weekend will be one we'll remember for a very long time. The huge, fast, whoop-filled animal is a worthy battle ground for all of the unfinished business to come, and everyone has been anxiously awaiting this weekend since the checkered flag flew in Utah. This is the last time we'll get to scream for some SX until October and simply put, it is time to finish the game.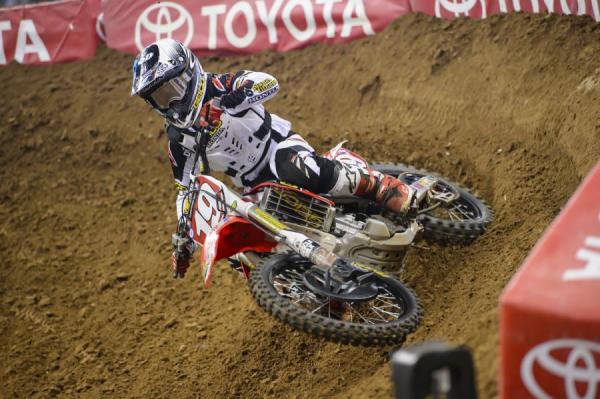 Wil Hahn holds a five-point lead heading into the final round.
Simon Cudby photo
250 East
My eyes widened as I looked at the schedule of events for this weekend. If the five points separating GEICO Honda's Wil Hahn and Red Bull KTM's Marvin Musquin didn't produce enough pressure, the time span between practice and their championship deciding main event damn sure will. There will be no heat races to further rider or machine prowess this time around. These guys are scheduled to conclude their final practice at 3:20 p.m., sit for almost four hours, then haul 5th gear ass into what will be a watered and very slippery championship deciding first turn. To that end, the whole track will be slick for the opening laps. It's debatable whether it's better to be the hunter or the hunted in this scenario. On Hahn's side, any racer would gladly take the five-point lead. All he has to do is place second if Marvin wins again. It gets sticky there because Rockstar Energy Racing's Blake Wharton has been fast and mega aggressive down the stretch. Go back to his narrow victory over Hahn in Houston, and those three extra points loom large. Those two shared a slam fest in Minneapolis, which should plant the notion in Wil's head that Blake will offer him no such favors. It's been a strong series for Wharton and had he made it around the last lap in Indy we would be looking at a three-way fight. Instead, Blake has one coming from Monster Energy/Pro Circuit Kawasaki fill-in rider, Tyler Bowers. Now that's something to worry about.
The focus is much more simple for Musquin. He just needs to go out and win the main event, and get someone between himself and the #19. That's a tall order in the injury devastated East division, but like I said, he is the hunter and he has nothing to lose and everything to gain. This one is going to be a nail bitter and personally speaking I hope Wilbur pulls it off because he has been through hell, and he was born in Kansas. Both are worthy and deserving champions.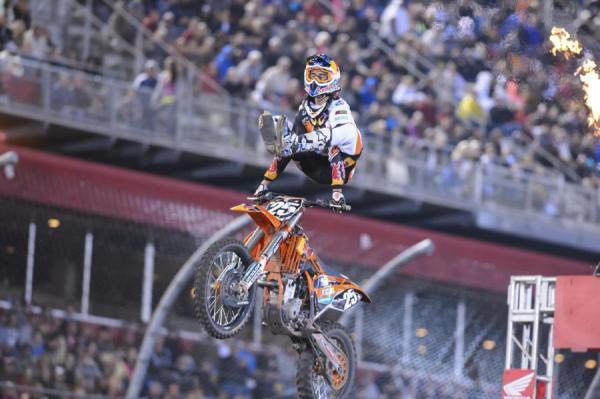 Musquin enters Vegas in a must-win situation.
Simon Cudby photo
250 West
Seven days will have passed since we witnessed two of the biggest meltdowns in modern SX history. The blunder by Red Bull KTM's Ken Roczen caught a lot of fans, and myself, by surprise. I had him pegged to be off to the races, so to speak. To his credit, he showed a level of professional fortitude after missing the main that all up and coming racers should download. Who knows if there are some dented lockers inside his KTM hauler, but when he had a microphone shoved in his face 30 seconds after the most anguishing moment of his life he did his interview like a man. It may be that very grit that he leans on to earn his first major championship on American soil.
As for GEICO Honda's Eli Tomac, I just don't know. He can crush it for a solid month then something goes haywire. Remember him carting huge in practice at RedBud a couple seasons ago? More recently, the yard sales at Oakland and Seattle are little reminders that he still has to shake the bail bug. He didn't crash in SLC, but it was in some ways worse. A sixth in that stacked field isn't anything to be ashamed about. Unless you're the defending champion, the racer many view as the next big thing, and a man trying to gain points on a nemesis that didn't even make the main event! Maybe he was hiding an injury, because he was flat all day. The big black #1 better remove the word flat from his vocabulary this weekend because he has to win if he wants to defend. Still, Eli is a beast. He was fast in this stadium back in October, and he should be ready to crack on this weekend.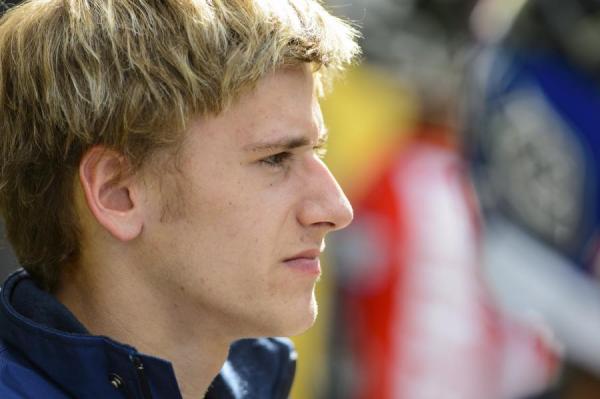 How will Roczen respond after a DNQ in Salt Lake City?
Simon Cudby photo
It is really, really crazy here because the entire top ten is fast. Rockstar Energy Racing's Jason Anderson got a popular win last time out and he'll be ready to do it again in the 250 West final, as well as the Shootout. There is a huge wave of momentum under that tent and Anderson has been lurking for a long time. The boy can scrub, too. Lucas Oil/ Troy Lee's Cole Seeley has been shut out in 2013 but has been pouring it on. The Troy Lee guys always do something cool for Vegas so I'm just as excited to see their bikes and gear. Then perhaps the racer with the most to salvage this weekend is Monster Energy/Pro Circuit Kawasaki's Martin Davalos. A feather in his cap may be that there are no heat races and maybe he can transfer that race winning speed directly to the main event. There are at least five other guys with podium speed, which will make this a smoldering championship situation. Wow.
Shootout
The first prelude to what we'll see this summer. Ten from the East, 10 from the West and only one rider will be able to put his index finger to his mouth guard in a "Shhhh," gesture. Will a newly crowned champion win it, or will one of the many winless lay it all on the table one last time in 2013 in an effort to taste victory? Which coast is stronger? If you look at the points, Wil and Marvin scored more than Eli and Kenny. Ladies and gentlemen, THIS is why we run the Shootout!
450SX
While the weekend will merely be a victory lap for the new heavyweight champion of the world, I wouldn't look for Ryan Villopoto to do anything different than win. He captured the big, big cheddar with the title bonus already, but what do you think he gets for winning a main event? $50,000? More? This is a 17, not a 16 round tour and the RV Park has another 20 laps to go on display. Speaking of $50,000, Steve Matthes reported/estimated Davi Millsap's runner up bonus to be close to that. Throw in another $25,000 (maybe?) main event win bonus and this year's bridesmaid can have himself a cherry weekend. He's probably going to get the knee cut after the race so expect him to leave it all out on the track. And there are two whoop sections this weekend. Ho, ho.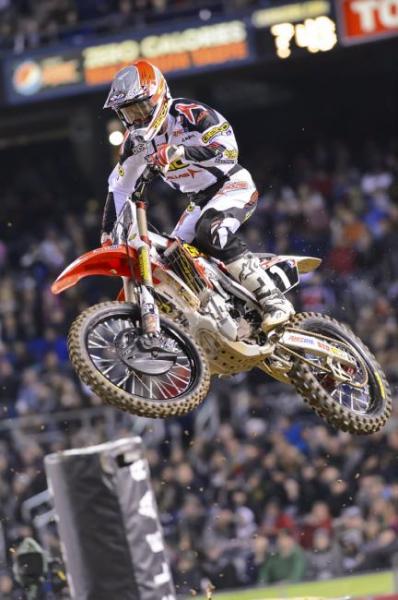 Tomac finds himself in a five-point hole entering Vegas.
Simon Cudby photo
Last time Red Bull KTM's Ryan Dungey visited this venue he was air-shifting his 450 and while fast, not having a lot of fun. A far more sharpened man and machine will push to the line this weekend with a little Las Vegas revenge on his mind. He's flying right now, getting good starts and I'm pretty sure Dungey's runner up bonus is larger than Millsaps'.
The Honda/Muscle Milk racers will be in the mix as they have all season, and as the defending Monster Energy Cup champion (held inside Sam Boyd), Justin Barcia would like to polish off his strong rookie effort with a third victory. The track looks like a set your hair on fire and hang on special, which is right in Bam Bam's wheelhouse. Let's all cheer for Trey Canard to complete his series with a strong and healthy flourish. The #41's comeback series had its rocky moments, but he almost got a win along the way to making it to Las Vegas fit for the last 20 laps.
As for Jake Weimer, Justin Brayton, Andrew Short, and the embattled Chad Reed, 2013 has been a season to forget. Weimer, Brayton and Reed were hit with injuries, and Short raced three different bikes. All have better seasons ahead, and this is their last chance to take it around before resetting the deck. What is so awesome looking at all of these names is that they all made it through the fire intact, for the most part. We still have one of the most competitive 450 fields ever at the final round, and like Salt Lake City proved, the adrenaline will flow by the gallons until the checkers wave on the final 20 laps of the series.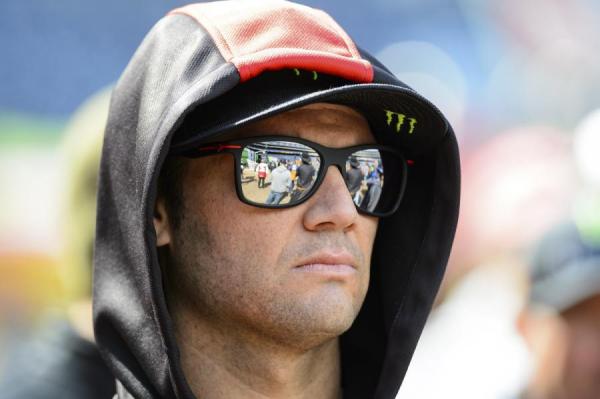 Chad Reed is seeking his first win of the season as the 2013 series draws to a close.
Simon Cudby photo
So, what do you think, folks? Are you ready for Las Vegas? Can you believe after the snapping and popping of fireworks and the pounding music of opening ceremonies, the first racing you will see will be for a championship? The next race? Another championship. That's just halfway. Closing out the series will be the hotly anticipated E/W Shootout and the final 450SX charge of 2013. Those attending are in for a banger, while the rest of us can prepare for one more dose of supercross live on SPEED.
In closing I want to offer my respect to all of the photo and print journalists involved with the SX series this year. From JT$'s fresh insight, to Matthes' in depth reporting, to Weege's real journalism pieces there has never been better coverage. Everyone killed it this year, including Donn Maeda's Kickstart, and Guy B's Vitalmx Pit Bits. Most importantly I want to thank SPEED Channel for more live coverage than we've ever seen. Ralph Shaheen, Jeff Emig, Ricky Carmichael and Erin Bates did a great job. I hope RC stays in the booth in 2014, but if he goes fishing, Kevin Windham will fill in well. It's never been better to be a fan, so let's get fired up for the last supercross of the year!
Thanks for reading, see you next week.