Sam Boyd Stadium
Las Vegas

,

NV
Las Vegas
Monster Energy AMA Supercross Championship
These days it's rare that people can agree on the definition of a privateer, but when it comes to Nebraska's (by way of Iowa) Cody Gilmore (@happY374), there is no question-he is as privateer as privateer gets. Staging out of the Team Gus pits, Gilmore finally made his first main of the year in Seattle when he transferred directly out of his heat. One week later in Salt Lake City, he made his second straight 450 main (the third of his career) by nabbing the final transfer spot in the LCQ. We thought that warranted some attention, so we gave "Happy" a call for this week's Privateer Profile.
Racer X: Two in a row!
Cody Gilmore: Yeah, it was good! It was awesome to make Seattle, and once I did that, I wanted to keep going and end the year out good. It started off slowly, but it's gotten better and I've been starting to ride better. The last few weekends before Seattle I was super close to making it. I got two or three tenths in a row in the heat races. In Salt Lake City I was in ninth in my heat race and with a little over a lap to go I went off the track in the whoops and got passed by a couple guys and didn't make it out of the heat race. I was bummed on that and knew that I had to get a really good start in the LCQ. With Chad Reed and Kyle Regal in there I knew it was going to be tough. But I got a good start and held my own, so it was pretty awesome.
You were on Chad Reed's tail for a bit there. Were you watching his lines?
I was just riding, but I did see he was doing a couple things differently. He was a little faster in the whoops than I was, and he was jumping the main rhythm section a little bit differently too, as well as the rhythm before the triple. So I saw he was doing some different things, but I just wanted to do what I felt comfortable with. I didn't want to change anything up and start following his lines when I knew mine weren't too bad. The few laps I was right behind him I wasn't really pushing any harder than I had all day, it just worked out. I didn't want to slow up at all after he passed me though because I knew third place was back there somewhere, and Regal started catching me in the last few laps. I just did what I knew I had to do. Just make it through the whoops clean every lap and I'd be fine.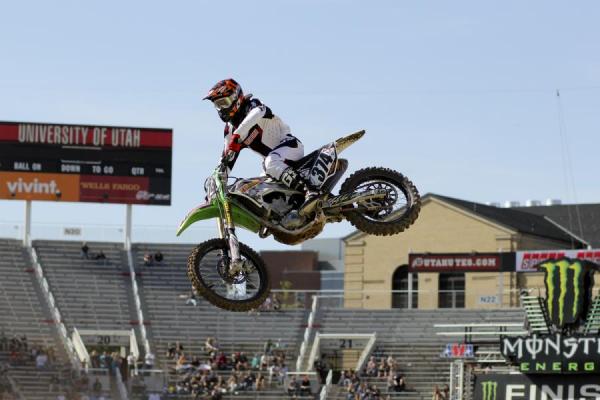 Gilmore made his second straight main last weekend in Salt Lake City.
Phil Melmer photo
You must have been pumped when you made it out of the LCQ. Is that harder than making it out of the heat?
Yeah, for sure it's tougher. In the heat race you might have a top guy or two fall down so you know you're going to have a couple fast people in the LCQ every weekend. In Minneapolis I had Stewart, this weekend Reed and Regal were in it and I think last weekend Tickle and Short were in it. You always have super-fast guys in the LCQ and if you don't get a good start on them it's really tough to do it. When I screwed up in the heat race this weekend I was bummed because I thought I had ruined it for myself; I knew I should be in the main. But I finally got a good start in the LCQ, and that was the first holeshot I've ever had in supercross before. It was the first time I've ever led anything in supercross before, so I definitely surprised myself with that. My starts have been terrible all year so I'm glad it worked out that way.
A lot of the people reading this may not know about your battle with cancer, and that the fact that you're even racing motorcycles is pretty amazing. Talk about that struggle.
In 2005 I was getting some gnarly back pains. I went to the hospital a few times, but except for some X-rays they didn't do much. I think they just thought I was getting hurt riding. Before I knew it, I started losing feeling in my legs. I was actually at Loretta's helping a friend out and I lost feeling in my legs. I went to a hospital there and they didn't really do anything. A day or two went by and I was numb from my bellybutton down. We went to a big hospital and before I knew it I was having emergency surgery on a tumor that was pressing against my spinal cord. That's what was causing the numbness and all that. So I had surgery, a year of chemo and a few months of radiation.
I started riding within a few months just to get back out there and have fun. I love riding. I couldn't feel my legs when I first started, so I definitely wasn't racing and my buddy had to start the bike for me and help me get on. I'd have to look down and make sure my foot was on the foot peg. I actually think that was some of the best physical therapy I had, and I think it helped improve my timing a little bit. I was going through physical therapy every day trying to learn where my feet were beneath me. It's a weird thing, and unless you've been through it you don't really know how it all works. But I did probably get back into it too early and ended up breaking my leg. That was kind of a bummer, but I was having fun (laughs). When you're going through all that you don't really care. You just want to do what you have to do and go have fun.
While you were going through all of that, did it even occur to you that in just a few years you'd be making 450SX mains?
Yes and no. I definitely wanted to and I never planned on not racing again. But I knew there was definitely a possibility I wouldn't be able to. So did I know that I'd be back making 450SX mains? No. Did I think that I'd be racing and trying to? Yeah.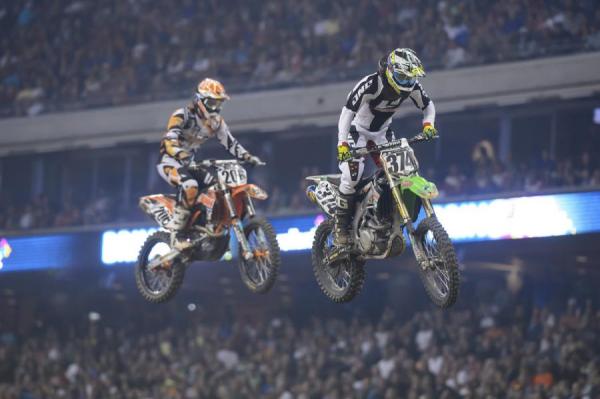 Gilmore (374) has fought back from cancer to continue his professional career.
Simon Cudby photo
Are you racing the Nationals?
I'm going to be doing few of them. I'm going to start in Colorado and see how that goes. I'm definitely not going to race the whole series, it costs a lot of money to do that as a privateer. But I'm definitely going to do a few races close to me here in Nebraska. I'll start in Colorado and probably do Millville, RedBud for sure and I'd like to do Southwick this year too. I've never been to Southwick before so I want to do that. We have some really cool sand tracks back here by the Missouri River that I practice on, so if I keep riding on those, Southwick could go pretty well. So that's what I'm shooting for right now.
What did we miss?
I just want to thank my mom and dad, family, friends and fans for all of the love and support. I also want to thank Waylon at Yankton Motorsports, Race Tech, Motosport.com, One Industries, MotoOption, Gusto, Utopia, Chrome Horse Choppers, Vertex, Hotcams, TiLube, Sunstar, MX Culture, Leatt, DT1, ICW, Motion Pro, Hammerhead, FMF, Dunlop, Ride Engineering and Galfer.