Sam Boyd Stadium
Las Vegas

,

NV
Las Vegas
Monster Energy AMA Supercross Championship
Practice had just ended at Salt Lake City and you'd never know that Monster Energy Kawasaki was on the verge of winning perhaps the biggest motorcycling championship in the world. Ryan Villopoto and Jake Weimer were watching some video and making fun of everyone and everything they saw. The mechanics were downstairs talking about the sport in general and team manager Dan Fahie was, as is his usual standard, up in the lounge with Kawasaki head honcho Reid Nordin reflecting on practice and how it went. The thought occurred to me that since replacing Mike Fisher as the factory Kawasaki team manager before the start of last season, Fahie was now going for his second supercross title in two years. That's a pretty good record and a credit to Dan and the quiet stewardship of the team. So with that, I hit record and tried to help all of you get to know Dan a little better.
Racer X: Dan, before we get into some of your background, how is the outdoor testing going?
Dan Fahie: It's going. We're starting to roll down the road. We're not finished by any means. I don't know if we'll ever be finished, but we are starting the process. It's going well.
Can you talk about the season as a whole so far?
The season was a big challenge for us. At the start of the year it didn't go the way we had hoped it was going to go. We had to do a lot of work to get out of that hole that we put ourselves in at the start of the year. Jake's not doing what we hoped and what he hopes; it's not just us. He knows. We're working as hard as we can to make it better, and really that's all there is to it.
Yourself, this year is your second year being a team manager. Is there pressure for you? You're stepping into a winning program with RV and everything else. What's your mantra?
It's a challenge for sure. I don't know if it's a challenge because of the winning program thing; it's a just a challenge in general, to be perfectly honest. You have guys like Reid [Nordin] and everything backing you up, it makes a big difference. I think it's a challenge and even if we weren't winning, it's still a challenge. We went through last year, outdoor season for example, we still had bike problems, we still had things we needed to fix, we still had things we needed to work on. Nothing really changed that way. There are more people watching us now with RV doing well, for example. But nonetheless for myself, for our company, for everybody on the team, it doesn't really change.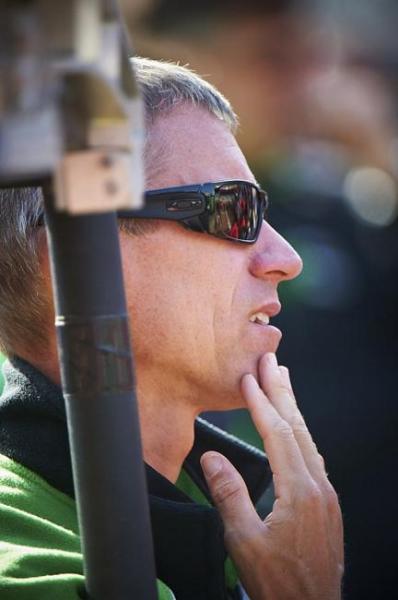 Fahie replaced Mike Fisher as the factory Kawasaki team manager before the start of last season.
Monster Energy Kawasaki photo

Earlier this year Ryan was struggling with his starts and some crashes, there was a new air fork on the bike, a new suspension company in Showa and some people were saying that was where the problem was. But in your eyes, what was the issue, if any?
I think it's a natural, evolutionary process. If Kawasaki shows up with a brand new bike tomorrow it's going to take us time to make it right. To make it so that it's tuned for these guys and these conditions. We changed to the air fork. It was a positive change for us. We noticed positive steps. We noticed real-time gains. And then we showed up and, like you said, there's no replacement for racing. We showed up at the races and we go, you know what, maybe it's not quite what we had hoped, and now we go back to work. So we went back to work. But I think that's natural. I think we would do that anyway. Do you know what I mean? It doesn't matter who and it doesn't matter what; changing tire manufacturers, whatever it is, any of that kind of stuff is a teething process and we're going to go through that. It's going to be an evolution of the product.
Early on in the season, Ryan's 27 points down. Did you kind of pinpoint suspension? Or was it hey, let's review everything?
Yes, everything.
So there was sort of a reassessment of, you're 27 points down, you're crashing, it's not where we want to be… What do we do?
We look at everything. We look at engine characteristics; we look at frame geometry… we look at everything. We look at suspension. There's nothing, no stone is left unturned.
And here we are, knock on wood, he looks like he's going to clinch it tonight or for sure next weekend. This upcoming title is very team oriented.
Absolutely. This is a real team and everyone's working at it, from the guys in Japan to the guys here, and even people outside the traditional team. There are other people in the company that help us a ton.
You yourself, you're a low-key guy. What's your background in the sport?
I'm like everybody else in this paddock. I ride dirt bikes. I've ridden dirt bikes. I love it. I rode motocross and then I went road racing myself. I wasn't very good but I did it. Then I started going to races, road races primarily because that's the last thing that I had done as a racer. And then I wanted to work in racing and I knew people in road racing so that's where I ended up. But I'm a big motocross guy, love motocross, love dirt bikes, and then this opportunity came up to be on the team. I was on the team and then this position became available.
We are behind the road race world with EFI mapping and GPS and all that. That's kind of up your alley. You've been doing that for a while. Is it exciting for you to see where we're going in the motocross end of things?
Yeah, for sure. And I think it's the same kind of thing that we mentioned earlier with the changes we made going into the year. This is a process of utilizing these kinds of tools. I think it's going to take time; I don't think it's going to happen overnight. It's just an ongoing process. I think we're going to look back four years from now and we're going to say, wow, how did we even function? But I think it's going to take that time to get to that point.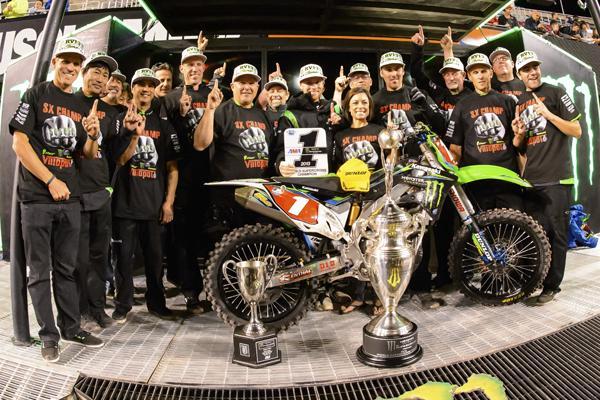 Fahie now has two 450SX titles in two years as team manager after Villopoto's win in SLC.
Simon Cudby photo
You've got a lot of different characters on the team, how do you deal with the human aspect of being the manager of eight, ten guys?
Well, it's been a challenge. It's not easy. Everybody here is very aggressive in this paddock. It's for sure a big challenge and a big learning curve because we do things differently here than what I'm used to.
What do you mean as far as that goes?
Motocross is different than road racing. Things are done differently than what I had done in the past. So it's been a big learning curve for me for sure. It's been a challenge.
What about road racing? How are we doing in road racing? Is it coming back?
You know as much about it as I do because I'm here just like you are. I don't go to the road races or anything so I don't really know. It's very sad because it was cool.
Yeah, at one time everybody was in it and it was thriving. Okay, just to clarify for everyone, you are from Canada.
Yes, I'm from Canada.
But you don't like hockey?
But I don't like hockey, never did. Like I said, rode dirt bikes and stuff. Thought since I'm not going to turn pro tomorrow maybe I'd better do it another way. So I went to school and got an engineering degree.
But you don't like hockey. Okay, we're going to need to see your passport please.
(Laughs), Sorry Matthes but I just don't like it.