Sam Boyd Stadium
Las Vegas

,

NV
Las Vegas
Monster Energy AMA Supercross Championship
Setups, like times, are a-changin'. Bike setups can vary greatly throughout the paddock. Some riders like lots of torque yet some want a smoother power delivery. Some riders like incredibly stiff forks for the whoops (Stewart, Reed) yet some want softer forks for corner feel (Windham). Even with these tendencies, these riders will change their own approach greatly throughout a season, sometimes ending up far from where they started.
Testing is never-ending, with the goal being to improve both the race setting but also to provide feedback for future production models. With this testing, every part of the bike is run through the gamut. From different size fork tubes and shock shafts, different coatings on said pieces, different triple clamps, offset races, linkage variants, rim widths, subframe heights, footpeg locations, seat consistencies, shifter and rear brake lever lengths, etc. All of that testing and that's not even counting the motor! There are endless combinations to try and coordinate. It becomes an unorganized nightmare if you don't have your ducks in a row and have a plan of attack in place. I have been in situations where I tried ten different variables and then was lost as to what I had tried and liked, simply because we didn't keep a good enough log. I think at times riders will get lost in settings simply because they have too many options. I know that Honda will even test bolt thicknesses with the riders, hoping for a better "feel" from the bike. When I rode, I could barely feel when I had flat tires let alone if my seat bolt was 1/1000th thinner than the last session!  It's not a bad thing to have options, but it has to be managed correctly.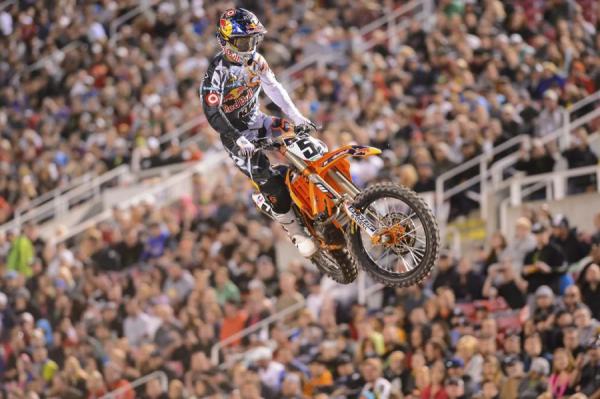 Dungey has benefited from bike changes made during the season.
Simon Cudby photo
Another aspect of this testing process is the mid-season evolution of the bike. The whole off-season is dedicated to finding race settings in order to be prepared for the coming year. Most riders have a fairly good idea of what they want coming into Anaheim but that can all change once they start racing. Different dirt, faster pace, and higher intensity can all change your mind on what you thought was the perfect setting. Many times riders will change their bikes throughout the season as they get faster and new parts come to fruition. Changing one new part can greatly affect the overall feel of the bike, as the motorcycle is a true equation, and the sum of its parts must equal what you are looking for. If you change one variable, the outcome is sure to be different. If done correctly however, it can lead to a better setup by years end. Ryan Dungey alluded to that after the Salt Lake City race. When Racer X talked to him after the race, he said, "Things have definitely gone up throughout the year, and we were able to make some good bike changes this year and the whole thing has been working really well, especially since Indianapolis, mid-season. I'm a lot more comfortable hanging with that pace, and fighting for these wins." Being able to push the envelope is key to success for these guys and it's clear that Dungey is more capable with his current setup versus what he started the year with.
Bike development is an ongoing process. From air cooled bikes to mono shocks, progress is inevitable. These changes are partly due to engineer innovation and partly due to riders broadening the horizons for what is required from their motorcycles. Manufacturers are always looking at ways to improve their product, both from a reliability standpoint and pure performance. Finding what works in race situations is just one cog in the wheel but it can give invaluable information when it comes to making a better product in the future. When it comes down to it, racers are only concerned with what will make them go faster on race day, but the amazing motorcycles we all get to ride in this day and age are an awesome by-product. So when you hear about Mike Alessi's "new technology" or Dungey's air shock, just smile and know that a better bike is coming your way eventually.