Rice-eccles Stadium
Salt Lake City

,

UT
Salt Lake City
Monster Energy AMA Supercross Championship
The 450 main event featured an incredible display of heart and determination from all three podium finishers. Second-place Davi Millsaps and third-place Ryan Dungey applied all the pressure they possibly could on Ryan Villopoto, and all three were truly gassed when the race was over. Racing at altitude, and with that level of intensity, makes a difference. "I think all of our heart rates were pretty much maxed out," said Villopoto. "I had nothing left at the end of that one," said Millsaps.

It was an interesting contrast in styles and builds for Millsaps and Villopoto. The bigger, taller Millsaps seemed to have an advantage in the whoops, where he was absolutely sending it and making up big ground early. Villopoto said he knew Davi was coming, and he was able to inch his speed up through the whoops little by little lap by lap to try to reduce the damage. But in contrast to the whoops, Villopoto was quicker through a few corners, and the bigger Millsaps admitted he struggled in some of the tighter sections.
Ryan Dungey also said the intensity was super high, and he says his bike setups made great strides in the second half of the season. He said he wouldn't have been able to push the pace that hard earlier in the year.

Fourth place finisher Trey Canard also had a great race, finishing a solid fourth. He wasn't quite on the pace of the lead trio, who were all motivated by title implications, but he was happy with his night overall. Canard also mentioned that he was tired at the end of the race—again, the altitude and pace had an impact.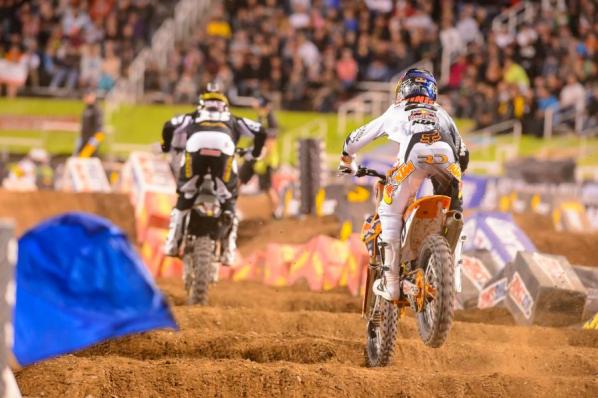 The whoops were exceptionally tough in SLC.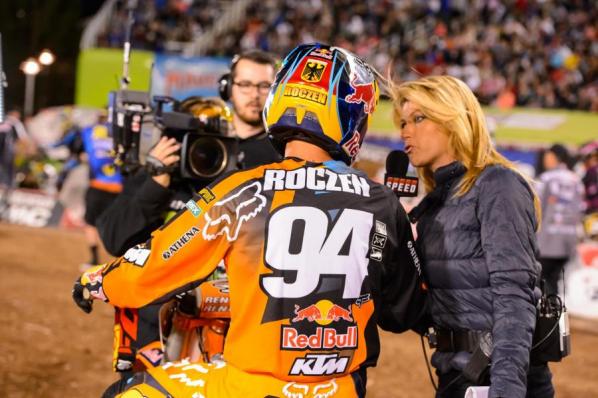 K Roc didn't make any excuses. He pulled off the heat race and it cost him in the LCQ.
Cudby photo
Chad Reed's night was pretty much horrible all around. He was moving through the pack in his heat race when he appeared to get a rock stuck in his rear brake lever. He went to the mechanics' area for a fix and then went back out a lap down and basically last, and then he still had brake problems and pulled off. Into LCQ he went, where he snaked into second after a few turns, passed Cody Gilmore for the lead, and took the win. In the main event, he was down in a first turn pileup along with Jake Weimer. Reed ended up tenth in the main, but a lap down.

Did we mention how fast the leaders were going? The lapped up to eighth place.
The whoops were just super gnarly all day, but by the main events they were even worse since they were cupped and rutted out. In the 250s, especially, some riders had to resort to rolling or doubling the whoops instead of blitzing them. But even in the 450s, it was hard for any rider to nail the section consistently lap to lap.

No more talk about how cold weather at the SLC SX. It was sunny and in the 70s all day, probably the best weather at any race all season long.
Justin Brayton started well, was passed quickly in whoops by Millsaps, but rode well the rest of the night to take sixth.

Another great ride for Josh Hill, who put in a strong charge for seventh. Hill was in a battle with his teammate Broc Tickle at one point, but Tickle had a pretty big crash in a rhythm lane and ended up 11th. Hill also outdueled Andrew Short for the seventh-place spot. Hill still doesn't have anything dialed in yet once his SX-only contract ends after next weekend's Vegas race. "It was pretty good," said Hill. "I got a decent start in the Main and made a few quick passes to gain some spots. I got up into the top 10 early and that helped. After Lap 8, I got up to seventh and really tried to put a charge on (Justin) Brayton. I made two mistakes when my hands blew off the bars but recovered. I was able to settle into a really solid pace to score seventh."
As for Tickle, his crash set him back, but he picked his pace back up after getting lapped by Canard. "[I] got in behind (Trey) Canard and just started picking guys off that I had lost positions to earlier," he said. "I just got into a good rhythm following Canard and just kept clicking away laps. I think it helped that I was behind Trey. The officials were giving the blue flag for the slower traffic and we just kept motoring through the field. To come back from 16th or 17th like I did and get an 11th-place finish is cool. Just one little mistake and it cost me a ton of positions."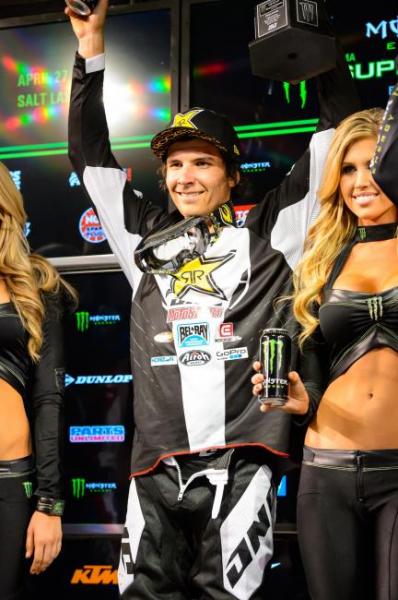 With a win under his belt this year, Anderson is ready to contend for a title in 2014.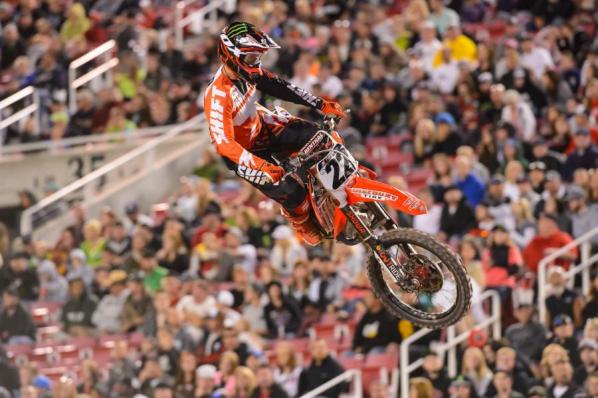 The last two weekends are ones Chad Reed would probably like to forget.
Cudby photos

Okay, so, the 250 craziness. Ken Roczen crashed in the first turn of his heat and then pulled off when he had reached around the 14th position. He probably wouldn't have made the top nine and qualified for the main, but a 14th would have given him a much better gate pick for the LCQ than a 20th. In an interview before the LCQ, he admitted he blew it and shouldn't have pulled off. That all bit him in a first-turn crash in the LCQ, which set him too far back to make the main. Credit to Roczen for not making excuses and putting the blame for the heat-race pull off on himself.

With Roczen out, Eli Tomac had a golden opportunity to get back in the title hunt. But he had a bad night all around, taking only tenth fastest in practice , crashing in the first turn of his heat, and then struggling huge in the whoops in the main. "I started the race second but just blew the race in the whoops," said Tomac in a team PR. "It was a section that just got me almost every time around. There were a couple of passes where I got through them ok, but there were others where I got wild and out of control. I was like, 'I can't completely throw this thing away. I just started doubling and hopping and skipping."

Credit to Tomac, again, for not making excuses, as when our Jordan Roberts asked him after the race if he was perhaps hurting from last week's Seattle crash, he said no, it was all on him tonight.

Malcolm Stewart one of his best all around nights this season, passing and beating eventual main event winner Jason Anderson for a heat race win, and then taking a solid fourth in the main event. Mookie was very fast through the very tough whoop section.

Cole Seely avenged a terrible Salt Lake SX from last year, where a crash ended his season and left him with internal injuries, by carding a solid second in the main. For a few laps, he was on Anderson's back wheel and pressing him, but Anderson was able to pull away.

Once again, Martin Davalos won a heat race but could not carry that to a main event victory. But his main event was solid though, with a third. "I know it sounds weird, but I'm over winning heat races," he said. Davalos said he got wheelspin over the gate in the main event, which set him back off the start.