Metrodome
Minneapolis

,

MN
Minneapolis
Monster Energy AMA Supercross Championship
Ryan Dungey's Saturday night win in Monster Energy Supercross was one of many in his career, and there will probably be many more to come. But this one will forever stick out, for he did in front of nearly 49,000 fellow Minnesota natives, and the cheers they produced were some of the loudest ever heard in this sport. On the podium after the race, fans still screaming his name, he gave us a few minutes for this Monday Conversation.
Racer X Online: Take us through it.
Ryan Dungey:
I guess starting off the day here in the hometown, it was good to be back here in Minneapolis for sure. This is where I definitely came and hoped one day I'd be in this position. It's sweet for sure. But at the beginning of the day, practice was awesome. We were able to get some good, fast times and get the first gate pick. Right away the bike felt comfortable. We made a couple changes after the first practice, and that was it. I knew we had the speed to win tonight, it was just going to be a matter of positioning ourselves. The heat race didn't go too bad; ended up second and then got off to a good start in the main. We made the passes happen really quick, thankfully. Got into second and then [Ryan] Villopoto was starting to open that gap like he does. I wanted to be there to capitalize on it. I worked really hard. I've been working hard in that area. We were able to put a good pace all the way through the whole race, and with two laps to go was able to make the pass. I saw the two laps to go and I thought to myself, this is going to be an all-out sprint. He's going to go for it. It doesn't matter how tired we are; it's going to be a dog fight. And it was. I pushed hard the whole way, and he did too. He rode a great race and congrats to him. But tonight's great. It's good to get a win. It's been a while. Anaheim [3] was the last time up on top of the box. It's good to see all the hard work and everything paying off. The bike setup's feeling good. I think we've kind of shown that we've been there each race, but to get a win tonight it was a good momentum booster.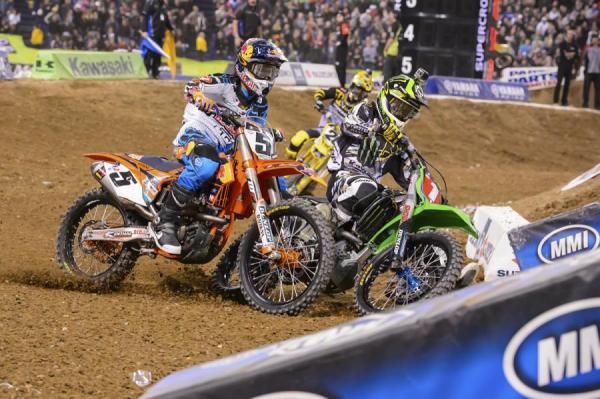 The Ryans produced an epic battle Saturday night in Minneapolis.
Simon Cudby photo
Where were you catching him?
We went down the start straight and I was banking off the berm and he was kind of sliding the inside. I was able to bank off the berm and still drive off it. I think I was able to go straight to the jump. I was rolling some corners in the inside and taking some insides on some other areas too that he wasn't. But that was about it. It wasn't really much time I was gaining; it was just a matter of not making a mistake, which I did after the finish one time. I hit a rock and I almost lost my front end. That could have been the end of it, but fortunately it wasn't.

The crowd was nuts. Talk about the crowd and also, that was a really long side-by-side race.
That's what it's about when it comes to races. If I was a fan watching I'd want it to be all 20 laps. And that's what it was. It's nice to run away with the victory and just kind of walk away, but ones you have to work for and have to really dig deep, those are more special too. But the crowd… Honestly I've never heard nothing like it, at least not in the sport of motocross. It was unbelievable. I even thought to myself, don't get lost in that; focus on the race. I could hear it in my helmet and it was just unbelievable. It's cool to have that support. Minnesota, I've met a lot of good people on the way growing up in local races. They're just all-around, true, hard-core into it fans. It's really amazing to have that support and to see everybody.

It was funny because you'd come across the start straight, hit that next rhythm over here, and you could just hear the fans. It was like following you guys down the straightaway.
Yeah! It was weird because I even came before the finish and it [the noise] kind of shut off and then I'd cross the finish and then it was back on again! I was like, what the heck's going on? It was an amazing feeling, for sure. It's good to get a win, but it's good to do it in the hometown. I'm not sure we're going to race in this stadium again, so we'll see.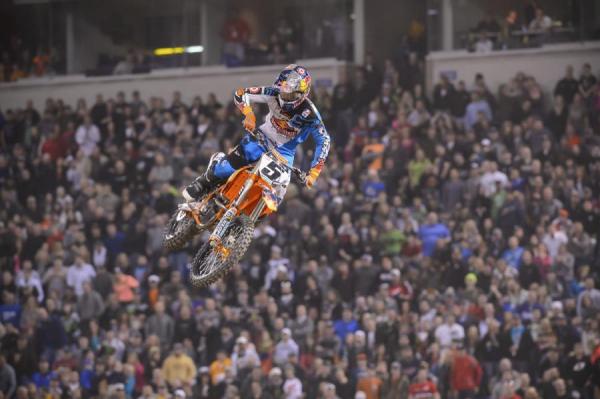 Dungey now trails Villopoto by 22 points.
Simon Cudby photo
You trying to keep a little pressure on in the championship too?
Absolutely. Why not? It's definitely important that we do that and take it one race at a time. We've got some catching up to do for sure. And Villopoto is a strong rider and he knows how to handle the pressure. But we need to do everything we can at this point and keep the pressure on. Anything can happen. It's not over until it's over. I'm just going to keep doing that.

You made two passes. You made a pass on that mound before the finish and then he got you back, and then you passed him by the whoops and the mechanics area and all that. Do you remember those passes? Can you take us through that?
I thought I passed him and that was it? I can't remember…wait, I do remember! I was able to make the pass but I knew he was going to run it up on the inside and that's when we kind of tangled. He took the inside from me and showed me his wheel. We had to double, triple, triple. And then under here, the next turn, I went inside and I tucked under and then at the end of the whoops I was able to make the pass.

Did you have spots picked out?
The one spot I really had picked out was at the end of the whoops. I could see him closing on there. But also going down the start straight. I went down the start straight and then I was banking and I'd close in. I was hoping to tuck under, and we would go down the rhythm lane and I'd have the inside upper advantage. But it didn't work out like that. We were able to make the pass elsewhere.