It is said that the Italians are a people that admire beauty. For this fourth FIM Grand Prix of 2013, there was plenty to catch the eye, and through the result of yet another double Red Bull KTM haul for the world champs Tony Cairoli and Jeffrey Herlings in MX1 and MX2 some notable statistics are being sculpted.
Arco di Trento was a typical Italian circuit: slightly inadequate in size, tight, hard-packed and polemic in taste and somewhat archaic. It was, however, quite simply one of the most amazingly set locations I've ever seen, being a short distance from Lake Garda and at the foot of an immense Dolomite mountain range with snowy peaks and vast scale. The small but packed spectator enclosures around pockets of the layout gave the track a busy and colourful burst. This was a bustling motocross event with expectation adhered to '222' and the champion duly delivered after a shaky Saturday when the Sicilian needed an afternoon to mentally figure out the varying grip across the sections.
"I'm always very happy to win in Italy and I really struggled yesterday," said Cairolli. "I knew I had to focus on making a good start and you can see what happened to other riders if that didn't happen. If you weren't away well then you weren't coming back."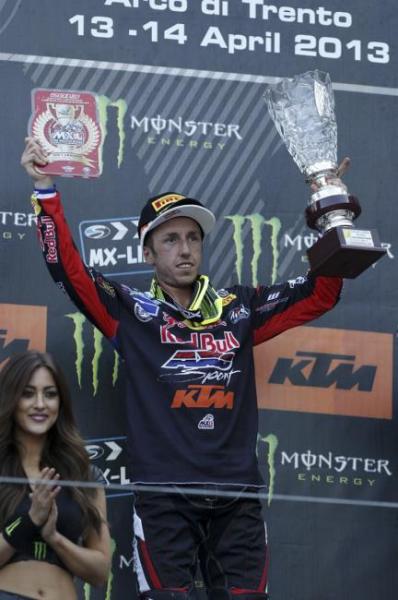 Cairoli now has 57 career wins after Italy.
Ray Archer / KTM Images photo
Cairoli nailed two holeshots and checked out. In the first moto Kawasaki's Gautier Paulin and a frustrated Rockstar Suzuki's Clement Desalle could barely keep up, while in the second Cairoli had teammate Ken de Dycker covering his back. It all led to his third win from four in 2013 and a total of 57 for his career, tying Joel Smets as the second most successful ever and leaving a gap of 44 to reach Stefan Everts. Tony is 27.
Herlings is eighteen years old and has now reached a quantity of 20 victories, begun when he was fifteen and stretching to the four in a row he has managed since 2013 kicked off. Herlings is unbeaten and even two foul-ups with his starts (a crash in the first moto and a gate nudge in the second) couldn't stop two fairly unopposed charges to the front. The Dutchman's lines and confidence is a league away from anything else in the class and sometimes you can almost tell that his body language calls out for a challenge from a Roczen, Searle, or Musquin. Teammate Jordi Tixier is closest and the Frenchman had a seven second lead at one stage in the opening MX2 chase before Herlings decided to find the next gear and simply go away. Top three positions were disputed between Monster Energy Yamaha duo Christophe Charlier and Dean Ferris, and perhaps Britain's Jake Nicholls would have been a contender for the bottom step eventually inhabited by Jose Butron for the second time this season if he hadn't have crashed out of third in the second moto and then suffered with an ailing engine.
Back in the premier category and a pile-up between David Philippaerts (still deprived of anything resembling good fortune), Tommy Searle and Clement Desalle on the second corner of the second moto prematurely ended the race before it had begun. With the likes of Xavier Boog, Rui Goncalves, Jonathan Barragan and Matiss Karro briefly following Cairoli and de Dycker it was an orange army at the front of the MX1 field on a weekend where being on a SX-F was a distinct advantage and honour it would seem.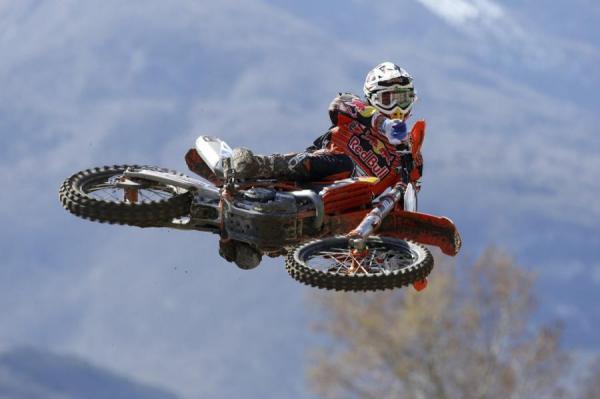 Ken de Dycker finished second in Italy.
Ray Archer / KTM Images photo
Honda's Max Nagl moved up into third for his best finish so far on the exotic works CRF while Paulin's progress -- as well as that of Rockstar Suzuki's Kevin Strijbos and Searle's to close to the top four -- was the focal point of the sprint in what were two fairly processional affairs. MX1 was dented by the absence of Evgeny Bobryshev (broken right fibula after a midweek accident) and both factory Yamaha's Steven Frossard (painful foot) and Joel Roelants (shoulder and light concussion) watched from pit lane.
Jimmy Decotis added a much needed American presence to the championship and felt the sizeable glare of the spotlight. A CLS Monster Energy Kawasaki Pro Circuit rider for the rest of 2013, he has been in Europe just over a week and will need more acclimatisation. He'll be the first to admit that there was not much to write home about with his debut at Arco (no points) but the team was encouraged by some flashes of promise through the weekend and the New Englander has time on his side. "It was alright," he said of the experience. "I struggled a lot with getting comfortable on the track and with arm-pump. I think my endurance is okay but the problem was getting pumped-up, and then a bit crazy after that. We'll put in some work this week. My pride is hurt but we will be back for another go next weekend."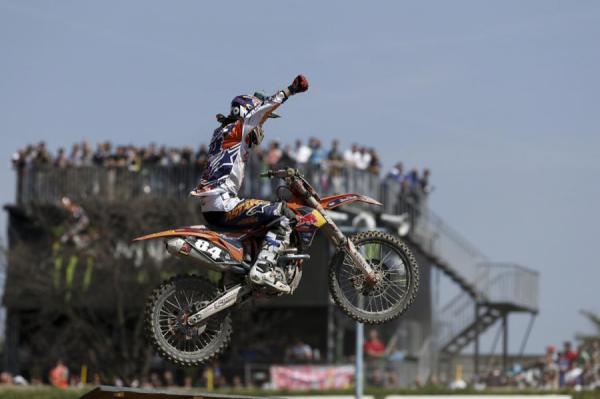 Herlings remains perfect in 2013.
Ray Archer / KTM Images photo
A healthy percentage of the crowd flooded the start straight afterwards to see Cairoli receive his latest honours although it is expected that the Italian Grand Prix at Maggiora in mid-June will be the Sicilian's defining hour. There are four rounds in between -- with Mexico cancelled due to organisational concerns by Youthstream concerning the current local group in Guadalajara -- and it is hard to see Cairoli or KTM for that matter being knocked away from the top of the box in that time.
MX1 Moto1
1. Antonio Cairoli (ITA, KTM), 40:31.783;
2. Gautier Paulin (FRA, Kawasaki), +0:03.045;
3. Clement Desalle (BEL, Suzuki), +0:04.537;
4. Ken de Dycker (BEL, KTM), +0:41.728;
5. Tommy Searle (GBR, Kawasaki), +0:46.724;
6. Kevin Strijbos (BEL, Suzuki), +0:50.663;
7. Jeremy van Horebeek (BEL, Kawasaki), +0:56.209;
8. Xavier Boog (FRA, KTM), +0:57.255;
9. Shaun Simpson (GBR, TM), +1:00.618;
10. Davide Guarneri (ITA, KTM), +1:22.412;
MX1 Moto2
1. Antonio Cairoli (ITA, KTM), 41:03.682;
2. Ken de Dycker (BEL, KTM), +0:06.931;
3. Maximilian Nagl (GER, Honda), +0:11.561;
4. Gautier Paulin (FRA, Kawasaki), +0:17.281;
5. Kevin Strijbos (BEL, Suzuki), +0:18.686;
6. Tommy Searle (GBR, Kawasaki), +0:31.259;
7. Xavier Boog (FRA, KTM), +0:32.388;
8. Clement Desalle (BEL, Suzuki), +0:33.570;
9. Jonathan Barragan (ESP, KTM), +0:41.915;
10. Jeremy van Horebeek (BEL, Kawasaki), +0:45.159;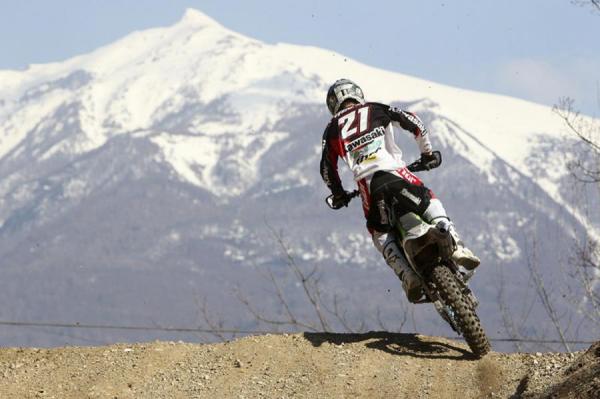 Paulin would round out the MX1 podium.
Pascal Haudiquert photo
MX1 Overall
1. Antonio Cairoli (ITA, KTM), 50 points;
2. Ken de Dycker (BEL, KTM), 40 p.;
3. Gautier Paulin (FRA, Kawasaki), 40 p.;
4. Clement Desalle (BEL, Suzuki), 33 p.;
5. Kevin Strijbos (BEL, Suzuki), 31 p.;
6. Tommy Searle (GBR, Kawasaki), 31 p.;
7. Maximilian Nagl (GER, Honda), 30 p.;
8. Xavier Boog (FRA, KTM), 27 p.;
9. Jeremy van Horebeek (BEL, Kawasaki), 25 p.;
10. Jonathan Barragan (ESP, KTM), 20 p.;
MX1 World Championship standings after 4 of 17 rounds
1. Antonio Cairoli (ITA, KTM), 192 points;
2. Ken de Dycker (BEL, KTM), 155 p.;
3. Clement Desalle (BEL, Suzuki), 149 p.;
4. Gautier Paulin (FRA, Kawasaki), 148 p.;
5. Kevin Strijbos (BEL, Suzuki), 120 p.;
6. Tommy Searle (GBR, Kawasaki), 118 p.;
7. Rui Goncalves (POR, KTM), 89 p.;
8. Evgeny Bobryshev (RUS, Honda), 87 p.;
9. Xavier Boog (FRA, KTM), 83 p.;
10. Maximilian Nagl (GER, Honda), 75 p.;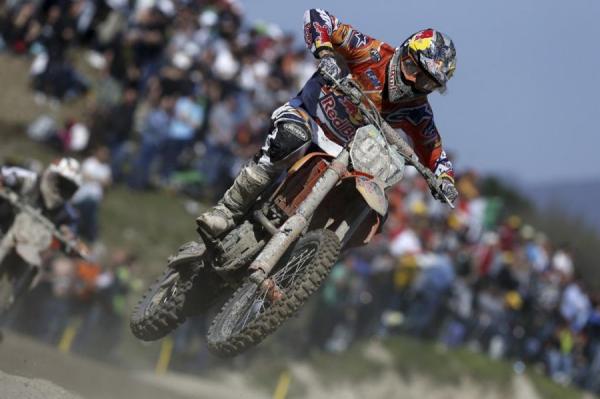 Jordi Tixier would finish second behind Herlings in MX2.
Ray Archer / KTM Images photo
MX2 Moto1
1. Jeffrey Herlings (NED, KTM), 41:00.398;
2. Jordi Tixier (FRA, KTM), +0:04.125;
3. Christophe Charlier (FRA, Yamaha), +0:06.682;
4. Jake Nicholls (GBR, KTM), +0:21.103;
5. Glenn Coldenhoff (NED, KTM), +0:40.822;
6. Jose Butron (ESP, KTM), +0:47.318;
7. Max Anstie (GBR, Suzuki), +0:55.638;
8. Dylan Ferrandis (FRA, Kawasaki), +0:58.686;
9. Petar Petrov (BUL, Yamaha), +1:02.578;
10. Mel Pocock (GBR, Yamaha), +1:04.552;
MX2 Moto2
1. Jeffrey Herlings (NED, KTM), 40:36.884;
2. Jose Butron (ESP, KTM), +0:31.262;
3. Dean Ferris (AUS, Yamaha), +0:37.339;
4. Jordi Tixier (FRA, KTM), +0:43.477;
5. Christophe Charlier (FRA, Yamaha), +0:47.672;
6. Glenn Coldenhoff (NED, KTM), +0:51.542;
7. Alessandro Lupino (ITA, Kawasaki), +0:52.025;
8. Dylan Ferrandis (FRA, Kawasaki), +1:22.992;
9. Max Anstie (GBR, Suzuki), +1:29.288;
10. Jeremy Seewer (SUI, Suzuki), +1:36.186;
MX2 Overall
1. Jeffrey Herlings (NED, KTM), 50 points;
2. Jordi Tixier (FRA, KTM), 40 p.;
3. Jose Butron (ESP, KTM), 37 p.;
4. Christophe Charlier (FRA, Yamaha), 36 p.;
5. Glenn Coldenhoff (NED, KTM), 31 p.;
6. Dylan Ferrandis (FRA, Kawasaki), 26 p.;
7. Max Anstie (GBR, Suzuki), 26 p.;
8. Dean Ferris (AUS, Yamaha), 20 p.;
9. Jeremy Seewer (SUI, Suzuki), 20 p.;
10. Alessandro Lupino (ITA, Kawasaki), 19 p.;
MX2 World Championship standings after 4 of 17 rounds
1. Jeffrey Herlings (NED, KTM), 200 points;
2. Jordi Tixier (FRA, KTM), 141 p.;
3. Glenn Coldenhoff (NED, KTM), 128 p.;
4. Jose Butron (ESP, KTM), 111 p.;
5. Christophe Charlier (FRA, Yamaha), 107 p.;
6. Romain Febvre (FRA, KTM), 98 p.;
7. Max Anstie (GBR, Suzuki), 98 p.;
8. Dean Ferris (AUS, Yamaha), 89 p.;
9. Jake Nicholls (GBR, KTM), 82 p.;
10. Mel Pocock (GBR, Yamaha), 77 p.;