Reliant Stadium
Houston

,

TX
Houston
Monster Energy AMA Supercross Championship
No one can confirm this, but concrete in Texas costs half of what it does in other states. How else to explain the massiveness of everything? The roads there are the asphalt equivalent of "eat all your food there are starving kids in China" because while many states struggle to even keep pot holes out of their biggest roads, Texas builds giant freeways and then flanks them with "access roads." There are so many extra roads that at one point, Siri told me to drive down North Freeway Drive to enter Freeway 45 South. She started shouting directions so forcefully that my travel partner, Racer X booth man and comment moderator (sucker) Jordan Roberts said, "Is she PMSing?"
In Texas, when two highways cross, simple exit and on-ramps aren't good enough, instead replaced by massive overpasses resembling amusement park rides. Texas barely has hills, but it has huge bridges, anyway. Some of these overpasses are built ridiculously high in the sky, just in case someone has to fit a 30-foot high tractor trailer underneath (perhaps carrying some concrete that they got a really good deal on).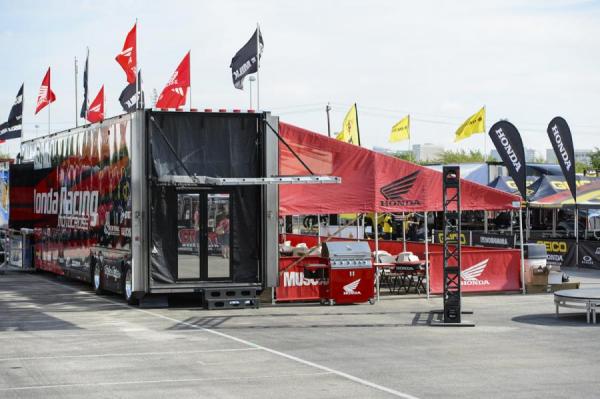 It's the weekend. Fire up the grill!
Cudby photo
I tell you this only to explain the massiveness of the complex that holds Reliant Stadium, the old Astrodome, and Reliant Arena. It's a big space, yet unlike most cities which stuff their cool new sports properties together (even Dallas Arlington has the NFL and MLB stadiums side-by-side), Houston has a big, beautiful baseball stadium on one side of town, and the football complex on the other. Space? They've got tons of it.
The SX pits are set up across the street from the stadium, which makes for a long hike over there. Forget factory suspension, the biggest difference between haves and have-nots at this race is having a kart to get to the track, and yes, I still say that even though the Houston whoops were huge.
But you have to visit these Houston pits. First, the weather is actually nice (did I not see pictures of snow in the Metrodome pits today?). Second, this is the supercross social club, and after everyone took a weekend off, it has been sorely missed.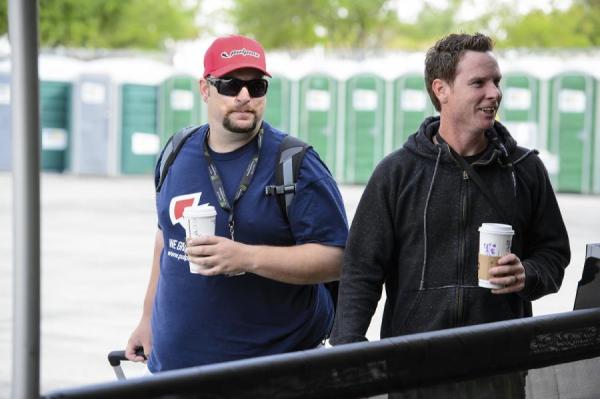 Look who is following whom.
Cudby photo
Houston does it one better with the annual Toyota Ride Day at Three Palms on Friday. Three Palms is an awesome complex, very Texas-like in the idea that it has not one, not two, not three…but seven tracks. There's also a BMX track next door, and some trails in the woods. The Toyota Ride Day is unique because while most of your friends in the industry are into moto (that's why they're working in the industry), you very rarely get to the do the thing that most moto friends do together. Go riding! This also means you have only one day a year to show you actually know how to ride. Let me say this from a personal level: setting up a second-gear-on-a-250F corner track in your backyard does not prepare you for a fourth-gear-on-a-450-sand-track. Texas. Everything is bigger.
Point is, this is one of the few times per year industry folks become just regular weekend warriors. Okay, there are bikes scattered about to ride for free, and I doubt any of us actually spent a dime on riding gear. And it's Friday. But it's as close as we can get. Also, props to Feld Motorsports honcho Todd Jendro, who usually owns everyone at this ride day (or, he has since Racer X's own Billy Urisc left the building). If you ever question, "What do the guys at Feld even know about this sport?" just watch Todd ride. He knows how to go fast.
Want some Texas uniqueness? I found it via this strange, secret Friday night party outside of town. There's a very wealthy Houston lawyer who loves moto and loves Roger DeCoster, so he invites Roger and some friends over to his house for dinner. Only, this is not a normal house or a normal dinner, just as The Man is not your normal house guest. I'm not even sure how I ended up there because the only moto people I even recognized were Roger, his sidekick Ian Harrison and Broc Glover. Otherwise, it's just Texas people, and I am neither a Texan nor a legend like Roger. But when you travel every weekend, this is the closest you're going to get to attending a Friday-night house party. Only, this one had a real bartender serving drinks.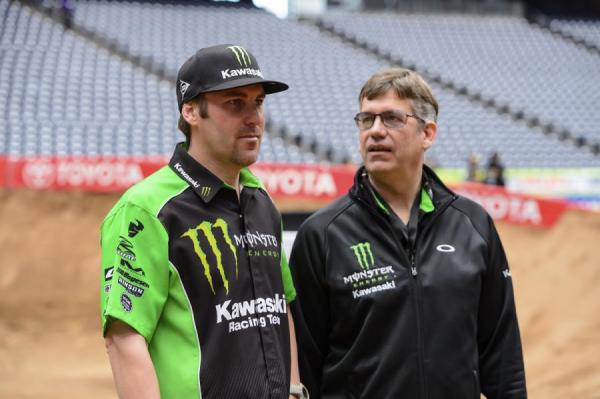 Everything is perfect on Villopoto's bike, and everything is perfect on this website. Just ask Williamson (left).
Cudby photo
Onto Saturday, and that asphalt and concrete fortress called Reliant Stadium. Yeah, Cowboys Stadium gets all the love (just ask anyone from Houston) but any building that A) has a press box on the eighth floor and B) dwarfs the Houston Astrodome, once called the Eighth Wonder of the World is nothing to sneeze at.
Walking the pits at a supercross is like walking the halls of high school (some riders will just have to trust me on this). The rigs are even set up like hallways, and, at certain times (between classes, between practices during the autograph sessions) they are just jammed. Houston presented a nice chance to catch up with folks, because the tour just finished its only weekend off. I'll give you an idea of what it's like to roam the hallways.
For years, I've implored privateer teams to do something unique to stand out from the crowd. I usually suggest something like holding public test sessions in the off-season to encourage lazy media folks like myself to get easy scoops. (Don't have sponsor logos dialed in yet? Run all black bikes, which would look all stealthy and cool and get people talking). I'm just a small voice in the sport, though, and no team listens.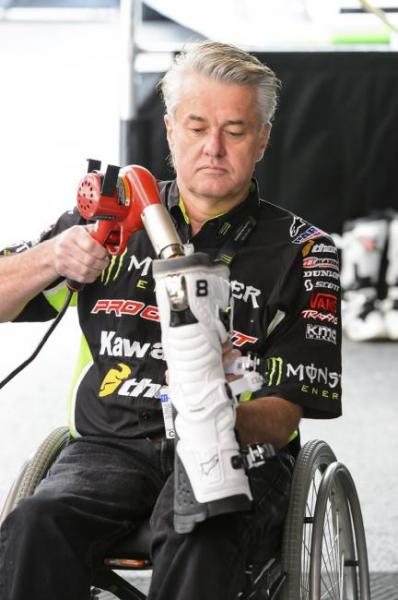 Mitch now ports boots.
Cudby photo
Credit to Alan Brown and his N-Fab TiLUBE Yamaha team, though. On a smaller scale, they followed my suggestion to go where the others ain't by actually catering lunch in their pits at 3 p.m. What's unique about lunch? Every other team hosts dinner in their pit at 5 or 6 p.m. Do you want industry people and (lazy, freeloading) journalists like myself to suddenly stop by? Be the only team in the pits with catered lunch. It worked, because their hospitality area was packed, and I spent 20 minutes chatting with Chris Blose and Phil Nicoletti (no one was able to talk to Bobby Kiniry, who was struggling in practice, and practicing his stare down technique. The whoops got easier as the day went on, and I think it's because Bobby just shot them a look and intimidated them into shrinking). Anyway, later in the night all three N-Fab TiLUBE riders made the main and everyone noticed because everyone had been hanging out eating tacos earlier.
Praise me for hanging with the privateers (when their teams feed me—Teddy Parks, one of these days I really will go get some Boston butt over at the Privateer Journey rig) but I also walk with an elitist bent. A day at the races isn't complete without a visit to the Monster Energy Kawasaki rig, but you better come with sharpened claws, because Ryan Villopoto and company attack with the same intensity utilized on the track. The second you show up, you will be insulted, so you need to fight back hard and fast, at which point the volume goes up, and soon everyone is screaming and yelling and making fun of each other. To witness this, you would not be sure if the team people actually hate the media or just get on our case the way guy friends often do. I have no idea, and you can multiply this five-fold if Matthes is there (if the volume dies down, the team folks can always make a weight or mechanic joke to liven it back up).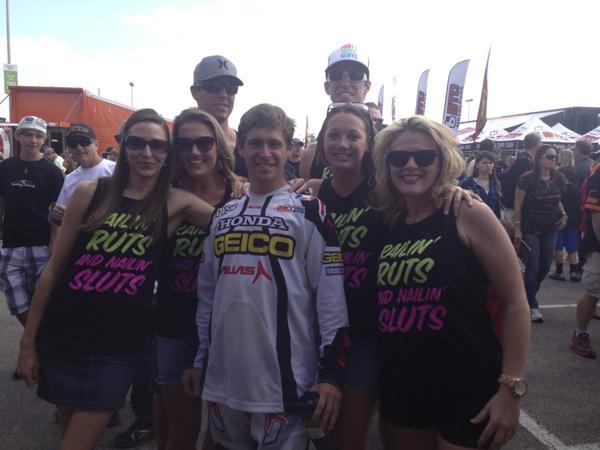 Four against one? Apparently, no one was taking those odds.
Weege photo
After about 20 minutes in that rig, the scene sounds more like a Comedy Central Roast than a professional pit area, but don't worry, the two-time and defending SX champ loves every second of it. The more you stir it, the more he likes it. Team does, too. This whole act started three years ago, and one time Matthes and I actually asked the old Team Manager Mike Fisher if all this fun was a problem. He said he encouraged it, because it loosened the team up during what would normally be tense times. Good enough for me. Meanwhile, let it be known that we are, to borrow a phrase, "shit media," and that may or may not be said seriously.
You leave the Kawi truck with a spring in your step, so I headed to GEICO Honda, because with the likes of Kevin Windham and Wil Hahn there, no moment will be dull. On this afternoon, a gang of girls donning "Railing Ruts and Nailing Sluts" t-shirts came by, and they asked Wil to pose with them. Or maybe Wil asked them? Either way, they were thrilled, and with the way Wilbur was railing the ruts on the soft Houston dirt I thought the full package was in the cards for him. To which every person over there including Windham, Wil's brother Tommy and team co-owner Jeff Majkrzak quickly countered with, "He'd have no idea what to do with any of that." I enjoyed how they all said it as if it were hypothetical, too, as if Wil never really had a shot, which, I guess, is their point.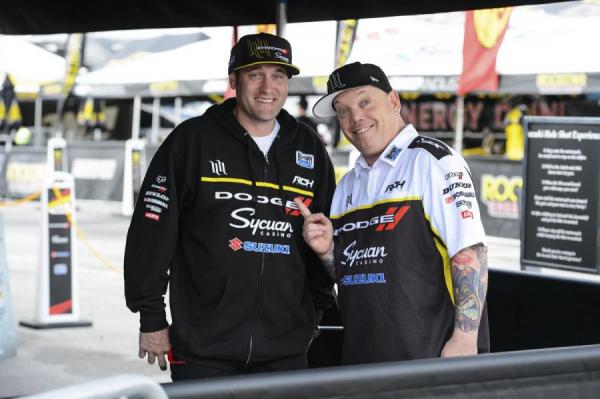 Characters? We got those.
Cudby photo
Later, I was over to the Dodge/Sycuan RCH truck to chat with Josh Hill and Broc Tickle. Somewhere along the way, Team Manager Kenny Watson came in and more "shit media" talk transpired, especially over those hilariously false Christophe Pourcel to RCH rumors. We both argued, and then smiled. On any given weekend, there's only time to visit a few trucks, but in other races you can replace these scenarious with Justin Barcia claiming he smokes cigarettes out back of the Honda truck, insult wars over my cheapness with the JGR guys, or "you only visit us when we do good" conversations at Rockstar Energy Racing. It is kill or be killed within the social network of the supercross pits, and it has to be. For many, the people they see at the races are their closest friends, but they only see them one day a week, and that's when they're working. On a weekend. Better make it fun!