Reliant Stadium
Houston

,

TX
Houston
Monster Energy AMA Supercross Championship
It's been an up and down season for Rockstar Energy Racing's Blake Wharton. The Texan with the crazy hair has always been one of those riders on the fringes of stardom. He's a great rider but he's never quite gotten to the point where you say, "This is Wharton's title to win."  Still, he can win races and that, folks, is not something that many racers can say.
For example, he was six turns away from winning Indianapolis before throwing the sure win away. I asked Blake about it this week, and he joked: "I went to the desert and mourned for a whole week. I shredded my clothes and poured ashes on my head. I was in a state of mourning. I can't recall me ever doing that before and that's a good thing. It was a poor choice of lines and the way I hit the line on the last lap."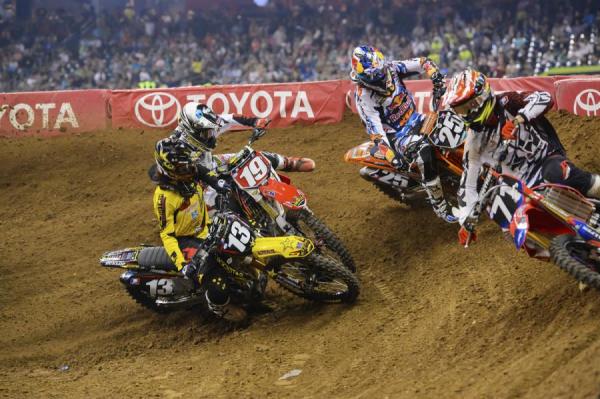 Blake Wharton (13) was aggressive early, which helped him secure his first win of 2013.
Simon Cudby photo
So uh, yeah, glad to see he's over that. And it was clear he was over it when he re-passed Marvin Musquin and took off for the win this past weekend in Houston. You know Musquin, the rider that had won three races in a row? Well, Wharton showed the Frenchman that when things are lined up and he's feeling it, he's as good as anyone.
"It was nice to go to Texas, I got to see my family before the race," said Wharton "Practice was okay, I liked the track but my times were average and that wasn't spectacular. Come main time I flipped it around, I knew my aggression level had to come up and it did."
They say you can do it once, you can do it again and this is the third time Wharton's won a main event. He's just got to do it consistently before he can be "the guy" instead of "a guy." Houston showed us that we shouldn't lose faith in him, it's just that he's got to have some of that faith in himself more often.