Metrodome
Minneapolis

,

MN
Minneapolis
Monster Energy AMA Supercross Championship
When a motocrosser hangs it up, it's always a difficult proposition as to what happens next. Some struggle to find their way and keep busy, others pick up something to do right away. After twenty years of racing, Tim Ferry struggled a bit, but now with his son racing, his work with Trey Canard and his latest venture helping out amateur racers, he's busier than ever.
After dinner one night I grabbed the recorder, hit record and got all of you caught up with the former factory Suzuki, Yamaha, and Kawasaki rider.
Racer X: I think I can say that we're all happy you rode today. So when's the comeback happening?
Tim Ferry: After today's performance definitely not any time soon. I feel like I'm actually finally losing it, to be really honest. Finally can't really go as fast or as long as I used to. This happened in the last month or two. Today was the first time I rode in about three weeks.
What motivates you to get on the bike now? Anything in particular, or just guys like me bugging you?
Actually I was not motivated today to ride, but the track was good. So whenever the weather's good, the track's good, that kind of motivates me.
Let's talk about your transformation into a complete mini-dad. You have more KTM's than I've seen at a dealership. At one time you told me, Evan [Ferry's son] can ride and I'll take him to Dade City but you specifically said you would not do the whole thing. You were just in Texas for two weeks with Evan. You're the new Tony Alessi!
Yeah, I am. But I don't even feel like I'm as committed as some of these people. When we go to Texas, seeing what the parents do, it's crazy. Even at the 50 level, some of the kids my son was racing with -- they're really good. You can tell they've been at it hard for years and they're only, anywhere, from 6, 7, 8 years old.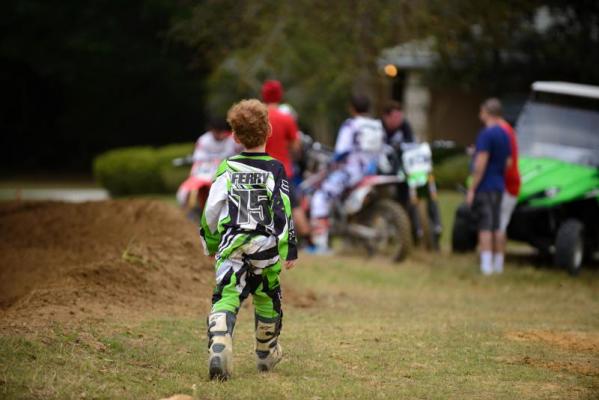 Ferry is having fun helping his son Evan (pictured above) during the week.
James Lissimore photo
Now, obviously you're biased because you're his dad, but it seems like Evan has a real passion to ride. And he is pretty good. So, what do you think? Does he have potential?
Yeah, I just think he grew up watching it. He rides really, really good. He likes to ride. Obviously we have a track at the house, and a good track at that, so it makes riding fun. But we go to a bunch of other tracks around. We race at Dade City and we have friends that have tracks. So, try to change it up. But he seems to really like it.
I think you're not pushing him; he's dragging you.
Yeah, he definitely is because to be honest, by the time I go on the weekends with Trey and do the stuff during the week that I'm doing here, it's tough to keep up with him. The whole mini-bike dad thing is no joke, that's for sure.
Do you think he's got potential? I know he's eight years old, but…
Yeah, I think he's definitely got potential. He has really good style, form… For me, I'm happy that he's a little bit on the conservative side just for injuries and stuff. I think he can go a lot faster than he does. Some of the other kids go for it a little bit more. But I'm okay with that, where he's at. He enjoys it. His timing is good. Everyone thinks that I've taught him a ton. I've taught him some but he just picks it up by studying and watching it. Like you said, he's really into it so when he's not riding or racing he's watching it on TV or he's in the yard watching somebody ride or he's at the fence watching races. The other kids are off goofing around; he's just kind of sitting there watching it. We think he's daydreaming but obviously he's learning something.
It's funny because he was talking about riding at Chad's and the jumps there. Then we're at RV's place he said, "I'll go ride supercross today." He has no idea of the reality that he's in, being who he is. He's mentioning Villopoto and Reed like they're just places to go ride.
Yeah, he's definitely a little bit spoiled in that aspect. I think that is the biggest thing I see that's going to hurt him, unfortunately. Because everything is… I wouldn't say it's easy to him, because if you're going to win races you've got to work hard. But I sometimes think everybody is like, "Oh, well he gets to ride here, he gets to ride there. That's why he's so good." But a lot of the really good riders come from hardships.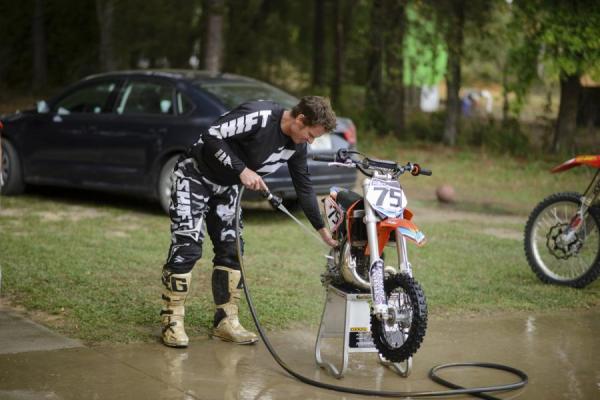 Ferry enjoying the life of retirement.
James Lissimore photo
Yeah, you had no money growing up.
Yeah, and not even just the money but I didn't have good tracks to ride on. When the tracks are crappy the good riders still ride. That's the difference.
So he needs to realize that if you don't till and water it he can still ride.
Yeah. I only really groom it so that it's safe, or water it so it's safe. I think sometimes that kind of hurts him, but it's keeping him safe. You never know when the riders are going to actually take off. Some riders don't ever reach their peak until right before they turn pro. Right now we're just having fun and I'm trying to keep him healthy.
You're working with Trey Canard, obviously. How's that going? Up and down season for him but from where he was, in the hospital not sure if he was ever going to ride again, he's fifth in the points.
Yeah, things were definitely were better in the beginning. Everything always changes. You can say going into the off-season, we really need to have a good, healthy year. And then all of a sudden you have a couple good races and you're like, okay, well that's out the window. I can do better. And that's just the mentality of a good rider. And looking back from a year ago, yeah, he is doing really great. But at the same time he showed at the beginning of the season that he can win races. So there's no reason why he can't be there right now. He's definitely in a little bit of a slump. Any of these guys, they can change that in a weekend and the snowball gets going and next thing you know they're on a roll. There's just really good guys right now. It's hard for one person to be so confident they can beat all of them all the time.
Davi's been a real surprise this year, riding great. What do you think your buddy Ezra Lusk is doing for him?
I think probably just kind of keeping him focused on what's important as a racer. With me, Yogi [Lusk], [Jeff] Stanton coming in with Barcia, I think sometimes there are people that are smarter as far as the science and all that stuff, but knowing what it takes to go through a whole season and stuff is really key for these guys. I'm not that surprised by Davi. I know you are and everybody freaked out at the first race, but Davi's been there recently. To tell you the truth, healthy, what he'd get, second in Supercross last year? But he's won races. And I finished second right behind him at least once or twice and I thought, I'm going to get him at the end of the moto. He's going to get tired. And then he just pulls away. So I'm not surprised by Davi's performance at all. He's one of the most talented guys on the track. And it comes easy to him. And now that he's put the work in, it shows.
You're working with a couple of amateur kids, RJ Hampshire and Marvin Stacer. I don't know anything about amateur kids. I know I didn't like their rap music that they were playing today. But RJ, that kid seems fast. What do you see in him?
I've known RJ since he was a lot younger. His dad was a pro. I think I even raced with his dad some here in Florida. His sister was a professional women's racer too. So he comes from a family of racers. Back to what I was kind of saying about my son, this kid kind of really didn't shine until honestly the last year or so. He went from B and now he's in A and now he's winning nationals.
He looks good, man.
Yeah, you never know when a rider's going to kick in. I think what he's doing been perfect. He's won some titles and just turned 17. I think he's got a promising future. The other kid, Marvin, I'm helping, he's only [been] riding for four years. Started when he was 14, he's 18 now. Just enthusiastic kids. They want to work hard and they want to learn. Those are the best kind.
They must listen to you and working out okay because you've kept them here for a little bit.
Yeah, they've been around for a little bit. I went and actually traveled out to some of the amateur stuff with my son and really hunkered down with them and we camped and had a good time. But everybody took it serious at the same time. They're not kids that are going to change their mind next week that they don't want to ride dirt bikes or that they don't want to work hard. It's a personality that's really hard to come by. In a way I kind of cherish that enthusiasm too.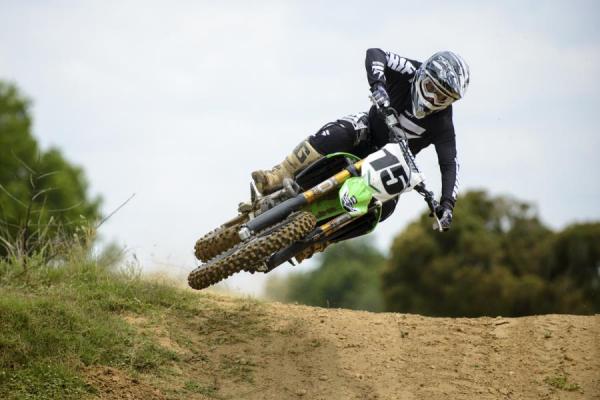 He doesn't ride as much anymore, but Ferry still has some style.
James Lissimore photo
And you're busier now than when you raced!
It's crazy.
Your wife was just saying you've been home two weekends since January, or something like that.
And then I was gone for two weeks in Texas. And then at the beginning of the season I was in California with Trey between a few races. So, yeah, it's crazy right now.
You told me one time that after you retired you sort of didn't have anything to do. You went for 20 years waking up every day, and you were either training, riding, or rehabbing from an injury. There were only three phases of your life. That's it. And now you had nothing.
It was nice, but it was very boring. So the call from Trey was really a blessing for me. And now I've got my kid so I'm trying to figure out how to be a mini-bike parent. Then I have a few amateurs and Trey. And I'm not really teaching them what I did, I'm really kind of going even beyond that and finding out what works better than what I did and what's going on with riding styles and all that. It's a totally new learning curve for me. It's exciting.
Do you find yourself saying the same things that Ronnie Tichenor told you? I know that when you raced, Ronnie was a big help to you.
Totally. A lot of stuff that he's taught me, I'll say. There's a lot of people that helped. Speaking of one, Ezra actually taught me a lot about testing stuff. When I was a privateer he was on a pro team and I learned a lot from training with him. When I was with Ezra I was riding with Carmichael and Matt Walker was around… There were always people around that you were learning from, good and bad. So just trying to have a good blend and help them out.
So you going to do Loretta's?
Now, last year I said I was going to do it and then I backed out.
"We" were all disappointed.
I know. I was excited about doing it and then as I started looking more into it, we were talking about schedules and I was going to have to go to this regional and Evan was going to have to go to another regional… This year I'm going to back him up a regional.
You're doing the two regionals?
Yeah, one dad told me I needed to do three. I'm like, I got to draw a line somewhere.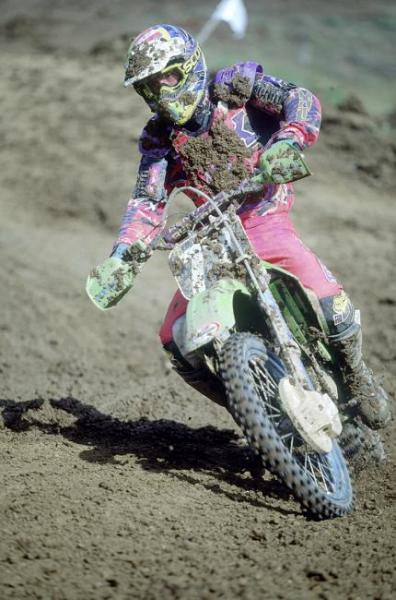 Tim Ferry back in 1992.
DC photo
So that's it?
That's it. Last year I said I was going to do it and didn't do it, so maybe I'll say I'm not going to do it and then do it this year.
And just to be clear, no 450 National comeback?
Dude, I'm done with that stuff. I still have people ask me, "Don't you miss being out there? When are you going to come back and race?" Actually, J-Law came out and rode one day with us he also asked me. He's like, "Dude, if Dowdy can do it, you can do it!" I'm like, "No, I'm done."
You've always had a soft spot in your heart for J-Law.
Yeah. How can you not, really? In a way. Talented kid. I think people that really do know him see that he's just really a kid and maybe got off track there for a while. Hope he gets back on track right now. It sounds like he is. He came and rode one day with all of us and we had a good time and we laughed. He made us laugh a little bit, so it was a good time.
So you don't miss it?
I mean, I miss it for sure, but I don't sit there and go, "I can do that, or I can do this." People are like, "Oh, can you qualify?" I could probably qualify for a National. Do I think I could qualify for Supercross? No way. The guys are too good now. My day's come and gone, and I had a good time doing it. It's time to look at other stuff.