Reliant Stadium
Houston

,

TX
Houston
Monster Energy AMA Supercross Championship
BTO Sports is your number one source for all of your motocross parts, gear, accessories and apparel. BTOSports.com is a motocross company who is truly dedicated to the sport and to the customer. Proud sponsor of your Racer X Podcasts and the BTO Sports race team.
The Houston Supercross represented round 13 of Monster Energy Supercross and I literally, and figuratively, can't believe this thing is coming to a close. We had a weekend off last week and it was a nice break for everyone involved in this travelling circus we call supercross. Now the run to the end is here. Minneapolis, Seattle, Salt Lake City and Las Vegas are all that remain. Where did the time go?
Most teams spent the weekend off getting their feet wet with some outdoor testing (or in the case of Chad Reed, healing up from a small knee surgery). I remember these days in my time as a mechanic. Things were starting to get wide open using different test bikes, developing outdoor settings, spending early mornings out at a motocross track and juggling the rest of your time to get your supercross bike ready. It's not fun right now for these teams, they're pretty busy. At least it's still better than when Gainesville was in the middle of the schedule. Those days really sucked! So if you ask a team member how it's going and he freaks out on you, now you know why.
As most of you who are reading this already know, I spent the past week in Florida visiting some compounds of some guys. It was a lot of fun. We've got some great shots and video coming up from it and one thing that really stuck with me is that these random afternoons in Florida are where the results are achieved. No one's around (well, except my crew and me for one week) and there's no glory in putting in the motos and trying to better yourself. Even the day we were at Tim Ferry's place, he had a couple of amateur kids there (RJ Hampshire and Marvin Stacer) and they were putting in the laps and then getting on the bicycle. It's this kind of work, away from the spotlight, that most wouldn't do and wouldn't understand. Just an "Observation" about the work ethic of these guys that I was with this past week. Heck, even Chad Reed was working up a sweat trying to put down some laps on his go kart track.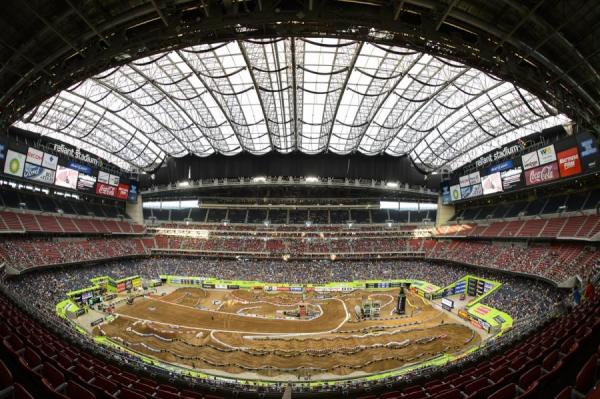 Houston provided on of the better layouts all season.
Simon Cudby photo
I suppose with the week off, the Dirt Wurx guys got some rest and relaxation along with everyone else. And the R&R did them well, as the Houston track was, in my opinion, very good. I thought it was unique, creative and challenging. The whoops were big (and left alone for the most part), there was some sand that developed a couple of lines and a wall that seemed to have several different options. The track also had nice dirt that broke down, and that provided a different challenge to the riders. With these 450s being way too much for the stadium tracks, it's the mistakes that make the racing good. Having loose dirt that breaks down and tough whoops makes mistakes happen. The racing up front wasn't particularly exciting but I don't think it had anything to do with the track. That's two great tracks in a row now.
Well, as I stated above, this championship is looking to be more and more sewn up as Ryan Villopoto takes charge. RV won his fifth race in a row (wait, wasn't 2013 WIDE OPEN?) and sixth in the last seven to open up nearly a one-race lead in the points. Out of the last hundred laps raced in the series, he's led seventy of them. It seems that as the grind of the series goes on, Villopoto is getting better (as is Ryan Dungey). The others? Well, they're just hanging on. In Houston that continued when Villopoto grabbed the lead from Mike Alessi and took off for the win. It was rather boring really, which I suppose is exactly the way RV likes it. As the track broke down and he ran into lappers, Villopoto showed calmness out there as others struggled to make the obstacles.
The Eastern Regional 250SX series is getting good. Only two rounds left and either Wil Hahn or Marvin Musquin will win it. Both guys have been great although Marvin has more momentum than Wil, who probably feels like his pair of wins happened a long time ago. But then again, Wilbur has an eight-point lead with two races left. No matter what, with the lack of depth in the East both Hahn and Musquin can rip through the pack and it would take a total disaster to change the points gap either way.
But this weekend, a wild card emerged in Blake Wharton. Crazy Hair rode a great race to win his first main of the year and third of his career. Blake re-passed Musquin (quick, a show of hands for those that thought Blake would re-pass the winner of the last three main events? Okay, Rockstar Team Manager Dave Gowland, we see you and no one else) and took off for the win after fighting off Hahn for the last few laps.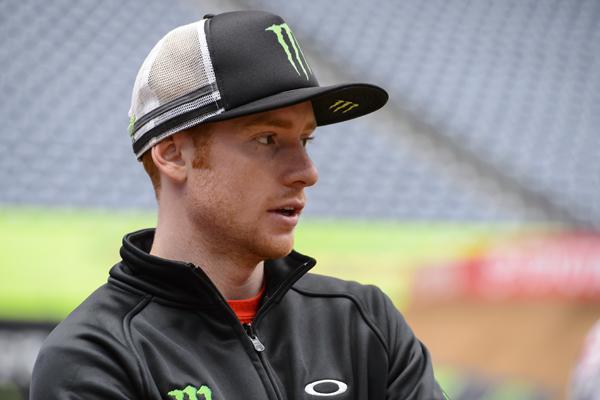 With his fifth straight win, RV now holds a 21-point lead over Davi Millsaps.
Simon Cudby photo
Great ride for Blake and it appears that he can get in between Hahn and Musquin and affect this title. But if you're Gowland or team owner Bobby Hewitt you've got to be asking how you can get Wharton to be this good more often. Wharton's a very technical rider who appears to work hard and can figure out tracks quickly, but it's not often that you're blown away by Blake's riding. But he can win if things break right. In Toronto he wasn't good but the week before at Indy, he was six turns away from winning. Maybe after his good rides, Hewitt can wring out the sweat and stuff from Wharton's hair and bottle it, and then make Wharton drink it afterwards? I know it sounds gross but it's the best I could come up with.
I was talking to Mitch Payton before the night show when he asked me how I thought his newest rider, Tyler Bowers, was going to do. I replied that I really hoped he did well because I was scared for Mitch's sanity, as he's just not used to doing this poorly. He replied, "Now I know how the other guys feel…" and laughed. I asked him if this year is the hardest one he can ever remember (one win and three podiums through thirteen races) and he said no, the "Matt Walker" years were tough also which, if you remember, was when Walker and others were fill-in's and he was still on 125s while others were on Yamaha 250Fs. Anyway, Bowers rode well to a fourth and on this night, Payton's trip to the races wasn't a total waste.
Injuries have decimated 250 East. Dean Wilson, Justin Bogle, Nico Izzi, Alex Martin, Justin Hill, Jeremy Martin (hurt in practice), Darryn Durham, Kyle Peters, Jimmy DeCotis were all scheduled to race the Houston 250SX round and injuries prevented them from lining up. Read that list again and tell me which of those guys you would say wouldn't make the top ten. Maybe Peters and Decotis, that's about it. So take them out and that's SEVEN top ten riders that weren't on the gate at Houston. I cannot remember a 250SX season on either coast that's as weak as this year's Eastern series. Great for the guys using it to make a name for themselves, but holy crap balls is the class ever decimated right now.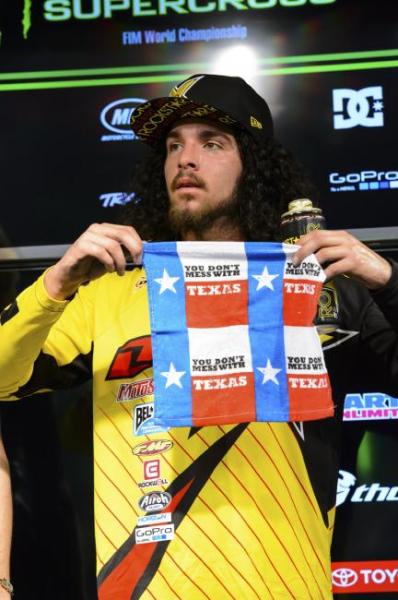 Blake Wharton felt right at home in Houston.
Simon Cudby photo
Houston made people mad! First there was Tony Alessi having words with RV's mechanic, Mike Williamson, over RV's pass on Mike Alessi in the heat. I watched it live and again on TV and I'm not sure what Tony was upset about. Ryan didn't make contact and he was just making sure he blocked Mike's chances to retaliate. Nothing wrong there, but Tony was fired up back in the pits and on the track. Then, it was Chris Blose going to the Honda truck to find Justin Barcia who he felt caused him to crash in the main when Justin whipped it on the face of a triple. Blose jumped off the track and went over the bars.
But nothing compared to the 864th confrontation between Broc Tickle and Andrew Short on the track, which spilled over to the pits after the race. Andrew rode a great race in coming from a first turn crash to seventh (maybe his best ride of the year even). In coming through the pack he came up on Tickle. These two have been banging bars all year and many times, it leaves one of them on the ground or off the track. Short got Broc at San Diego, Tickle broke Short's pinky at Daytona, and I'm probably missing some other incidents. In Houston, I saw the whole thing and yes, Short's rear wheel made contact with Broc's front wheel, leaving him on the ground, but Short had the inside and you had to know that if you're Broc. It was time to check up and dive inside or grab the brakes and let Short have the spot. He got a better drive out of the turn before and was faster. It was Andrew's corner to control in my opinion.
Not that Broc or his team will see it that way or understand it that way. I thought Tickle's Daytona pass on Short was a little over the line but hey, he felt like Andrew deserved one after San Diego. So both riders have this thing going on and it's awesome for all of us but it could turn ugly if this keeps up. Stay tuned…

Wil Hahn controls his own destiny in the 250SX East Region.
Simon Cudby photo
While I was out in Florida this past week I was hanging out with the injured Michael Byrne. Although he's not back to racing yet, he is helping dial in the KTM a bit more for his team. One of the changes he made to his bike made it onto Andrew Short's bike in Houston, and Short was pleased with the result. In talking to Byrner about Ryan Dungey's KTM setup, it's not surprising that Dungey struggles a bit in the whoops in my opinion. Basically Ryan, much like Ricky Carmichael did for a few years, sacrifices whoop performance for cornering performance.
250SX Results
1. Blake Wharton Pilot Point, TX Suzuki RM-Z250
2. William Hahn Decatur, TX Honda CRF 250- Hahn rode great to come from third to all over Wharton but some mistakes made while he was there cost him the win. Still, that's two more valuable points on Musquin.
3. Marvin Musquin Corona, CA KTM 250 SX-F- Musquin came into Houston with three-straight wins, and when he passed Blake it looked like he would check out for a fourth. Then after Wharton re-passed him he went down in the whoops so a third is pretty good, all things considered.
4. Tyler Bowers Danville, KY Kawasaki KX 250F- Even though Bowers lied to me about getting this fill-in spot (he told me all last week it wasn't happening), I still like the guy. The three-time AMSOIL Arenacross champion has a ride through Vegas with the PC team and before the race Mitch Payton asked me how I thought he'd do. I said easy top five, perhaps the podium. The big whoops in Houston helped Bowers. He's a good rider despite being too big for a 250F. He had nothing for the top three at Houston but still, a nice race for the man-child.
5. Gavin Faith Fort Dodge, IA Honda CRF 250- Faith's been up and down in the series as he struggles with his starts, but after going out and winning the first heat race of the year, you can't get mad at us media dudes for wanting more. We saw what Gavin is capable of right then and there. In Houston he came from a first turn crash (sixteenth after the first lap) all the way to fifth and was killing it in the whoops. It was by far his best race of the year. Okay Gavin, let's do it again!
6. Cole Thompson Brigden, Canada Honda CRF 250- Canada's own great maple hope tied his career best from Toronto in Houston but Cole has to be a bit upset because he was in fifth and looking strong. The whoops were definitely his weak point out there and they cost him a spot. Still, nice to see that Thompson is keeping it on two wheels and finding some consistency.
7. Peter Larsen Menifee, CA Honda CRF 250- Larsen tweeted that he wasn't racing Houston and that he needed a bike. Then Eleven10 Mods told everyone that wasn't true. I don't get the grey area here, how could the rider be wrong about something like, say, actual racing? Then again, Eleven10 did forget to sign a rider up for High Point one year. Anyway, Larsen rode a Rock River bike, with a motor and suspension provided by his Eleven10 mechanic. Scored a nice finish, too. Our sport is weird sometimes.
8. Lance Vincent Youngsville, LA KTM 250 SX-F
9. Daniel Herrlein Bethesda, OH Honda CRF 250
10. Steven Clarke Cairo, GA KTM 250 SX-F- Clarke's from England and after some decent rides for the Suzuki City team a few years ago kind of fell off the map. Well he's back now and got his best finish of the year. Racing the Eastern Regional 250SX series will do that for a guy.
11. Levi Kilbarger Logan, OH Honda CRF 250- Guaranteed Kilbarger had to clean out his pants when he launched off a single and onto a downed Zach Freeburg's bike. He somehow saved it but it was scary. The flagman wasn't exactly helping things out either.
12. Zack Williams Elko, MN Honda CRF 250- I don't know anything about Williams but I see he's from Elko, MN, which happens to have a track that I've raced at a few times. I think there was even a Loretta Lynn's area qualifier there one year. Anyone know if it's still there?
13. Vince Friese Cape Girardeau, MO Honda CRF 250- I have no clue what happened to Friese out there.
14. Jackson Richardson Cairns, Australia Honda CRF 250
15. Ryan Zimmer Fuquay Varina, NC Honda CRF 250- The Witt's End Mayker's team gets both riders in the main for the first time this year, but Freeburg crashed out.
16. Bradley Ripple Cypress, TX KTM 250 SX-F
17. A J Catanzaro Portland, CT Kawasaki KX 250F
18. Chad Crawford Warrenton, MO Kawasaki KX 250F- This dude lives in a Tundra and that's about all I know about him.
19. Mitchell Oldenburg Alvord, TX Honda CRF 250- I thought Mitch broke his collarbone recently and would be out for a while? What happened?
20. Zackery Freeberg Riverview, FL Honda CRF 250- Freeburg, who was out at The Tim Ferry's house this week riding, looked to have suffered an ankle or leg injury in the main after pulling the holeshot. Talk about the thrill of victory and the agony of defeat all rolled up into one. UPDATE: Freeburg cracked his tibia bone in his crash and will be out for a while. Bummer.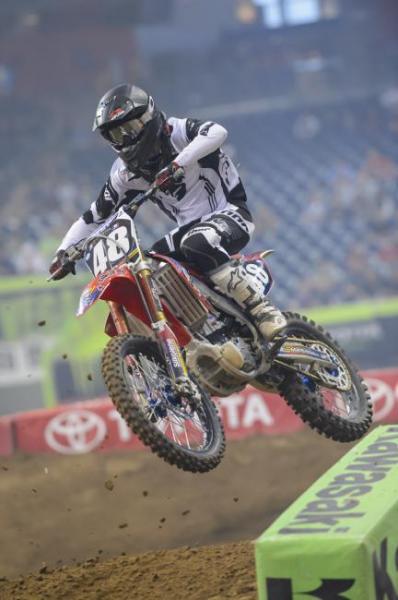 Cole Thompson match a career high in Houston.
Simon Cudby photo
450SX Results
1. Ryan Villopoto Seattle, WA Kawasaki KX 450F
2. Ryan Dungey Belle Plaine, MN KTM 450 SX-F- Just like Villopoto has risen to the top lately, so has Dungey with his third second in the last four races. He's a tick off Villopoto but he's better than the rest right now.
3. Trey Canard Shawnee, OK Honda CRF 450- Welcome back to the podium, Trey Canard. I don't think it's a coincidence that after suffering an injury at Indianapolis and being forced to rest and relax on the sidelines for two weekends, he made the podium this weekend. This series is a grind and a guy like Trey, he just doesn't relax much. A refreshed and rejuvenated Trey Canard came out at Houston and looked great.
4. Justin Barcia Pinetta, FL Honda CRF 450- I spoke with Barcia after the race and he was pissed. Getting fourth wasn't what he wanted but to me, it was fine. He was sort of by himself for most of the race except for when he knocked Chris Blose onto the concrete when he lapped him. Then Blose went over to the Honda truck looking to "hash" things out with Justin. There were a lot of people angry at Houston.
5. David Millsaps Murrieta, CA Suzuki RM-Z450- Millsaps had a great Toronto and we were looking for more of the same in Houston but he didn't get the start and didn't have the speed to make up for the so-so start.
6. Justin Brayton Cornelius, NC Yamaha YZ450F- Brayton's best race in a while and when the whoops were at their biggest and gnarliest, he was by far the fastest guy through them on his Ohler-tuned suspension YZ450F.
7. Andrew Short Smithville, TX KTM 450 SX-F- Four KTMs in the 450SX main event. Wow, this brand has come a long way in a short time.
8. Joshua Hill Yoncalla, OR Suzuki RM-Z450- By far the best race of the year for Hill. He was fast in both timed practices (better than we've seen him) and he followed that up with a nice ride in the main event even though Short got him in the last corner. Hmmm, maybe this comeback is going to work.
9. Jake Weimer Rupert, ID Kawasaki KX 450F- Weimer collided with Goerke and I just caught the end of it so I can't say for sure what happened but it left Matt on the ground which also left his team angry. Angry people in Houston!
10. Broc Tickle Holly, MI Suzuki RM-Z450- The only thing the Tickle/Short feud is missing is a folding chair and a shady manager. (Sorry folks, I'll refrain from all Watson jokes).
11. Matthew Goerke Lake Helen, FL KTM 450 SX-F
12. Phillip Nicoletti Bethel, NY Yamaha YZ450F- Filthy was ninth, NINTH, until the last lap when he dumped it coming out of the sand section. He was going for a career high finish but even with the crash, he tied his career best. He's without a doubt the most improved rider from round one until now.
13. Robert Kiniry Holland Patent, NY Yamaha YZ450F- Kiniry had to fight off a bunch of dudes in the LCQ for this spot, but he wasn't going to be passed no matter what. Weird how he and his team manager both thought it was Kiniry's worst race of the year, yet he got his best result of the year in it.
14. Les Smith York, SC KTM 450 SX-F- Did you know that Les's real name is Martin Leslie Smith the third? I'm serious. Who knew? Thanks to the BTOSports KTM guys for this info.
15. Chris Blose Phoenix, AZ Yamaha YZ450F- Blose was angry with Barcia, stating that Justin whipped it in his direction while lapping him and sent him off the track and onto the concrete. He went to go find Justin to discuss it but I'm not sure what happened. I'm telling you, Houston was a powder keg!
16. Kyle Partridge Lake Elsinore, CA Honda CRF 450
17. Weston Peick Wildomar, CA Suzuki RM-Z450- The Nihilist doesn't care about his crash in the main event, this result or even the supercross series itself.
18. Adam Enticknap Lompoc, CA Honda CRF 450- I don't know much about Adam but he qualified for his first-ever main event.
19. James Stewart Haines City, FL Suzuki RM-Z450- Looked like a great race was getting set up as Stewart stalked Dungey early in the main event. Then he washed the front end out and called it a night shortly after due to his bike being all jacked up. Too bad, that's three poopy main events in a row for the #7.
20. Mike Alessi Hilliard, FL Suzuki RM-Z450- Mike won me ten bucks when he holeshot (Thanks JT!) and then he promptly went down soon after. Not feeling so hot out there, he packed it in early. Alessi's been in the full outdoor mode and getting ready for that. He's not going to risk injury indoors.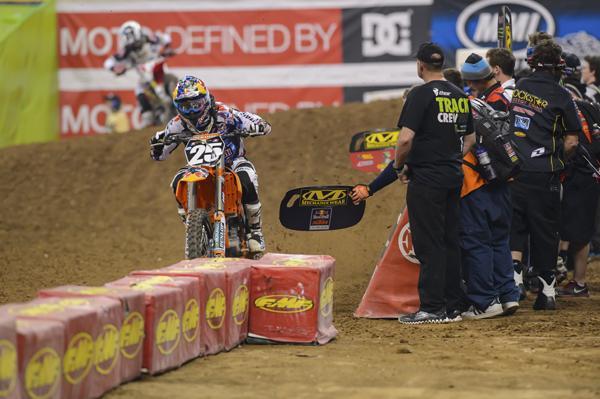 Can Musquin bounce back in Minneapolis?
Simon Cudby photo
A few more notes and thoughts from Houston where we, once again, lit the candles for Ryan Villopoto:
- One of my favorite moments of the night was when David Buller, the leader of the 250SX LCQ, got sideways in the whoops and went down. That wasn't my favorite moment but his freak out afterward was. It looked like someone had told him he had to go to his room without eating dinner of something. Although I'm sure it wasn't funny to David, I had a nice chuckle at the tantrum.
- The LCQs have been great this year in both classes. They're must-see racing no doubt about it. Do not go to the concessions at the races, stick around as with only two spots up for grabs, it's some great stuff.
- By far the winner of the catering contest at Houston was the N-Fab/TiLUBE Racing team with their carne asada taco bar deal they had going on. And I think it showed in the results as all three riders once again made the main event. You should've seen Jason Weigandt there; he was like a great white shark around Seal Island.
Thanks for reading OBS, I appreciate it and email me (matthes@racerxonline.com) with any thoughts you may have on any of the above stuff.