There's always plenty of conjecture and bench racing during the silly season, but how do off-season moves actually translate when the real racing begins? With a third of this 2013 U.S. Supercross and Motocross season complete, we've got enough data to start taking stock. Our pundits Jason Weigandt and Steve Matthes have been to all the races and have talked to a lot of people. Now they'll battle each other to decide who made the best moves so far this year.
Matthes: Five rounds left in Monster Energy Supercross. In some ways it's turned out like we expected, in other ways, it hasn't. Each off-season, the teams and riders jostle for spots, and these things work out one of three ways: Signing a rider is either a complete home run, you get what you paid for, or it's absolutely a poop platter. There are three and only three possible outcomes when signing a rider. So, Weege, what have been some of the best signings of the year?
I already know you and all the other jerkies are going to yell, "Davi Millsaps!" from the mountaintops. Yes, that's a home run deal, and I'm not disputing that he's been great. But to me, dollars paid out for results expected, no one has delivered like Matt Goerke. Yeah, that's right. When Matt showed up in the U.S. 14 months ago, he was the German SX Champion, but he had nothing for the U.S. Total privateer on a Kawasaki wearing Sexy Devil race gear. Yes, Sexy Devil gear! Hey, if any team managers knew how good he was, why was this the case? Anyways, he eventually grabbed a fill-in ride with BTOSports Suzuki, and he was pretty fast.
And now he's on the BTOSports KTM team and regularly finishing in the top ten! He's beating a lot of fast dudes and all this for probably around 100K a year. He's the deal of the year! As I wrote in my Observations column, I have no doubt there are many "name" riders who cannot believe Matt is either beating them or giving them trouble every week. You can take your Millsaps (who's probably making three or four times what Matt is). I'll have a full serving of Beef Goerke please. What a deal for the BTOsports team!  #homerun
Yeah, I hash-tagged that crap.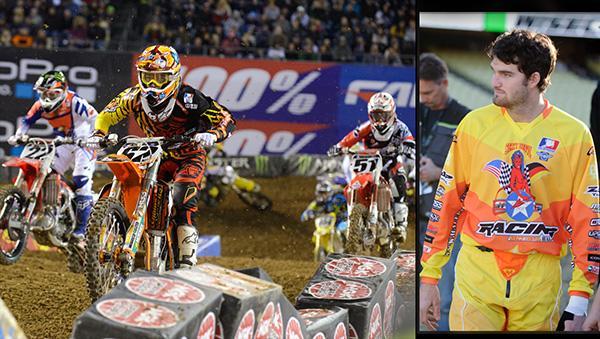 Goerke: From Sexy Devil to battling Reed and Barcia.
Lissimore photos

Weege: It really is a tough call between these two. I'll say Goerke is the find of the year, because Leading Edge Kawi in Canada was the only other team even looking at him. So, a guy that no other U.S. team even wanted is now essentially within the ten best supercross riders in the world. That's a heck of a find. And he's even better outdoors.
Still, I put the Millsaps deal #1. Top tens are awesome for Goerke and I know getting BTOSports.com KTM into opening ceremonies at the supercrosses was a big step. But Rockstar Energy Racing has taken an even bigger step. The absolute hardest thing to find in this sport is an elite guy, a guy who can legitimately win races and contend for a title at the highest level. Most of those guys get huge money, and even then, they are bargains at that price. You can't put a price tag on what Ryan Dungey has done for KTM, for example. He's cheap no matter the cost. Millsaps? Three years ago the Rockstar team was literally the butt of our jokes every weekend. Now, they're the team that pushed Davi to his potential, and even the mighty team Honda couldn't do that. Rockstar is now an elite player, and I bet the last 12 weeks alone just solidified their standing for a long time. Money, support, more good riders, it's all coming because of what Davi has done. Rockstar will stay here long term, now. And if there's any chance of getting factory Suzuki support again, this is what will make it happen. I'm sure Davi is cashing in huge (HUGE) bonus checks right now, but they're worth every penny to that team.
Matthes: Yeah, I can go with that.  Do you see that, Star Racing? It IS possible to turn a program around. Rockstar Racing's owner Bobby Hewitt has told me that he deserved all the jokes we made about his team. They were terrible a few years ago. So put your head down, work hard, thank your team…err wait. Never mind. Anyways, Goerke's Canadian team wanted him back bad, but Matt is an American and wanting to race the best, so he wanted to come back here almost no matter what. That helped tip the scales. The thing to think about, Weege, is the little things that make the biggest difference.
For example, JGR Yamaha could have kept Millsaps, but they only offered one year while Rockstar offered two. Davi rode well for them in 2012, and JGR had first right of refusal. But the JGR guys (and I was in agreement with them) didn't want to add in an extra year of security for Davi because they thought they were getting the old Davi Millsaps, who everyone in the industry has questioned the work ethic of at one time or another. Who knew there would be an all-new Davi this year?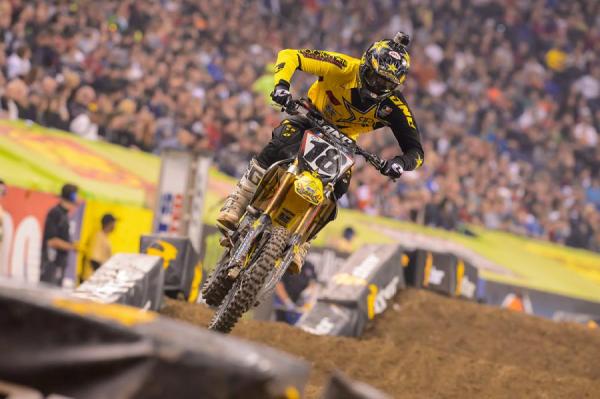 Rockstar Energy Racing found a gem when they signed Davi Millsaps.
Simon Cudby photo
The hardest thing to do is predict when a rider will peak. And you can get sucked into the tractor beam and think the grass will be greener once you have a new guy. Look at Martin Davalos (wait, you're saying, "But Matthes, isn't a Millsaps just like a Davalos and one of these days Martin will find his groove like Davi?" And to that I say, HUGE difference there kemosabe. Millsaps has a 250SX title and 450SX race wins. His buddy Davalos, not so much. So far, same old Davalos.) Sometimes, you don't know what you got, 'till it's gone (sang the great rock band Cinderella). Ask GEICO Honda, who got virtually nothing out of Wil Hahn for two years yet kept him and now may have a title in their grubby hands.
Weege, a couple of things I can't figure out though. Did RCH make the right moves this year with Broc Tickle and Josh Hill?
Weege: Bringing Hahn back is, hands-down, the best signing in the 250 class. GEICO had four 250 guys already signed for 2013 (Bogle, Tomac, Bell, Osborne) so they were full without Wilbur. They added a fifth spot just to keep him. It might just pay off with a 250SX East Region title, while Bogle, Bell, and Osborne have had injuries and even Tomac has his back up against the wall in the West.
I'll also give credit to KTM for keeping Marvin Musquin. Mitch and the PC boys wanted him badly, but KTM ponied up. The balance of power has tilted greatly on that move alone. So, the best two moves in the 250s were teams not letting guys move.
Onto RCH. I think they've done well with the internal expectations. They knew what they were getting in Tickle and Hill—one solid guy who will always be there, and another with some risk, but also some upside potential. Tickle is Tickle. I think outsiders expected him to explode this year with RC's help and that factory 'Zook, but he had just come from Pro Circuit, which isn't chopped liver. I doubt RCH expected Tickle to find RV/Dunge/Reed/Stew/Barcia/Canard speed overnight. They're building something over there, and he's a solid block. Keep those reasonable goals in mind, and it's fine. Plus, Tickle always seems to get better with time—Toronto was his best race yet and by the end of the Nationals he could be really good.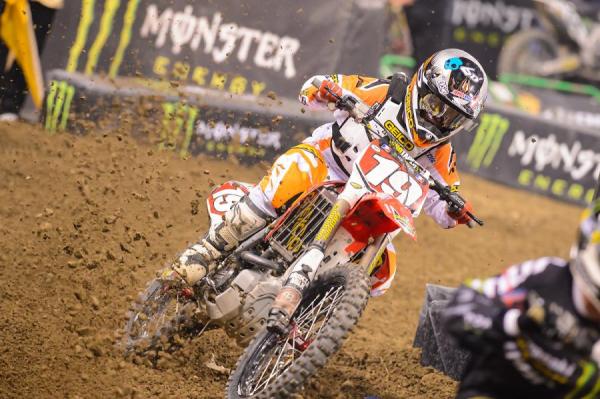 Bringing back Wil Hahn has paid huge dividends for GEICO Honda.
Simon Cudby photo
Hill got hurt again, and while he's getting better, he's not even close to 2010 Josh Hill. But it was worth the risk. I don't think they had much budget for that second spot, they didn't have top-five money to hand out, anyway. With Hill, there was a chance they'd hit a jackpot. If he had scored a podium or top five, it would have made the Millsaps and Goerke deals look like led weights in comparison. RCH could have hired Kyle Chisholm, who you and I both like. And Chizz, most likely, would have been in more races and maybe even scored a better result than Hill's best (12th) so far. But sadly, that's not what makes the SX world go around. It's not about consistency; it's about the potential for greatness. Hill gave them a shot, so he's worth the risk.
Matthes: Yep, fair enough. Here's one that worked also that we haven't thought much about because he's been gone. The JDR KTM signing of Joey Savatgy was a home run. I spoke to an industry person who's watched Savatgy over the years and said that he thought Joey would be lucky to make mains. He's been much, much better than that. So that was a great move by Nathan Ramsey and the team. Also, that Harley-Davidson dealer that sponsors Jimmy Decotis has probably seen a ton of Road Kings fly off the shelf.
Okay, what signings haven't worked out yet? The good news is there is over half the season left for these things to turn around but I'd say that Josh Grant going back to JGR, even before he hurt his shoulder, wasn't what either side wanted. The Velocity 3 team signing Kyle Chisholm and Bobby Kiniry wasn't very good either for obvious reasons. I'd say that the riders and their agents should have done more homework on that thing which was a poop platter from the start. Maybe Chirs Blose to the N-Fab team? He hasn't been as good as he used to be for whatever reason; he was once a top privateer in the series. Pro Circuit's signings of Tyla Rattray, Davalos and even Dean Wilson haven't worked out for different reasons.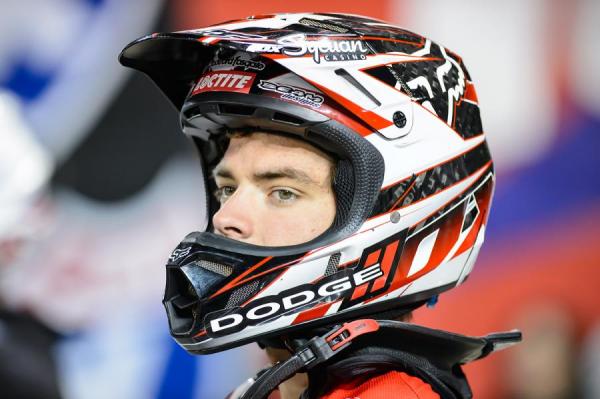 Did RCH make the right move with Tickle?
Simon Cudby photo
Here's the thing, Weege, the line between someone working out and someone not working out is very thin. One good race or one jolt of confidence can shake everything up. It's kind of like your cheap ass wandering in the Sahara deciding on whether to spend the money to buy a bottle of water. Tough decision for you, and for these teams. But as we've said, sometimes the best action to make with an underperforming rider under contract is nothing. Just keep him. Sometimes the grass isn't always greener, and sometimes these things could back around.
Weege: Yes, good analogy. If I'm walking through the desert without a bottle of water, I'm going to stick with that and not buy any. I'd rather wait for some water to come around then open my wallet.