Rogers Centre
Toronto

,

ON
Toronto
Monster Energy AMA Supercross Championship
Is this really happening? An incredible season of depth and parity and when it's all said and done, we might really be looking at another Villopoto versus Dungey title battle? What happened to Reed and Stewart? The Barcia hype? The magic of Millsaps and the inspiration of Canard?
Well, The Ryans have gone 1-2 at the last two races, and appear to be hitting another gear as Monster Energy Supercross hits the home stretch. Millsaps still splits them in points, but DM18 is trying to get back into the strong form he had earlier in the season. The Ryans clearly are as strong as ever. Villopoto explained why right after his win last weekend.
"It's coming down to crunch time and we've got to make things happen," said the Monster Energy Kawasaki rider.
Dungey knows the time to work on things is over. Now it's time to do them.
"Well, at this point I think every guy out there who has worked as hard as they can on their settings, it's as good as it's going to be," said Dungey after the Indy race. "And now it's just all about settling in and getting off the line and putting in solid laps and not making big mistakes, and being there every single week. I think that's one of the biggest challenges this year. Because there are so many competitors, it's just being consistent and being on that box every weekend and trying to get these wins, too."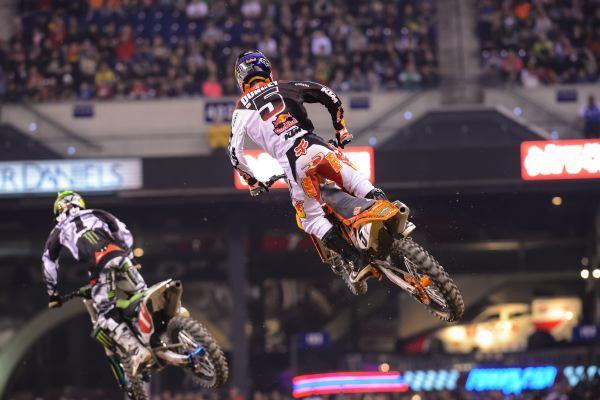 Dungey looked as strong as he has all season in pursuit of Villopoto last week.
Cudby photo
Dungey has had success in Toronto, as it was the site of his lone win during an ill-fated 2011 title defense. The dirt there usually breaks down, so a consistent rider who hits his marks can take advantage. But Dungey needs a better start to do it. He's grabbed the early lead one time this year, at Anaheim 3, and he won that race. When he won in Toronto in '11, he also holeshot. The Dunge must start in front of Villopoto if he wants a real shot at beating him, because as we saw last week, getting around the champ is rare, if not impossible.
Especially when Villopoto is on the gas. "We're starting to gain momentum," said Villopoto this week. "Indy was one of the most challenging tracks thus far so it was great to get the win. Toronto has always been a challenging track as well. The dirt tends to break down and sometimes has a lot of moisture in it."
Since 2010, The Ryans have swept every 450 title indoors and out. In a season where seven riders had a realist shot at race wins and a title, the two who have won the most of them, lately, might end up having a stranglehold on the top spots, again.