A reader wrote us a note recently and asked why we always call Roger DeCoster "The Man" when he's really a team manager.... I have withheld the reader's name to protect him from bench racers that would be incensed by this lack of respect! Actually, DeCoster has become such an accomplished team manager that younger fans of the sport might not realize just how incredibly fast and wildly popular he was during the 1970s. That's when DeCoster really was The Man, racking up five 500cc World Championships, four Trans-AMA titles and more magazine covers than anyone in the sport! So in the interest of our younger readers who might only know him as "The Manager" of the Red Bull KTM team, here's a glimpse at Roger in his prime...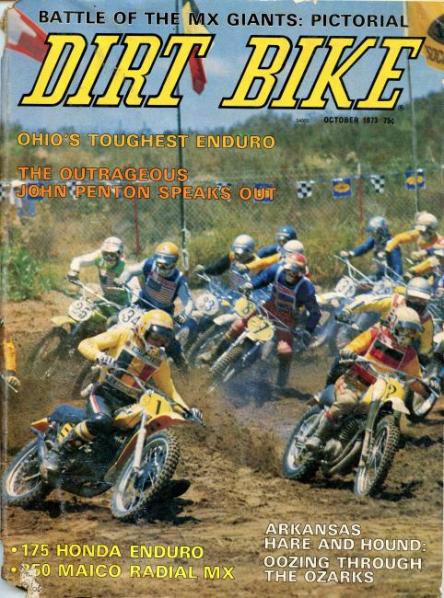 A shot from the '73 Carlsbad USGP landed Roger DeCoster on the cover of Rick "Super Hunky" Sieman's seminal off-road magazine. Coincidentally, #1 Roger didn't win the race. Instead, it was German Maico rider Willi Bauer (2).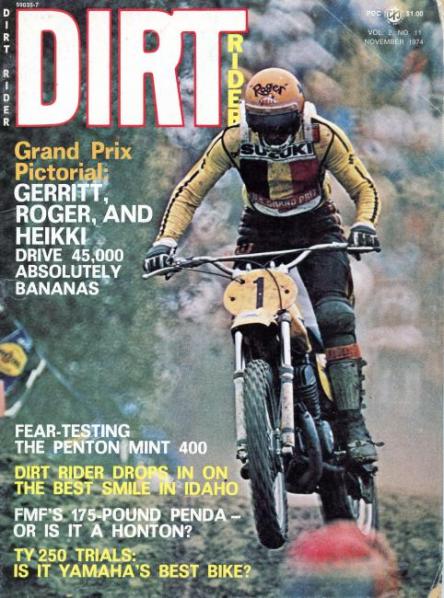 Classic Roger DeCoster look and style, this was shot at the 1974 Carlsbad 500cc U.S. Grand Prix on Motocross. DeCoster was always the favorite at this race, but somehow managed to never win it! His Suzuki teammate Gerrit Wolsink won Carlsbad five times, but DeCoster won five world titles, so he's probably okay with that! This is the old Dirt Rider magazine, by the way—it would disappear and then be relaunched in the eighties.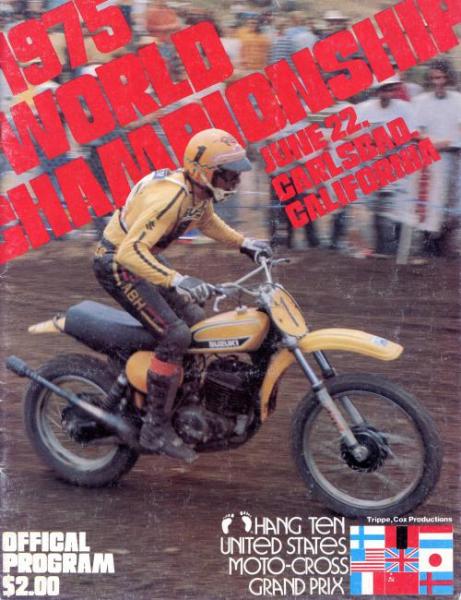 Another shot of The Man at the '74 USGP, on the cover of the '75 event. DeCoster traveled to America often to race, and not just GPs. He raced Inter-Am (250cc) and Trans-AMAs (500cc) and even the occasional supercross.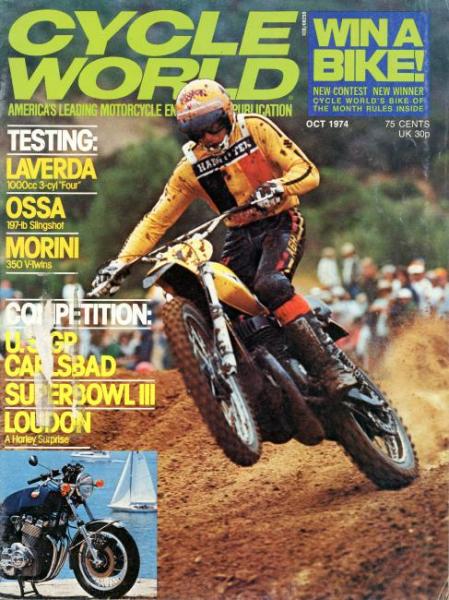 Carlsbad again, but this cover became iconic in the seventies. Cycle World, founded by Joe Parkhurst  was the biggest magazine in all of motorcycling, and rarely did they run a motocross cover. But this shot by Fernando Belair was good enough for Page One.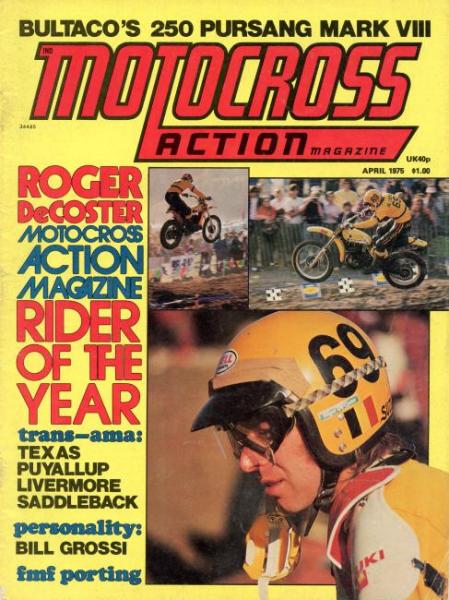 When Dick Miller ran MXA they named a Rider of the Year for each season, and for 1974 it was Roger DeCoster, even though the cover date was April 1975. What was on the inside cover? An advertisement for the 100cc version of Hodaka's "Screamin' 125cc Super Combat!"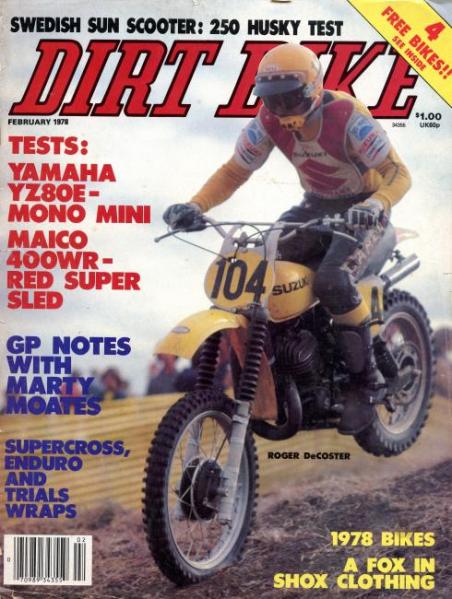 Because DeCoster did not race the nationals—he was busy kicking the rest of the world's ass—he usually ended up with a three-digit number for the Trans-AMA Series. Never has #104 looked better than it did on DeCoster in 1977 (sorry Shae Bentley).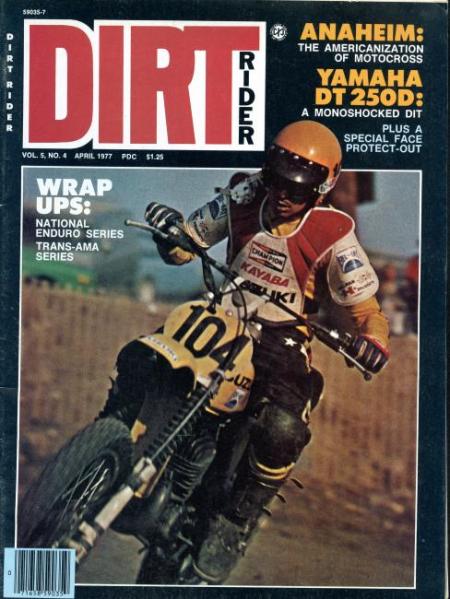 Another Trans-AMA title, another Dirt Rider cover. And the open-face helmet always looked cool on The Man, specially when he lit his Jofa mouthguard dangle like that.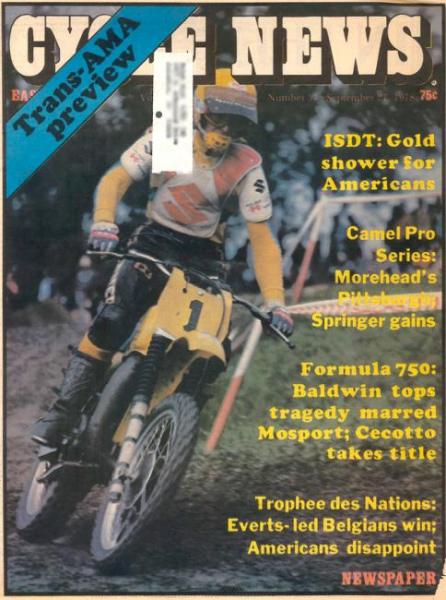 Roger DeCoster on his way to yet another Trophee and/or Motocross des Nations win. DeCoster was on a record 16 winning teams for his native Belgium. Then he did even better as Team USA's manager!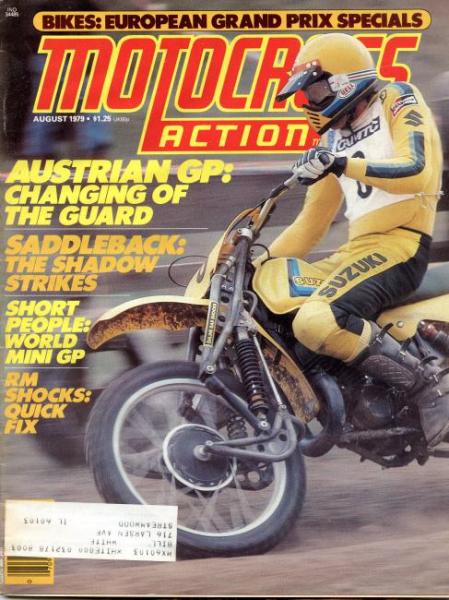 Check out the funky multi-link forks on DeCoster's Suzuki at the start of the 1979 Grand Prix season. What's also interesting about this photo is the fact that it was shot by Geoff Fox, the main man behind Fox Racing.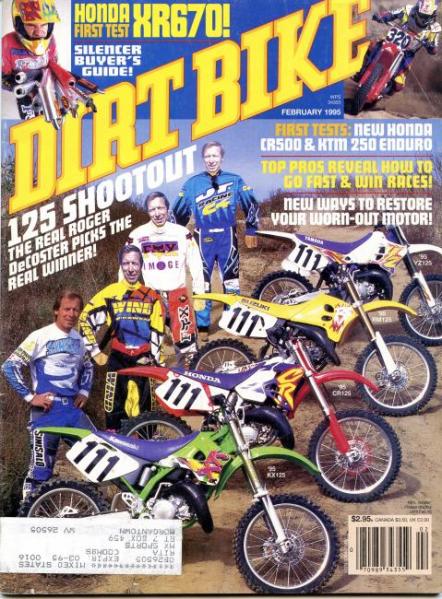 In 1995 Roger was doing some magazine work for Dirt Bike, and they ended up putting him on the cover for a 125cc shootout—four of him, to be exact!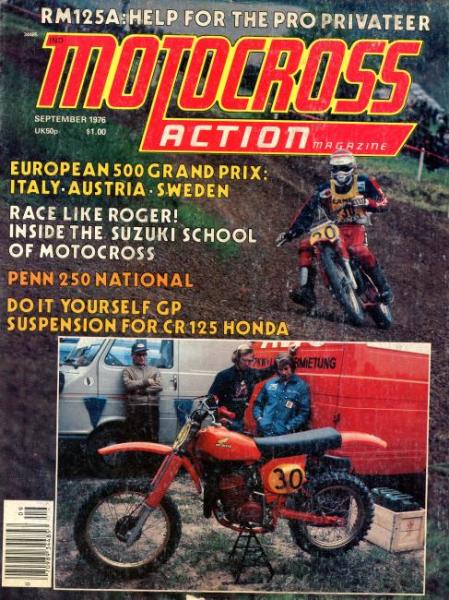 This may be my favorite Roger DeCoster cover. No, that's not him on the #30 works Honda, that's Pierre Karsmakers. What's so cool about it is the fact that Roger is standing there with Pierre in the blue Bel-Ray coat checking his bike out.... Yes, DeCoster was so huge at that time that he made magazine covers JUST STANDING THERE LOOKING AT A BIKE! That's why he's The Man.