Rogers Centre
Toronto

,

ON
Toronto
Monster Energy AMA Supercross Championship
At least Monster Energy Pro Circuit Kawasaki had an ace-in-the-hole in the East. The team's 250 West campaign couldn't have started worse, with Blake Baggett and Martin Davalos both getting pegged in the same Anaheim 1 first turn crash, although neither rider had anything to do with the crash. It was caused by rookie Jessy Nelson holeshotting his first career SX, then endoing on the first jump, and causing chaos to ensue in all directions. Heck, Baggett and Davalos weren't even on the same side of the track and they still go nailed by the carnage.
True, Davalos has always seemed to run in to luck like this, and Baggett, based on his disappointing 2012 SX campaign, would have had a tough time matching up to current west front runners Ken Roczen and Eli Tomac. But Blake hoped for better this year, joking with us at Daytona that he felt fast during the off-season. "I was actually on the gas for once," he said.
We will never know, because Blake is out with a seriously busted wrist and we won't see him race until Hangtown. Their third west rider, Tyla Rattray, just hasn't been the same rider since breaking vertebrae last year.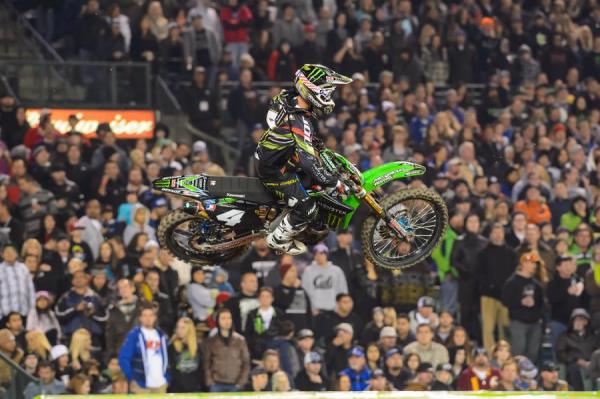 Blake Baggett never got the chance to shine in 2013, exiting early with a wrist injury.
Simon Cudby photo
Ah, but they had Wilson. Had him by nothing more than good fortune, since Dean was supposed to be racing a 450 this year for Jeff Ward Racing, until that effort collapsed. But would anyone have remembered that when Wilson was holding an East #1 plate in Las Vegas? Nope, it would just be another plate for the door of the Pro Circuit rig. Now, well, it ain't happening. He's out hurt, and the likes of Wil Hahn and Marvin Musquin were giving him all he could handle, anyway.
Teams are coming at Pro Circuit from multiple angles. On the equipment front, PC pulled out a huge early lead on four-stroke technology. Between Ivan Tedesco and Ryan Villopoto, they took four-straight 250 National MX titles, barely missed two more with Christophe Pourcel, then dominated like never before in 2011. In supercross during that same 2004—2011 span, they won 62 races, nearly half that were run.
It has taken a long time, but the competition is starting to catch them. Four-stroke technology, in motocross, is beginning to peak, with smaller gains each year. Now rival teams and engine builders have learned from what PC taught them, and the gap has closed.
"They always say, the first 80 percent is easy, but the last 20 percent is hard," said Mitch Payton when I talked to him about this recently. "We've been very good about getting to that high level quite quickly. But you see the evolution slow down, you're not seeing the bikes change as much lately, there's a lot of carryover. And what happens is, you have a lot of different teams and programs you've helped through the years. Even if you don't help them the following year, they saw what you did before. As time goes on, if there's not a brand new slate, then obviously people catch up to the level you're at. It gets harder and harder to find the part that's going to make the difference, and harder and harder to get the endurance out of that part, and to do it at a certain expense."
On the other end, teams are attacking the vaunted Team Green program that was once clearly the most potent in the amateur game. With GEICO Honda and Star Racing Yamaha, just an example, reaching into the amateurs to lock up future talent, the sledding is tougher. Payton and Kawasaki would rather see a different approach.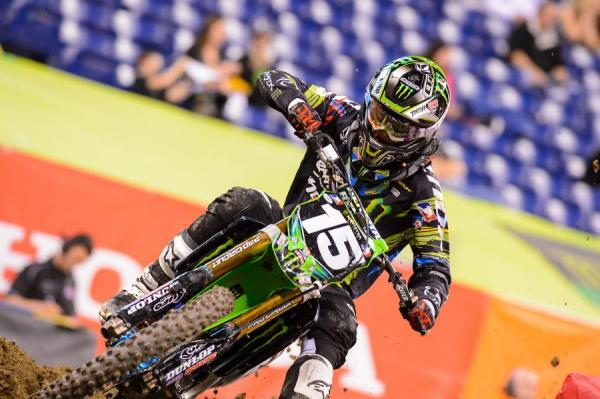 Wilson's injury in Indy assures that PC will not win an SX title this season.
Simon Cudby photo
"It has changed a little, and I don't think it's really for the better," he says. "I'm not one of these guys that believes in this extremely early contract things. I would rather see a more level playing field. You should get to see the talent of the person, not just who got the magic ride. I want to see all the amateur talent treated equally, and see who pops to the top.
"The teams are going in and giving these riders extended programs," he says. "And it's something we haven't done. And that might be my fault, because I haven't believed in it. We've had a lot of good riders bought by other teams, because they get a guaranteed pro ride. It's what we had to do with Adam Cianciarulo to protect him from getting another deal. I've always liked working with the kids, but now you have to guarantee it. I don't think it's for the best. I would like amateurs to just be amateurs. But, it's evolved."
The record book says PC once had a supercross dry spell that lasted longer than this, as they went three seasons (2001, 2002, 2003) without a supercross title. But that's an anomaly, because James Stewart was Kawasaki's top 125 pilot in 2002 and 2003, but he was placed on the factory team. PC didn't have use of Kawasaki's top prospect, which certainly hurt their title chances. If you rule out that Stewart era, PC has only had one season, ever, where it didn't win a title either indoors or out, and that was all the way back in 1994, nearly twenty years ago.
Knowing the ultra-competitiveness of Mitch Payton, Jim "Bones" Bacon and everyone at Pro Circuit, this recent run stings. No matter how many titles they win, they're never happy until they get another. But when will they get that next one?