GEICO Honda's Zach Osborne showed up at the first two rounds of the AMSOIL GNCC Series and carded two podium finishes in the XC2 Lites class. But his real job is to grab podiums in Monster Energy West Region 250SX and the Lucas Oil Pro Motocross Championship. So, did his little foray in the woods help or hurt his chances? We called him to find out.
Racer X: First, let's talk supercross. Were you ever really able to show what you had?
Zach Osborne: Not really. A1, I fell in the first turn and I came back to seventh, which was a pretty good ride. In Phoenix I crashed and hurt my shoulder. I ended up bruising the head on my humerus and partially tore my labrum and my rotator cuff. But now we've got that fixed up, so I decided to do some GNCC stuff.
What made you decide to do that?
Well, first I had to get permission from the team, and then I did some longer motos on my 450 to get ready for it. I wanted to do it because I think you can learn a lot about your bike in longer races on different terrain. I did some hare scrambles last year, but not as big as GNCCs, and I did okay at those. But this was just to put myself out there in a three-hour situation and try to be prepared for outdoors.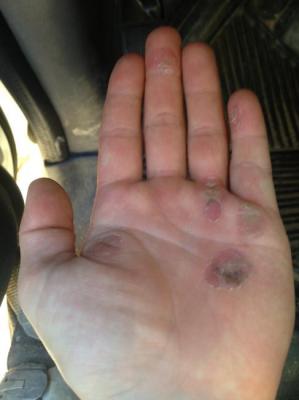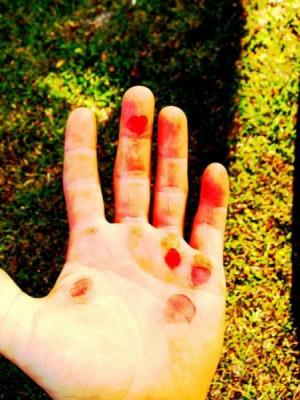 These blisters don't look fun (from GA, left), but they look a lot better than they did after the Florida race last week (right).
Zach Osborne photos
I've heard mixed things about that. Some say since the race is so different than motocross, it doesn't really help. What did you get out of it?
I think you just do a lot of soul searching in those three hours. That last hour, I was in a situation I won't be in with my training for the rest of the year. It's just so tough and so gnarly. I know Jason Thomas in Racerhead last week said it's nothing like motocross, but it's actually kind of unfair to say that until you've done one. I went into it thinking the same thing, but I was way off base. In this Florida race, I was on the limit most of the day. When you're in that race mode, you don't save much, you just push and push and push. That's why I was sick and throwing up off the podium. It was just hard at the end of the day.
Then we saw pictures of some gnarly blisters, so I don't think anyone expected you to go back for round two.
Well, I made a bet with my buddy that if I won or got on the podium in Florida I would do the second race in Georgia. But by Saturday, I wasn't going to go. My hands were okay but still weren't perfect. But he told me people were talking crap, telling me I got lucky at the first one because it was sand and I couldn't do it in the dirt. But it turned out no one was actually talking crap.
Wait, so he was just manipulating you?
Yeah, I was manipulated by Steward Baylor. I just got sucked into the drama! So I left for Georgia in my little pickup truck. I watched some of the first supercross heat race on TV, got in my pickup truck, and drove down to Georgia. Got there about midnight and raced the next day. It turned out okay!
Were you feeling it?
No, I was fine. I would have been riding two days after Florida except that my hands were hurting. But I felt fine. Steward taped by hands, and I followed the same program as far as food and drink. I was really happy the way it turned out.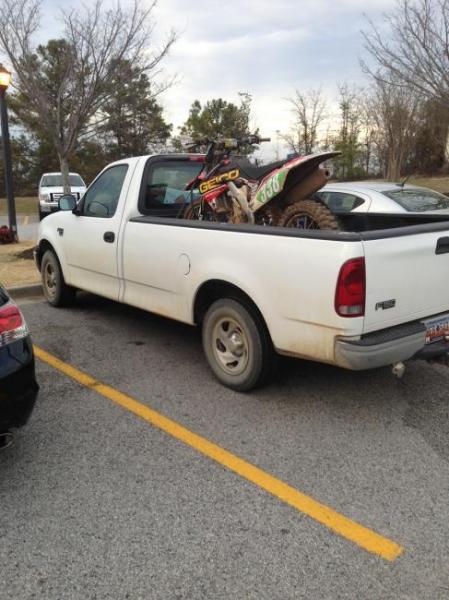 Here's Osborne's factory rig for the GNCCs.
Zach Osborne photo
I heard you and a rider named Jed Haines had words at mid-race.
We did. We came together in the woods around mid-race. It was a big hit, and it was probably more my fault. I was pissed off. He didn't even crash, and I waded it up pretty good. I picked myself up and caught back up to him, and in a grass track section, I went inside and took him wide into a berm and stopped him and let him have a little piece of my mind.
So you actually had words with a guy you were battling midway through the race?
Yeah, and he heard me, because he answered, "No it wasn't" when I told him, "That was dirty and you know it."
I've never heard of a mid-block-pass conversation!
[Laughs] Those are the things you miss out on just going to supercross, Weege. You've got to get back to your roots—you started working in this series.
Fair enough—and I think I'm going to the next two races on Sunday after the supercross. This stuff is too good. Any chance you'll be there, or is it supercross mode again?
Whew! I don't know, it depends on the weather, I guess.
So you're telling me there's a chance?
Actually, it's not up to me. Like I said to [GNCC announcer] Rodney [Tomblin] on the podium, my team has been really gracious letting me do two of these, and I don't want to wear out my welcome. I could still do the last four when the Nationals are over. But right now I've got a job to do at Seattle, so I need to start riding supercross again. You might see me at Steele Creek just to watch.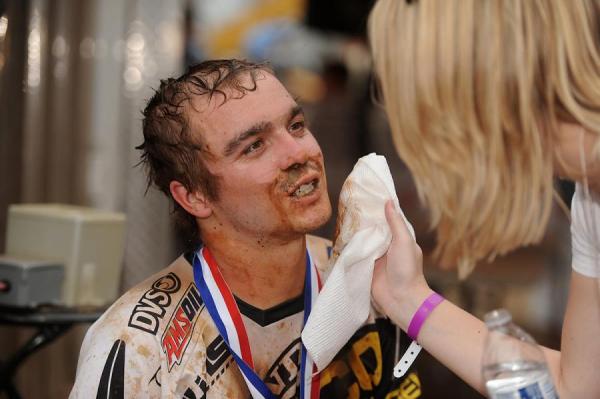 Osborne cleaning up after his race in GA.
Ken Hill / GNCC photo
Okay, then let's switch back to supercross mode. Where should you be when the West kicks back up?
Realistically, I should be a podium guy like I was last year. It's been a big adjustment, just being back in the U.S. and being on a new team. Everyone has been really patient with me and the team has been very supportive.
Plus, in the U.S., we're only judging you based on supercross for the last two seasons. But since you were riding the GPs, you've got to be looking forward to showing what you can do in motocross, here. Are you counting the days until Hangtown?
Yeah, I would like to think my outdoor season is going to be pretty good. Like I said, some people don't think doing these two GNCCs will help me, but I disagree. And obviously, if you read all the internet critics, they'll tell you I'm going to be slow because everyone in Europe is slow. But I can tell you they're way wrong there.
[Laughs] Man, you're getting criticized from all angles!
[Laughs] Yeah, but I'm okay with that.