Earlier this week the Monster Energy Ricky Carmichael AMA Amateur Supercross wrapped up at Daytona International Speedway. Over 900 entrants battled over the course of two days on a toned-down but still rough Daytona track. The RCSX offered a preview of some of the top amateurs we will be seeing throughout the rest of this month at the big amateur races in Texas, as well as the other major events to come later on. With power brokers on hand like Suzuki's Pat Alexander, Ryan Holliday of Kawasaki Team Green, the KTM Orange Brigade's Michael Sleeter, Cobra boss Sean Hilbert, Todd Hicks of Fox Racing, and many more, these are some of the athletes who really stood out at Daytona.
RJ Hampshire: This super-fast Honda rider from Florida captured two of the more competitive classes, the 450 A/Pro Sport and College Boy (17-24) divisions. Hampshire's RCSX did not start out well when he was docked for jumping on a yellow in his first heat race, but he rebounded well in the mains and topped some very fast young men to take his two titles.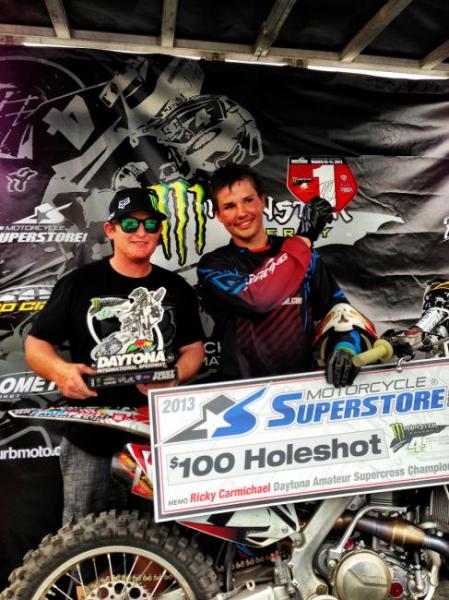 RJ Hampshire took two classes at the RCSX, which meant meeting up with Ricky Carmichael himself twice in the winner's circle.
DC photo
Thomas Covington: The Team Green-backed Covington also had some setbacks on the way to winning the 250 A/Pro Sport division, including an epic battle with Suzuki-mounted Jace Owen that saw both crash on the last lap of their heat race and hand a win to Hampshire. But in the main, Covington hunkered down and showed everyone around to the checkered flag.
Jace Owen: While he didn't win a title, the ClubMX-trained Owen showed speed every time out there, only to get outmaneuvered by Hampshire and Covington for the A/Pro Sport titles. Next year count on him racing in the actual Daytona Supercross by Honda, and not just the amateur day.
Donny Brown: A very fast KTM rider from Tennessee, Brown took home titles in the 450 B and Schoolboy 2 (13-16) classes. What's really interesting about Brown is the fact that he works full-time with his dad and then races on the side—he's even his own mechanic! If he keeps riding like he did earlier this week, he's going to have aspiring mechanics knocking on his door.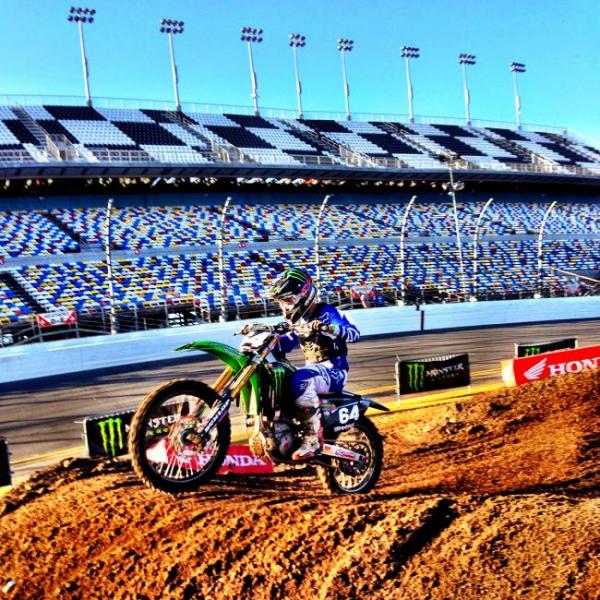 Thomas Covington had some epic battles with Jace Owen and RJ Hampshire, winning the 250 A/Pro Sport along the way.
DC photo
Alexander Frye: Another fast young KTM rider, Frye took a pair of titles himself. His drive, focus, and willingness to win will serve him well as he moves up into the professional ranks in a couple years. It also served him in the Schoolboy 1 Two-Stroke class which he won on a 125 against other 250cc equipment.
Jeremy Smith: This New Jersey Honda racer was the top young rider in the 250 B class, sweeping both his heat race and the main event. Michigan rider Jeff Walker was also fast in this group, as well as the 450 B class.
Ramyller Alves: This Suzuki pilot is tall and fast, and he put his strength to good use winning the Super Mini class. The transition to big bikes should be pretty easy for Alves.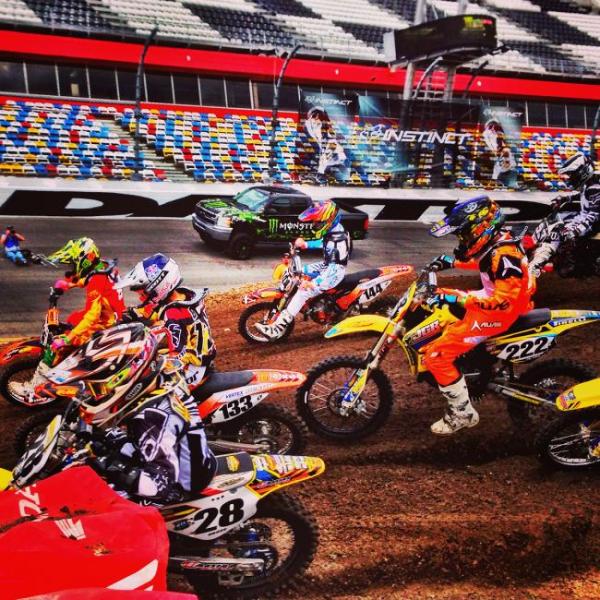 Ramyller Alves (222) worked his way through traffic to capture the Super Mini class win at Daytona.
DC photo
Jordan Bailey: Hailing from nearby Orlando, this KTM rider was fast throughout both days. He could be the next young pro contender hailing from the Sunshine State, so keep an eye out for him over the next three or four years.
Enzo Lopes: Another fast young KTM rider, this one from Brazil. He traded heat-race and main-event wins with the aforementioned Bailey, whom he will likely meet again on the U.S. amateur circuit.
Grant Harlan and Ethan Mann: Hailing from Texas and Washington, respectively, these two young 85cc riders shared wins in the junior classes at Daytona and will likely be seeing a lot of one another in the future.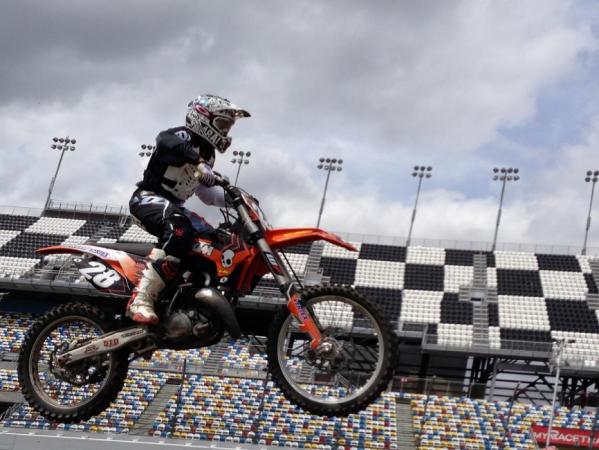 Keep an eye out for Alexander Frye, a fast young member of the Orange Brigade of KTM.
DC photo
Ty Masterpool: Hailing from Paradise, Texas, Ty has all the tools to rise up through the minicycle ranks, including that underappreciated gift of patience. He rides like he's been doing it his whole life, though his two class wins at the RCSX were the first titles the late-starting Masterpool has won. Bryce Clark and Jack Rogers were also very impressive on 65s, as was the slightly younger Colby Gatlin, who won the 65cc (7-9) group.
John Grewe: Once a feared member of the Michigan Mafia as an aspiring pro, Grewe is even more feared now on the vet circuit! He was solid at Daytona against the likes of Barry Carsten, Earl May, and even Carey Hart, who came out to race on one of his RCH team bikes. Grewe outran them all in winning a pair of class titles.
Kaitlyn Marrow and Jazzmyn Canfield: In the two classes for women, Marrow (Texas) and Canfield (Florida) were the fastest in their age groups. Marrow topped the 16+ class, coming back from a third-place finish in her heat race to win the main over visiting Floridian Kylie Fosnacht and Australian Mackenzie. Canfield also had to rebound from a third-place in her heat race to top Jordan Jarvis of North Carolina.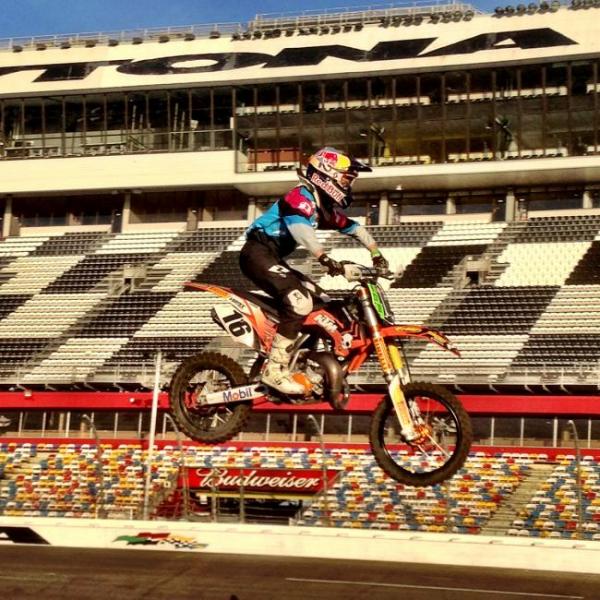 Enzo Lopes hails from Brazil but you will likely be seeing a lot of him here in the states in the years to come.
DC photo