Lucas Oil Stadium
Indianapolis

,

IN
Indianapolis
Monster Energy AMA Supercross Championship
It's hard not to come away impressed with the well-spoken, humble Minnesotan Mitchell Oldenburg on and off the track. Although overshadowed by a highly acclaimed rookie class that includes Jeremy Martin, Justin Hill and Zach Bell, Oldenburg has made waves of his own during his rookie campaign—even leading Bell in points. Oldenburg, along with his brother McCoy, spent most of their youth practicing and training at the esteemed Oak Hill Raceway in Decatur, Texas after his family took over operations in 2007. Oldenburg has been strong during his maiden pro SX campaign with four top fifteen finishes through four rounds. But as we found out, he is looking for more.
Racer X: You have been one of the biggest surprises thus far. Do you think you have exceeded even your own expectations?
Mitchell Oldenburg: Yes and no. My whole goal coming into the year was to make every main event, and if I did that the results would come. I was never really "the guy" to beat in the amateurs, I was always a third or fourth place rider, but last year I made some big strides and I knew if I wanted to do this it was time to go. I was more relieved that it's happened because I've never really raced any of these guys before expect for the rookies. Like I said, I have been pretty relieved to be doing as well as I have been.
You've been overshadowed this year by the other rookies, Jeremy Martin, Zach Bell and Justin Hill. Has that provided extra motivation?
Yeah, for sure. I've beaten the rookies before… I'm going out there to beat everybody, but those aren't the guys that I'm shooting for necessarily because I've beat them before. I want to win, that's the whole goal. I wouldn't be here if I didn't want to. I'm not there now, and I might not be there at the end of the year, but I'm going to come back next year just as strong. I'm going for it, because this is something that I want to do for the rest of my life. Although I'm doing well, I know none of these teams are going to hire a 12th place rider. So for me, I know it's time to step it up. I've been in the main enough that its time to lay it down with some top tens and top fives if I can.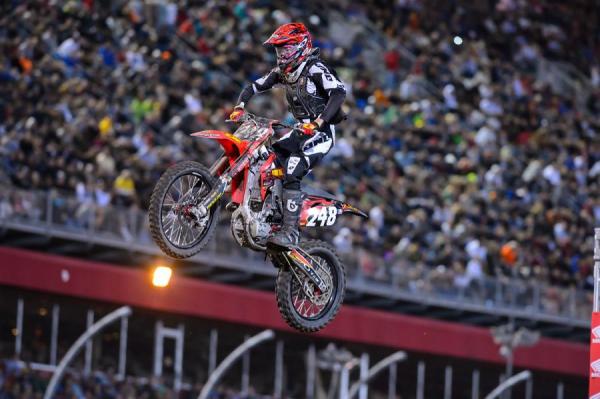 Oldenburg matched a career-high 11th in Daytona.
Simon Cudby photo
Are you to the point to where you are comfortable enough that you can lay it out a little more?
Yeah, I think I am. I need to pump up the intensity in my heat races a little more. I'm riding my heat races like I'm in ninth place and just want to get into the main, which leads to a terrible gate pick in the main that I'm not even giving myself a shot. I've made enough mains now to where I need to go lay it down in the heat race and get a good finish so that I can get a good gate pick for the main. I think that's my biggest problem this year. I've been riding so tight in my heat races because I'm in a qualifying spot and I don't want to let it go. I think I've made enough now that it's okay if I miss one, as long as I'm going for it.
You moved from Minnesota to Texas a little while back, and your family actually owns Oak Hill. So it's not only a big week for you, but also the family, with the 37th running of the Grand National Motocross Championship.
Yeah, it's been pretty crazy. My mom and dad have been running around a hundred miles an hour. My dad is awesome. With everything going on he made time to get my supercross track ready for this week. I was expecting to ride a dry, worn out supercross track, but he got that thing perfect for me.
Is your brother McCoy racing at Oak Hill this week?
Actually, right now he is kind of my mechanic and driver. He blew his knee out last April and he got back from that and ended up knocking himself out and was in the hospital for a week, so he's kind of taking it easy right now. As of now, his plan is to get ready for outdoors, but plans change so he may just wait until supercross next year. But I don't think he will be doing any amateur nationals this year.
Moving from Minnesota to Texas and growing up on an esteemed track like Oak Hill, how beneficial was that for you?
Yeah, it was great. We owned a track up in Minnesota, but it was not nearly as established as this place. My dad getting the tracks ready for us, we've always had a perfect track to ride on… it's just been amazing. We haven't had to go out and ride at private tracks that might not have water or the right equipment. I can't thank my dad enough. He has put more than 100 percent into this and I'm just trying to go out and give it all I have just to make him proud.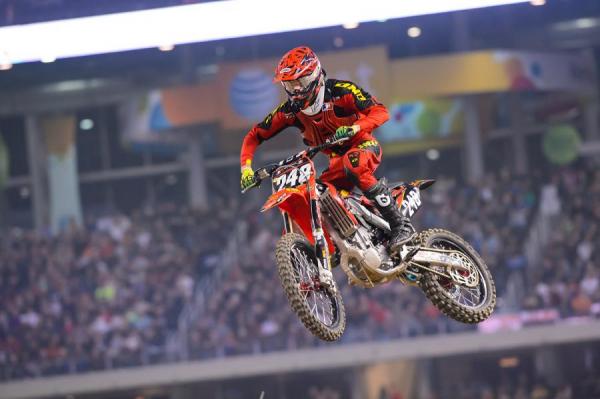 Oldenburg is currently 12th in points in the 250SX East Region.
Simon Cudby photo
There are a lot of fast riders that reside in Texas; the Whartons, the Hahns, the list goes on. Have you been able to train and learn from those guys much?
I have. Blake isn't here much in the winter, but Wil and Tommy live about two miles down the road from me so I get to ride with them a lot. Wil actually just moved out to California and I'm not really sure what Tom is doing. But it has been great. Also, about the same time we moved down here Matt Bisceglia and Brad Frace moved down here. Before Brad got hurt, we would always go out and ride with them. Growing up in Minnesota we were always, kind of, the guys to beat. But when we moved down here we were kind of behind, so we had to kick it into gear.
You mentioned that your brother is helping you out this year. Is it just you and him in a pickup traveling to the races?
Yeah, actually we were going to use the motorhome, but it broke down on the way to Dallas. But my brother is the mechanic/driver and he has been doing awesome. My buddy Lewis Long is helping out with hotel rooms and travel funds. Karl Klement Ford in town is helping us out with a van and Greg from Core MX Performance is going to the races with me and helping me get my bike dialed in with my suspension and motor.
Coming into the season your goal was to make mains. Now that you've established that you have the speed to make the main, how have your goals changed?
At the beginning of the year, I just wanted to make every main. Now that I have some top 15 finishes, it's time to step it up and get inside the top ten or even the top five. I think the biggest thing is not settling. If I keep working hard I think eventually it will come. For now I'm happy with my results, but I definitely need to start stepping it up here soon.
Thanks, Mitchell. Who would you like to thank for helping you out this season?
I would like to thank Lewis Long Racing, Core MX Performance, Karl Klement Ford, One Industries, SixSixOne, Tag, Sunline, Silkolene, Shoei, Oakley, FMF, OCD Graphics, Dunlop, Dubya USA, and my parents.