Daytona International Speedway
Daytona

,

FL
Daytona
Monster Energy AMA Supercross Championship
Lots of talk this week about flags (have you noticed?) but one set that went less detected were the cross flags at the finish line indicating the halfway mark of the St. Louis main event. In a 17-race season, the halfway mark of round 9 is the halfway mark of the year. And the very first inch of that second half presented as much action as any through the entire first half. James Stewart led the troops through the midway mark of St. Louis, but Ryan Villopoto was right on him, and Justin Barcia, Chad Reed, Ryan Dungey were right there, too. You had Stewart versus Villopoto, pinned, in a duel for the lead with the brash rookie behind them. That's the kind of stuff we sign up for—and it should be in store for much of the rest of the season.
It's hard to believe it when the smoke clears at Vegas, but quite often the really crazy, never-to-be-forgotten parts of a championship season all take place down the stretch. Emotions just aren't raw enough in the beginning of the season, and to witness, even Stewart and Reed started much of their feud seasons in a pretty good place with each other, only to have the weekly competition drag them back into the fire. Their 2009 season ended in an epic war of trash talk and heat and shots, but that year actually started with both riders taking the high road, avoiding disrespectful actions until they couldn't be contained any longer.
The 2008 season appeared to be a Reed runaway (walkabout?) until he went flipping over the bars late in the year, opening the door for Kevin Windham to make a title run. At one point Reed was taking an ambulance ride to the hospital in Detroit, but later came back to race and make the main via the old provisional rule. Just like this past Saturday in St. Louis, there was much finger pointing over what was legal and what wasn't. By the end of it, things were very heated between the two. So much so that at the U.S. Open, months later, Windham quipped, "I've only seen the other guy here for five minutes and it's already made my blood boil." Windham has walked away from this sport proudly, but that '08 season still sticks in his craw a bit.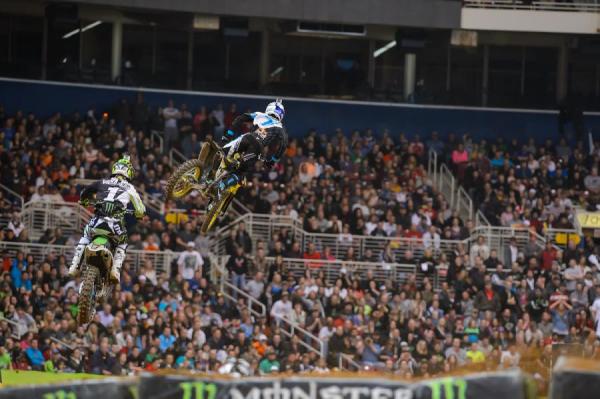 RV and Stewart kicked off the second half with a bang!
Simon Cudby photo
In 2010, Stewart and Reed were banished with injuries, leaving the Ryans to duel. And they kept quiet the whole way until, you guessed it, St. Louis, where Villopoto used missile lock to (not really) complete a block pass and send both riders to the ground. Surely, the final laps of that race and the remaining ones on the schedule were set to be 11s on a 1-10 scale, until Villopoto went crashing out just minutes later.
Then 2011, the greatest season ever? Much like this one, it was stacked with talent the whole way, but tensions didn't rise until another Reed/Stewart dustup in Atlanta, and then the roof blew off completely in Jacksonville, where Villopoto missed the main and Stewart crashed out in the first turn. As for last year, no one knows what was in store. The opening rounds are usually a little cool, and then things begin to heat up. But last year, Villopoto's competition crashed out before things could get nasty.
And that's what sets the stage for this season's furious finish. The riders are healthy—a lot of them. Coming into the year, your best wishes would have been to see former champs Villopoto, Dungey, Reed, Stewart up front. Barcia proved a quick learner. It was a bonus in finding Trey Canard recovered and recouped enough to be in the mix. Then, for good measure, Davi Millsaps is starring as often-dreamed-for-but-rarely-happens "Guy who stepped up his game." In an ordinary year, you merely hope that a rider like Millsaps suddenly finds his groove and joins the fray. This isn't hope; it's reality, because that guy is leading the points.
Yet, all of those players haven't brought the most exciting plays, yet. So many races had turned into no passing zones (oh man, did I drag that term back up again?) that it was almost beginning to look like there were too many contenders in the mix. Blowing by a lead group so stocked with titles and speed and experience isn't easy. Save for Villopoto's Anaheim 2 victory, where he went from sixth to first, no one had really been able to come through. Passing was virtually null. For all of this competition and closeness, we hadn't really seen a battle yet.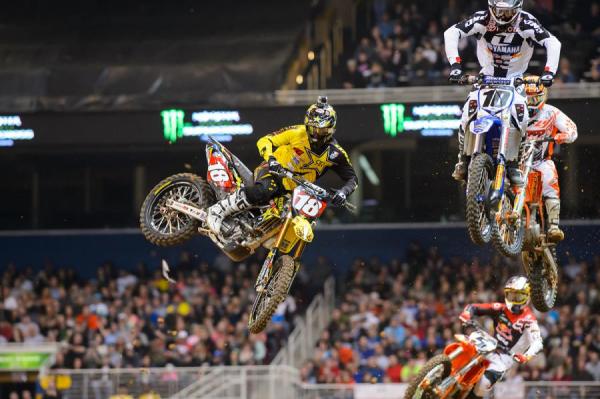 Points leader Davi Millsaps suddenly has a title fight on his hands.
Cudby photo
Oh, but the good stuff started the moment the second half began on Saturday night. There was a certain emotion starting to build during that race. The dirt helped, because riders could set each other up for block passes and finally toe the line between aggressive and dirty. The intensity helped, as points are becoming more and more of a premium. And, that flag squabble certainly has some people fired up.
It goes back to something I've learned going in and out of these team trucks for the last few years. For outsiders like us, Anaheim 1 is the race that brings the hype and anticipation, but on the inside, teams and riders are doing all they can to avoid that stuff. Over the long haul, there will be races much more pivotal than the first race of the season. Drama will be found and emotions will spill over real passes and crashes. That's why the season-opening press conference is always such a disappointment. Fans and press are looking for raw stuff, trash talk and reaction. But the riders aren't going to waste energy stressing on imaginary scenarious at the opener—they'll need nerves in reserve when the real stuff comes. And that's right about now. In the second half.