They've shaken up just about everything they can think of in AMSOIL Arenacross this year, but they can't shake Tyler Bowers' stranglehold on the championship. Bowers is the two-time and defending AX champ. This season has turned into Bowers versus three different threats. First, of course, the competition. Second, some adversity of his own doing. And third a rule structure that makes it harder to dominate. And to all that? Bowers just blasts on through.
Over the weekend, the 2013 AMSOIL Arenacross season hit its next-to-last round in Kansas City, Mo., and the Sprint Center. That race marked the third round of the inaugural Race to the Championship, which is AX's new a playoff-like points reset. This new NASCAR Chase type design eliminated just about all of Bowers' big points lead from the regular season. Worse for him, a rough night for Bowers at the opening night of the Race to the Championship in Little Rock, Arkansas, left Zach Ames in the points lead early (Bowers and Ames are friends, training partners and teammates on the Babbitt's Monster Energy/AMSOIL Kawasaki presented by Maxxis team. But Bowers had to be bummed about seeing his giant points lead go up in smoke in one weekend).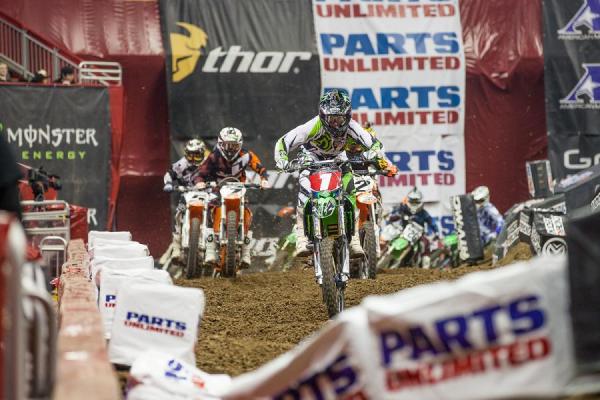 Bowers is in line for his third championship.
Arenacross.com photo
But last weekend, Bowers bounced back to grab a win and reclaim the lead. Then this weekend in Kansas City, he scored one of his most dominant runs ever, helping pull further ahead in the standings.
Bowers swept each of the main events last Saturday night, leading all but three laps across both 12-lap races. It signified his 10th overall victory of the 2013 season, making it the third consecutive year in which Bowers has won at least 10 races in a championship.
In the first main event, Bowers followed Team Faith/FLY Racing KTM's Kelly Smith out of the first corner in the opening main event in Kansas City, but passed him early and pulled away for the win. His closest championship rivals, Ames and Team Faith/FLY Racing KTM's Jeff Gibson (a former AX titlist in his own right) battling for second. Gibson came out on top of that one.
This year's AX tour even features the potential of an inverted start for the second main event. At the end of the first main, the race winner picks from three random briefcases to determine what type of inversion will be used for the second main. This year, Bowers has proven he can come from behind and win even if he gets inverted back to the 16th gate pick (which means he starts on row two) but in Kansas City, he selected the "no inversion" briefcase at random. He then promptly grabbed the holeshot with Gibson in tow. A slight bobble after crossing the finish allowed Gibson to slip by into the lead and control things for a few laps, but Bowers made an aggressive move to retake the spot and check out. Gibson ultimately gave way to Ames on the final lap, with the duo finishing second and third, respectively.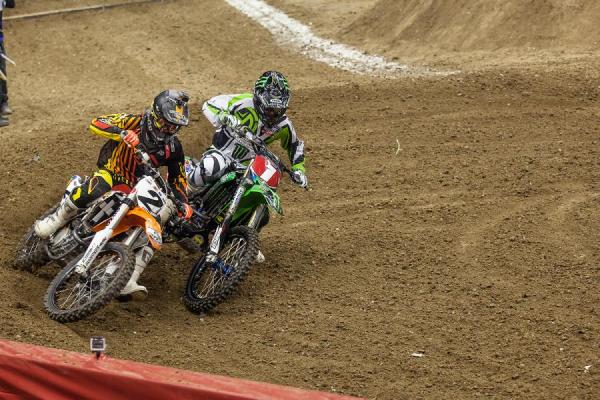 Jeff Gibson (2) is still in the title hunt thanks to the new Race to the Championship format.
Arenacross.com photo
Bowers' main event sweep ensured the overall win, while Ames' late move in the second main event helped him steal second overall. Gibson settled for third.
In addition, Bowers claimed a championship bonus point in the Head-to-Head Bracket Racing. But because things are so tight in this playoff format, he is still just six points ahead of Gibson and seven points ahead of Ames, in third. Mosites Motorsports Kawasaki's Michael McDade in fourth, 13 down.
Beating the format and formidable riders like Gibson and Ames is accomplishment enough, but after the race, Bowers revealed something else. Remember that opening round of the Race to the Championship, where he lost the points lead to Ames? Well, apparently Bowers was competing that night with a freshly broken and surgically plated collarbone!
His fifth-place effort in Little Rock was the worst outing of the season for Bowers. At the race, he only revealed that he was a little sore from a practice crash. Then he bounced back to win the next race in Wichita and now again in Kansas City.
Bowers insists that following this season's lone break in action this coming weekend, he'll be close to 100 percent for the final round in Denver, which will feature two nights of action on March 15 and 16. Only four main events and 48 laps of racing remain to crown the 2013 AMSOIL Arenacross Champion. If Bowers is only going to heal up and get stronger, it will be tough for anyone to knock him off—but with just a six point lead and two nights of racing remaining, anything can happen.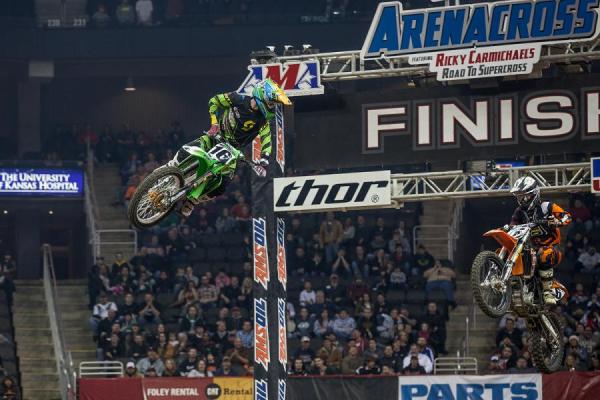 Mike McDade (16), currently fourth in points, has opened eyes this year with some strong riding and main event wins.
Arenacross.com photo
Kansas City, Mo. Arenacross Class Overall (Main Event Finishes)
1.    Tyler Bowers, Danville, Ky., Kawasaki (1-1)
2.    Zach Ames, Prospect, Ohio, Kawasaki (3-2)
3.    Jeff Gibson, Pataskala, Ohio, KTM (2-3)
4.    Dave Ginolfi, Budd Lake, N.J., KTM (4-5)
5.    Michael McDade, Edinburg, Pa., Kawasaki (7-4)
6.    Nathan Skaggs, Chillicothe, Ohio, KTM (9-6)
7.    Daniel Blair, Lodi, Calif., Suzuki (8-7)
8.    Kelly Smith, Ludington, Mich., KTM (6-11)
9.    Gared Steinke, Woodland, Calif., Kawasaki (10-8)
10.    Willy Browning, Pleasantville, Ohio, KTM (5-15)

Arenacross Class Race to the Championship Standings (After Race 3 of 5)
1.    Tyler Bowers, Danville, Ky., Kawasaki – 91
2.    Jeff Gibson, Pataskala, Ohio, KTM – 85
3.    Zach Ames, Prospect, Ohio, Kawasaki – 84
4.    Michael McDade, Edinburg, Pa., Kawasaki – 71
5.    Dave Ginolfi, Budd Lake, N.J., KTM – 58
6.    Kelly Smith, Ludington, Mich., KTM – 57
7.    Nathan Skaggs, Chillicothe, Ohio, KTM – 56
8.    Willy Browning, Pleasantville, Ohio, KTM – 53
9.    Daniel Blair, Lodi, Calif., Suzuki – 53
10.    Gared Steinke, Woodland, Calif., Kawasaki – 47