Edward Jones Dome
St. Louis

,

MO
St. Louis
Monster Energy AMA Supercross Championship
By Chase Stallo and Jordan Roberts
- AG Motorsports' Kyle Peters suffered a devastating blow to his season in St. Louis. The North Carolina native, who started the year with a fourth-place finish in the Dallas main event, failed to make the main in St. Louis. That dropped him from fifth in points to tenth.
- Congrats to privateers Zack Freeberg (12th, career-high), Kyle Hussey (14th, first career main), Daniel Herrlein (18th) and Shawn Rife (20th) on making their first 250SX mains of the season.
- After missing all of 2012 due to injuries, privateer Jimmy Decotis has begun to find his stamina down the stretch. He held off a furious charge from Cole Thompson in St. Louis to notch a season-high seventh.
- Although he was unable to get past Decotis, St. Louis still marked a career night for Thompson, as he finished a career-high eighth.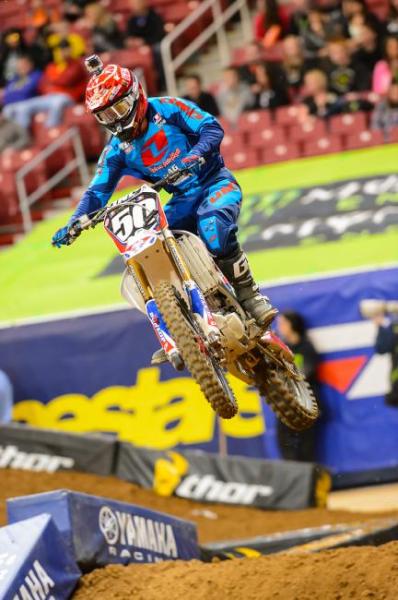 Kyle Peters dropped from fifth to tenth in the point standings after failing to qualify in St. Louis.
Simon Cudby photo
- Former Team Green Kawasaki amateur standout Jacob Hayes made his supercross debut in St. Louis. Following a shortened season in Lucas Oil Pro Motocross and competing in the FMF Indoor Winter Series a season ago, Hayes would crash in his heat while contesting for a qualifying position and was unable to make it through the LCQ.
- Slaton/TUF Racing's Vince Friese has stated his goals in 250SX are to be inside the top five on a consistent basis. Friese was close to achieving said goals after a season-high sixth at his hometown race. And he's now fifth in points. So, pretty much a good night for Friese, except for the fact that at the end of the night, he choose to leave the pits wearing shorts and flip-flops. It was probably 30 degrees outside the building. "They told me the car was parked close by," he explained. "But now I'm so cold I can barely talk."
- Eleven10 Mods made their Yamaha backed debut in St. Louis with newly acquired PJ Larsen and rookie Brady Kiesel. With only one day of testing under his belt on the Yamaha, Larsen had some bike troubles in practice and barely made the night show, but he came back strong in the main and finished tenth. Kiesel would miss the main in his SX debut.
- Notables that failed to qualify in 250SX: Kyle Peters, Gareth Swanepoel, Ryan Zimmer, Brady Kiesel, Steve Roman, Jacob Hayes, Adam Gulley, Jackson Richardson, Steven Clarke and Jesse Wentland.
- Notables that failed to qualify in 450SX: Chris Blose, Justin Sipes, Ben LaMay, Josh Hill, Les Smith, Cody Gilmore and Travis Sewell
- Kyle Partridge, who made the switch from Suzuki to Honda a few weeks back, has made three of the last four mains (after missing the first six) and finished a season-high 16th in St. Louis.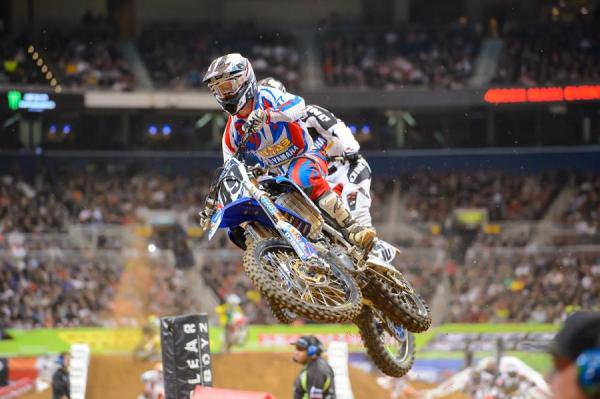 Phil Nicoletti made his first career 450SX main in St. Louis on Saturday.
Simon Cudby photo
- N-Fab TiLUBE Yamaha's Phil Nicoletti has seemingly found every single way possible to miss the main in his 450SX rookie season. But the New Yorker finally made his first career 450SX main in St. Louis. Nicoletti would finish the night 19th after he suffered a nasty crash and was unable to finish the race.
- Dodge/RCH's Josh Hill missed his first main in St. Louis since returning from injury. Hill was battling flu-like symptoms all day and was having trouble breathing due to "his throat closing up".
- Andrew Short, the new member of BTOSports.com KTM, improved on last week's 14th in Atlanta by making it just inside the top ten in St. Louis. Short still says he's trying to get used to the bike before he can really even dig in on testing.
- Eli Tomac's 13th certainly isn't indicative of his speed. The 450 rookie threw down a 49.558 in the last practice, making him just one of seven riders to land in the 49-second range and fourth overall in qualifying. Tomac finished the first lap in 15th, so a solid start should make a world of difference. "The way it's showing in my results, it's been pretty tough," Tomac said of his temporary move to the 450. "But it's good experience to figure out how to ride a 450 and how the bike works and all that. I'm still learning every time I go out and every lap I make."
- Tomac crashed in the sand section of his heat race and had to go to the LCQ. And there, he enjoyed his one honor of the night when he dethroned "LCQ King" Jimmy Albertson! Albertson was able to finish second behind Tomac after battling through a bit of traffic. Albertson again followed Tomac in the main to a 14th-place finish, respectively. Jimmy is riding much better this year than he did in 2012.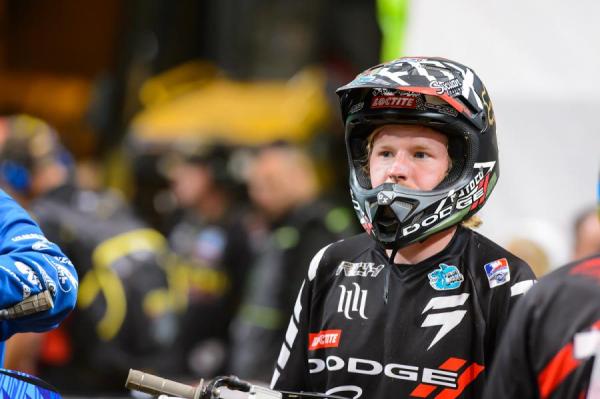 Josh Hill battled flu-like symptoms in St. Louis and missed his first main since returning from injury.
Simon Cudby photo
- Kyle Chisholm had a scary run-in with Matt Goerke early in the race. The two collided after Goerke had to switch his line up coming off of a triple (Goerke had to decide between landing on Jake Weimer or colliding with Chisholm, a lose-lose proposition). It resulted in a red flag crash for Chisholm. Chisholm went straight to the hospital fearing spinal injuries, but doctors fortunately ruled out any serious spinal, head or hip trauma. He appears to have broken a bone above his ankle, and may have a more serious knee injury. We'll keep you updated.
- And since Chisolm was the injury replacement rider for Josh Grant, the "who will JGR hire to replace Chisholm" talk has already begun. Riders and agents waste little time in these situations. We hear JGR will go without a second rider in Daytona and run a solo effort with Justin Brayton.
- Ryan Zimmer made it into the first main event of the season in Dallas, but has since narrowly missed qualifying in the following two rounds. Zimmer placed 10th in his heat races in Atlanta and St. Louis, and again missed it by one spot during the LCQ in St. Louis.
- Rookie Watch: Jeremy Martin made the most out of an undesirable start that left him battling from the latter end of mid-pack. The MyPlash.com/Metal Mulisha Star Racing Yamaha rider continuously moved up from 12th place until the ninth lap—he rode out the rest of the race to finish 5th. Martin, for sure, has podium speed.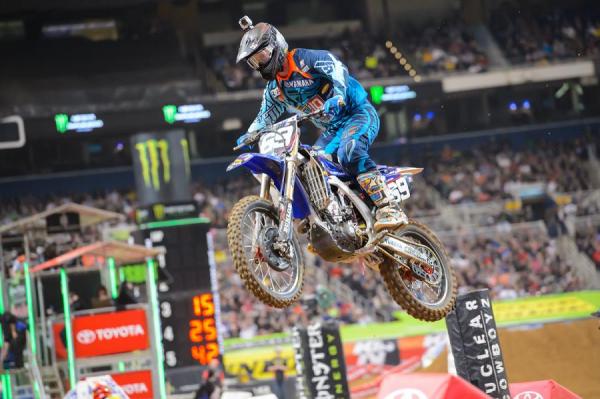 Eleven10 Mods made their Yamaha backed debut in St. Louis. Newly signed PJ Larsen would finish the night tenth.
Simon Cudby photo
- Rookie Watch 2: Justin Hill had two solid rides to start his pro career for Monster Energy Pro Circuit Kawasaki, but he crashed on the first lap of the St. Louis main and finished a disappointing 16th.
- Rookie Watch 3: Been a rough go so far for GEICO Honda's Zach Bell, but technically, he didn't crash in a race in St. Louis. He did stall in his heat race, and then crashed after winning the LCQ (yes, he washed the front end in a corner after the finish line jump). His main was solid, as he finished ninth.  "I had to start on the very outside for the main and didn't get a very good jump. I went to dead last. I wasn't able to hit the triple, so I was sitting way back. I worked my way up to ninth and did it easy and steady."
- Heartbreak of the night? N-Fab TiLUBE Yamaha's Chris Blose was in qualifying position on the last lap of his heat race when he tagged a tuff block and went down, sending him to the LCQ. He then finished third, there, leaving him one spot away from a qualifying position.
- Blose's new teammate Bobby Kiniry started his first ride on the team up front after a good start in the main event, but he later crashed while battling Matt Goerke. His crash ignited that red light/red cross flag/yellow flag incident with Ryan Villopoto. Perhaps you've heard about that?