St. Louis, MO
St. Louis
Monster Energy AMA Supercross Championship
You already know who won the races. Now enjoy 250 Words for an extra take on a story you might have missed.
With so many talented, race-win proven 250 riders stacked up in the West Region this season, and so many top East Region riders out injured, the door has been opened for others to make a name for themselves. We knew this coming in. We also know the "big four" would consist of Dean Wilson, Wil Hahn, Marvin Musquin and Blake Wharton. Indeed, they're top four in points.
Then you have the opportunists. Gavin Faith and Vince Friese are in a duel for fifth, and just one point separates them, with Friese holding 39 points to Faith's 38. But it's often said that in this sport, consistency and finishing fifth in points isn't as critical as just showing potential for more. What teams and fans and sponsors remember more are those flashes of brilliance, those spectacular runs.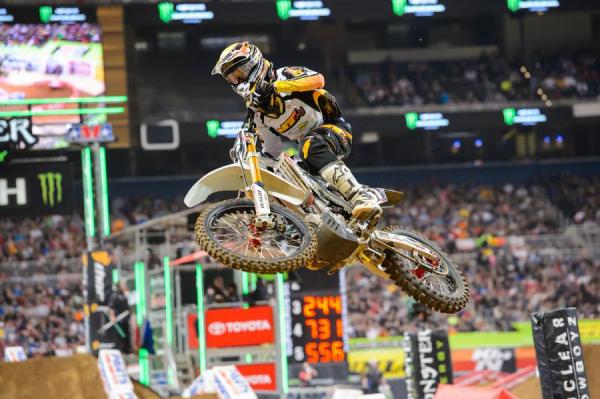 Gavin Faith is currently sixth in points.
Simon Cudby photo
Faith did that immediately at the Dallas opener, winning a heat race and showing the mettle to battle with the likes of Hahn (who is now the series' leader). When Faith has gotten a start, he's shown the stuff to mix it up with the lead dogs—he's far from holding guys up out there. A few more races like this, and there will be some more raised eyebrows, and raised stock for the big kid from Iowa. Along with that, the MotoConcepts team often seems to make noise through the outspoken leadership of team owner Mike Genova and team manager Tony Alessi. But via Mike Alessi, and 250 riders Faith and Jake Canada, the team is also quietly building into a real threat, results wise, in any class. Genova isn't afraid to throw the anti-establishment vibe out there, but it's getting harder and harder to argue with him as the team finds success on the track.
Friese came in with some momentum after strong riding on a 450 for Slaton Racing out West. He's been quite fast on his 250, but it seemed like one small hiccup each time out prevented him from turning that into his best-possible result. In the St. Louis main, though, he finally put it all together. Good start, ran his own race, stayed solid and placed sixth. Friese had has his chances before though, (ironically with MotoConcepts) so he'll have to really ratchet it up over the next few races to get back on the radar.
Jimmy Decotis missed an entire season last year with a ton of injuries, so it's hard to expect him to jump right back into racing and blow everyone's minds immediately. Jimmy is fast, he can certainly turn heads on the right night with the right start. He was seventh in St. Louis and is eighth in points.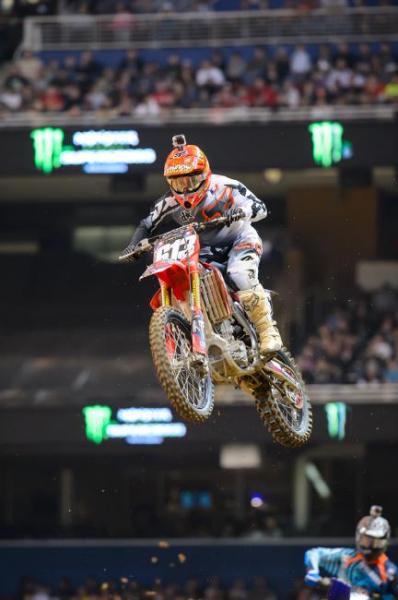 After missing all of last season, Jimmy D is trying to make his mark again in 2013.
Simon Cudby photo
Finally, Cole Thompson has shown the speed to do what Faith and Friese are doing, and that's challenge for top fives. He's taken some hard hits though, and while he's shown great toughness getting back up from them, he needs one of these nights to serve as his breakout.
Kyle Peters nailed the holeshot at the opener and finished a solid fourth. It's been rougher since then, and he didn't make the main on Saturday night. But, remember, it's all about showing flashes of brilliance, and a few more nights like Dallas can do that.
For these five, the potential is there, and the door is open. Regardless if the field is considered strong or weak, if one of them can put it on the podium, it could be a career-altering experience. No pressure, guys.