Edward Jones Dome
St. Louis

,

MO
St. Louis
Monster Energy AMA Supercross Championship
Redux has spent the last few weeks looking ahead. We chatted with team folks about outside sponsorship, and what's ahead on the business front. Luckily, there seems to be good news beneath some of the grim tales of team shutdowns, but all of that talk is so darned…serious.
This week, I will float another idea, a fun one. And it's one that could also lie ahead, but is found from looking down.
Two weeks ago, AMSOIL Arenacross debuted the last leg of their 2013 revamp—the Race to the Championship. This is the Arenacross playoffs, the Arenacross post-season. After six rounds, the points standings were reset for the top ten riders, with a few bonus points awarded based on the current standings. Then, the final five weekends will serve as the playoff push.
The AX tour is now halfway through the five-weekend playoffs. The opener, held two weeks ago in Arkansas upset the order when Zach Ames won the overall and left as the new points leader. Tyler Bowers reclaimed it this weekend in Kansas. With two Race to the Championship weekends complete and three remaining, here are the current AX standings:
Arenacross Class Race to the Championship (After Race 2 of 5)
1. Tyler Bowers – 58pts Kaw

2. Jeff Gibson – 56pts KTM

3. Zach Ames – 55pts Kaw
That's close! Certainly the stage is set for a wild final few rounds. During practice in Atlanta on Saturday, a few of us were bench racing about the AX format, and of course the conversation drifted inevitably back to Supercross. Hey, what if they tried that format here?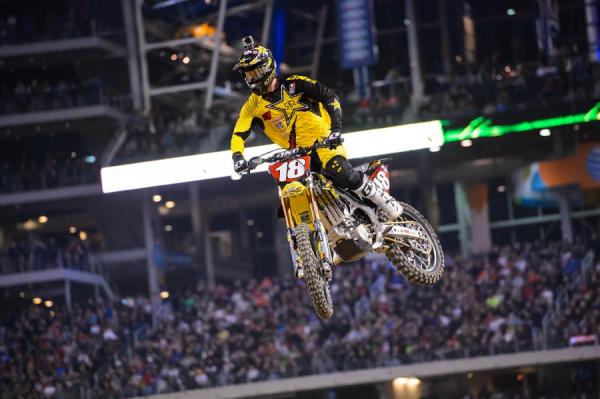 Current points leader Davi Millsaps would probably not be a big fan of a Chase format this season.
Simon Cudby photo
Just to let you know, for better or worse, such a rule change in Supercross won't be an easy sell. I could (but probably won't, just check the comments below) write fantastic propaganda here, and you can imagine clicking on Ticketmaster to buy seats, but only use the edge of them, for a supercross playoff race. But you readers and this author do not a supercross championship make. In order to pull off such a drastic change, the promoters, sanctioning bodies, teams, sponsors and riders would have to be on board, too, and in case you haven't noticed, this sport embraces change not with an embrace but with a cold hard stare. When was the last time the points or rules or race format in Supercross changed? Let's see, just about never? Bikes and tracks and venues change, but it's still 20 lap mains and 25 points for a win—the usual 50/50 ratio of boring and exciting seasons be damned. Oh, in 1985, they tried a two-moto format. For 1986, they changed it back.
Ahem, where was I? Yes, Supercross playoffs. This idea is stolen blatantly from NASCAR's Chase to the Sprint Cup (and Arenacross only continued the looting, as NHRA drag racing picked up this format a few years ago). But even NASCAR just lifted the idea of playoffs from every other sport on earth. So, if your number one argument against such a format is, "Then the best rider all season might not win," please check out nearly every NFL season, where the team with the best overall record doesn't end up winning the Super Bowl. Those that succeed in the pressure moments become heroes, not guys that lucked into a title. Just sayin'.
Sure is exciting to condense an entire year into short, nerve-wracking moments. Even after months and months of action, the entire season can come down to one game (race) or one play (lap) and you'll never forget that moment, ever. That's playoff excitement, and, by the way, NASCAR was playing radio commercials during its mega-rated Daytona 500 describing how one bad lug nut at one race cost Jimmie Johnson a title last year. This is what they want.
Don't we? Let me throw a quick format out there. First, lets slice up the 17-race Monster Energy AMA Supercross an FIM World Championship schedule. How about 12 regular season rounds and five chase rounds? The playoffs would start in Minneapolis this year, which would suddenly make a race stuck in the middle of the season in the middle of the country more akin to Anaheim 1 part 2 (not Anaheim 2).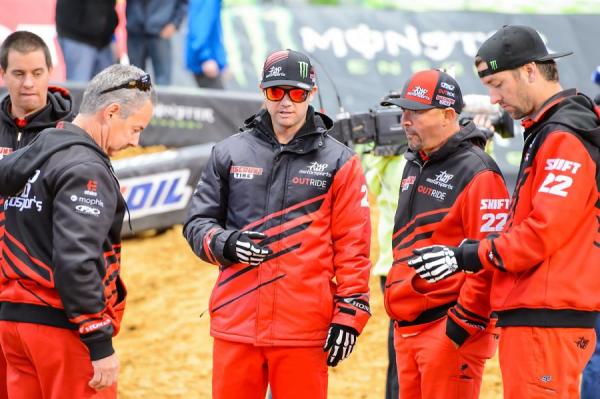 On the other hand, Reed and TwoTwo Motorsports probably would.
Simon Cudby photo
Or, we could go with an 11-race regular season and a six-round playoff. This would match up nicely (this year) with the Easter weekend break. The regular season would conclude in Toronto, followed by an off-weekend to rest, with Houston marking the first Chase race.
Don't worry, you wouldn't completely wipe out the previous 11 or 12 rounds. NASCAR "seeds" the chase just like the NFL seeds the playoffs. In the NFL, the best teams automatically skip the first round of the playoffs and get to play their playoff games at home. That's their bonus for winning during the regular season. In NASCAR, drivers get bonus points for regular season wins, so while the playoff points start close, regular season success does net you a small advantage.
The AMSOIL Arenacross Race to the Championship gives a few bonus points based on the regular season points. It looks like this:
1st in the standings – Starts playoff with 6 points
2nd in the standings – Starts playoff with 5 points
3rd and 4th in the standings – Starts playoff with 4 points
5th and 6th in the standings – Starts playoff with 3 points
7th and 8th in the standings – Starts playoff with 2 points
9th and 10th in the standings – Starts playoff with 1 point
No doubt, such a format would be a heartbreaker for Davi Millsaps, who has had a dream season so far. But scenarious like Millsaps' in 2013 aren't common, in fact, we've all been left scratching our heads to find a season that has gone like this one, ever. And, he'll get some sort of reward for that via bonus points. I say one point isn't enough (Bowers had a gigantic lead wiped out in AX) but at least this AX deal is a start.
In Arenacross, only the top ten riders make the Race to the Championship. The rest of the riders can still compete at the final rounds, earning purse and bonus money, but they are not eligible for the title. So this sets up a mad dash to make the top ten, which would be damned fun to watch in Supercross. Suddenly, the battle for top-ten in the series, one usually a source of pride only for riders and teams but barely even noticed by fans, becomes a knockdown drag out fight. Check these standings out right now:
10. Matt Goerke 79pts KTM

11. Broc Tickle 77pts Suz

12. Jake Weimer 61pts Kaw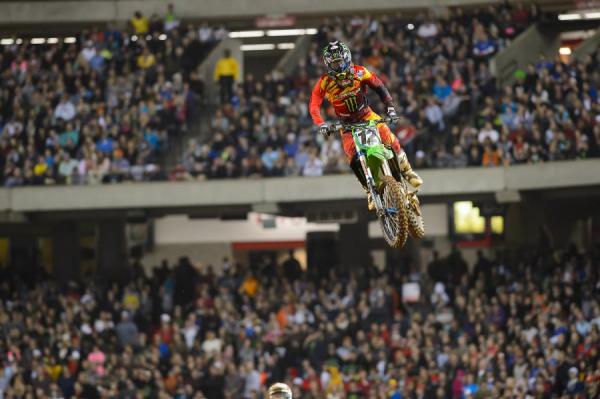 After missing two rounds with a rib injury, Jake Weimer would (hypothetically) be battling for a spot in the Chase.
Simon Cudby photo

These three dudes would be scratching and clawing and fighting and digging for that final spot in the top ten. The Atlanta main event didn't feature much passing or action, but it would have been cool to mark Weimer's progress against Goerke and Tickle in his quest to gain ground. Remember, Weimer is trying to make up for the races he missed with injury.
Ah yes, injury. Normally in supercross, if you miss even one race with an injury (which is quite likely) your season is ruined. With this format, an injured rider has a chance at a miracle if he can just heal up, stay (or get back into) the top ten and pin it. Case in point? James Stewart. He is finally coming into his own right now. Instead of a lost season for him, he'd be back into contention once the playoffs begin. Or for those Stewart haters, think about last year, when Ryan Dungey missed time mid-season with a collarbone break, but could have rallied back just in the nick of playoff time. Would you not have been pumped for that? Also, if a rider goes down, he doesn't have to rush back as quickly and ride with injury, thus making things worse. Take an extra week off so you'll be strong when it counts.
Take this a step beyond. Justin Barcia could be as good as anyone over five races late in his rookie season. But his title hopes are gone right now due to two early DNFs. Maybe Chad Reed figures out his bike in a few weeks and finds his old mojo. In today's format, motivation can sag because their title hopes are gone. But they are oh-so-not-gone if you change the format.
Granted, I'm leveraging this idea by using this season, which is uncommonly deep on talent. Rare is it that a rider seventh in points would be considered a real title contender if the points would just reset. So lets use some previous seasons as a real test. We have the Dungey/collarbone example from last year. The 2011 season was as wild and nutty as any—the points were so close that season that we practically saw what a Chase format would look like, there. Couldn't you just hear the Voice of God pumping "Five riders, five rounds!!! Canard, Stewart, Reed, Dungey, Villopoto!!!" during opening ceremonies at round 12 two years ago?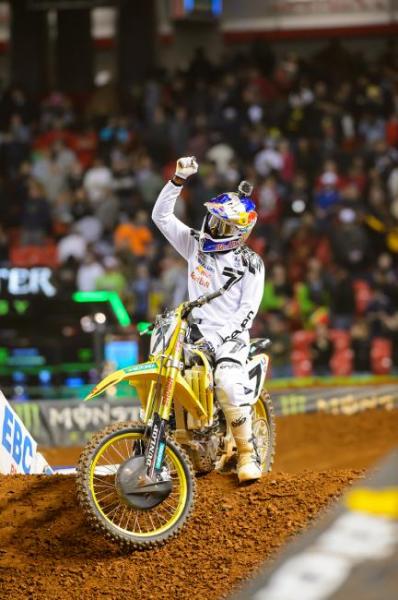 Although an early season knee injury held him back, James Stewart would still be alive for the title in a Chase format.
Simon Cudby photo
In 2010, both James Stewart and Chad Reed were out early with injuries. There's a chance those guys would have been scrambling to get back into the series and try to get into the top ten. Stewart's wrist injury would likely have kept him out of it, but Reed might have had time to make it happen. That would have been more fun to watch then what Reed actually did through the back half of that season, as he tested for outdoors at home and went through the motions with nothing to gain in Supercross. In 2009, Ryan Villopoto struggled through the early rounds of his rookie 450 campaign, but he was a different (race-winning) threat in the final few races. That would have been fun if he were close in points. In 2008, Reed and Kevin Windham were slugging it out and would have continued to do so in a Chase. Essentially, the seasons where we have seen the title go down to Vegas would have looked the same. But in seasons were things got out of hand (2010 and 2012, for example), we would have had much more to talk about.
In reality, it's not about leveling the playing field as much as it is about making the appearance of leveling the playing field. Playoffs add hope for fans and athletes. It makes you think a miracle is possible instead of knowing it isn't (Reed, Stewart and Barcia are not going to win the SX title this year. We know it. Wouldn't it be cool to just say, "Well, in the playoffs, anything is possible?")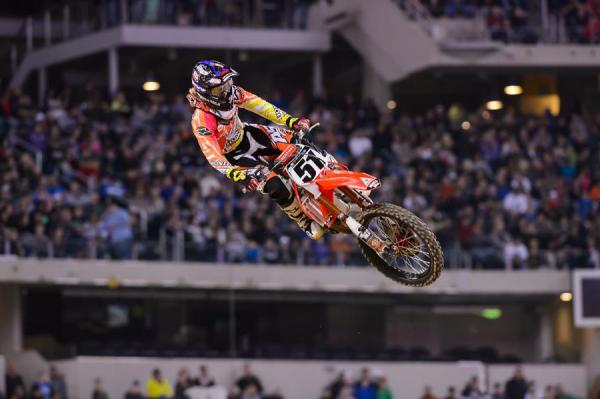 Two early DNFs have cost Justin Barcia a shot at a title in the current format... but not under a Chase format.
Simon Cudby photo
To that end, let me propose another idea. It's not easy to win a Supercross race, so let's just give riders who won a race a free pass into the post season, and a bonus in the standings. This would help in a season where, for example, a star wins the second round, then gets hurt at round three. Can he heal up and get back and ready in eight weeks? It all goes back to a conversation I had with an NBC exec late last season during the Nationals, when Villopoto, Stewart and Reed were out injured. These stars weren't pushing for an early return, because they had nothing to gain by coming back for the last few Nationals. One Stewart crash in Colorado basically ended the title chase at round three. Everyone knew the title was Dungey's at that point.
"What could we do to give a guy like Villopoto an incentive to come back?" asked the NBC guy. "He's back on the bike and everyone says he's riding well. But he says he has nothing gain by racing. What does he need to have to want to come back?"
We know money won't do it. There's a million bucks up for grabs at the Monster Energy Cup, but even that hasn't guaranteed attendance of the stars. A million is trumped by, "So you're telling me there's a chance." Maybe we should give it one.