Edward Jones Dome
St. Louis

,

MO
St. Louis
Monster Energy AMA Supercross Championship
One thing everyone hears over and over is the need for a good start. In these days of one lined tracks and highly competitive fields, being up front early is at least half the battle. Passing is nothing to sneeze at for most of the elite guys and eliminating the need to do so is the first issue on everyone's keys to the race.
Once the great start is achieved, capitalizing on the opportunity is next on the priority list. Putting in fast laps and gapping the group is crucial to being able to ride your own race. Once you have room to breathe, you can concentrate on the riders in front of you without having to ride protective lines. Of course, all of that goes out the window if you nail the start and then crash. All of the work and effort put in for that elusive good start are wasted if you happen to fall early in the race. Justin Brayton and Andrew Short both experienced this to an extent in Atlanta. Brayton has been getting faster each week, but still has only one top-five finish in this deep field. He started up front in Atlanta and was in the top-five mix again, until he went down and picked himself up in last. Just like that, his bid for a season-best result was over.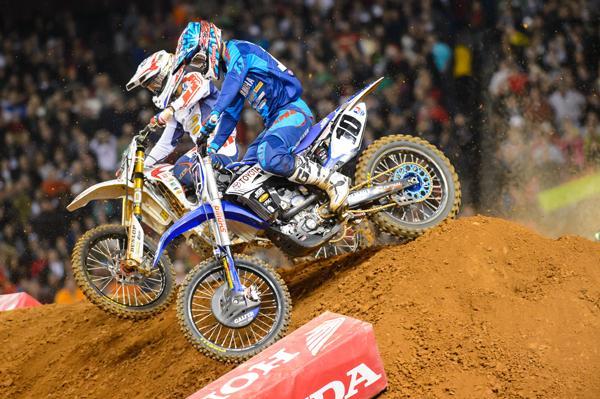 Justin Brayton had a top-five ride going in Atlanta before crashing. Brayton would finish the night 13th.
Simon Cudby photo
How riders react to falling early in a race varies throughout the field. For me, I seemed to ride better. It took all of the pressure off my shoulders and usually pissed me off to the point where I just rode with nothing to lose. I rode looser and the anger-fueled adrenaline allowed me to take chances I normally wouldn't take. This isn't always the case though, as some riders would seem to get discouraged or almost lose interest in the race once it looked bleak. I think this happens with a few contenders. Once winning, or even a podium, is not an option, it can lead to an uninspired ride. Of course, you might not even notice the difference. A top rider can move up through the field on sheer talent, but their lap times are markedly slower and their enthusiasm isn't the same. Not everyone rides better angry like I did so that could be part of the equation as well.
But riding with anger has a downside. Some riders make mistakes when they are angry and end up going slower. This wasn't the case for me. If I was calm and even keeled, that meant slow lap times for me. I needed to be fired up, whether it was angry, anxious, or just excited. Some riders have stepped up their game in times like these. Ryan Dungey at Southwick 2011 was a perfect example of this inspired ride. He missed the start due to bike troubles, and rode like a man possessed to move up into the top ten, and the points he salvaged kept him in the title hunt—if he hadn't at least gotten into the top twenty in that moto, his season would have been over.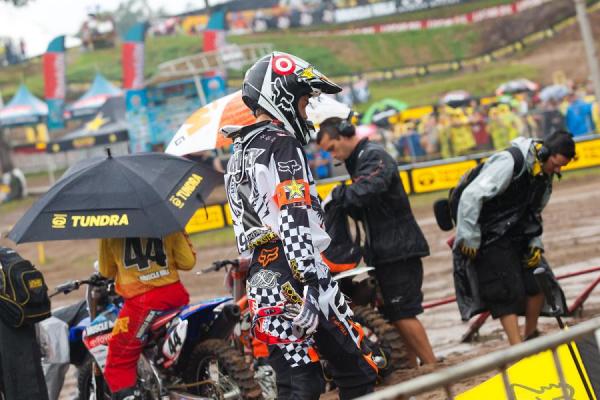 Ryan Dungey had an inspired ride at Southwick in 2011.
Andrew Fredrickson photo
Also in 2011, Ryan Villopoto's first moto at RedBud 2011 comes to mind. He crashed on the start, and his bike was mangled. His KX450F looked like something from Max Beyond Thunderdome, but he pinned it and brought that machine back up through the field. His bike was literally losing parts each lap and he was still setting the fastest laps of the race. He finished ninth, scoring 12 points. This moto could easily be viewed as the reason he won the championship that year.
Next time you see a rider go down on the first lap, keep your eye on him and see how his race goes. You can learn a lot by how racers respond to adversity by how they attack the rest of the race. Sometimes it can be the difference in winning a championship.