AT&T Stadium
Arlington

,

TX
Dallas
Monster Energy AMA Supercross Championship
Dean Wilson came in as the favorite in East Region 250 SX, and he showed why with a dominant win at the Dallas opener. Here's what he had to say after the race.
Racer X: So you're one for one, I think you're the favorite coming in for most of us, but you've still got to make it happen. You still have pressure on you.
Dean Wilson: Definitely. I just worked really hard for this and I feel like I did all the correct steps with my training and riding and doing my laps. I've just been working hard, so I'm glad it paid off. That was obviously my goal, to win and I made it happen. I'm quite happy about it. Just really have to focus on my start because my start was horrible in the heat race. So I focused on that and got into the lead early and just kind of put in a few good laps and put it on safety mode because there were some sketchy sections. But it was good.
I saw you all day long, top of the board. Did you have any close calls or any mistakes out there at all that caused you to worry? You looked to be really in control.
Yeah, I felt quite smooth in the main. Kind of just had my lines and never really had any pressure. Kind of always just felt pretty smooth. Practice I did have a couple close calls but that's just because you're going for the fast lap and you're pushing the edge a little bit. But it was good. I'm happy.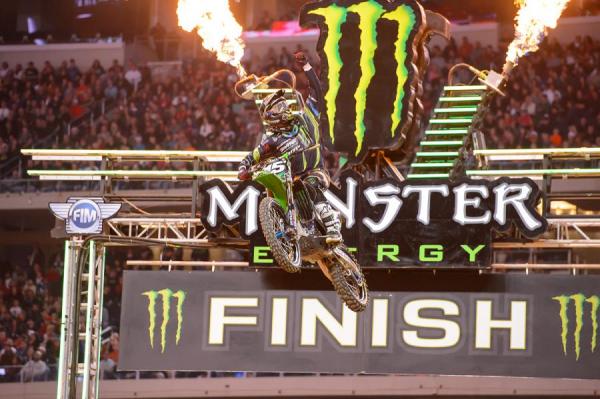 Wilson ran away with the win at the East Region opener.
Simon Cudby photo
What about single file restart [in the heat race after the Zach Bell crash]? How was that?
It's something I've never done. It's something I don't like to do. Seeing Zach Bell crash like that is crazy and I don't like seeing it. I'm glad he's okay. I don't know if he's Superman or what; I don't know how he raced. It just doesn't make sense to me. I thought I'd seen him sleeping when I went by him. Was he sleeping or was he not sleeping?
There's lots of debate. We were way up in the press box. He looked to be out, but then again the Asterisk guys cleared him so I don't know. I thought the rule was if you go to sleep you're out.
Looked like Manny Pacquiao lying there when I went by. I'm just glad he's okay. But I guess he crashed again, so that's no good. I was just happy to win.
I've been talking to Mitch, in the West Coast, he's not been happy. Did you feel pressure and you don't want to let him down and he needs you. Did you feel like that at all?
Yeah, I think he knows I expect to win. This is my last year in the Lites so it's definitely time to just step up and make it happen. He knew I just wanted to win it and he kind of did throw some hints out there like don't let me down because I've been let down too many times. I'm glad to get him the first win and hopefully there's more to come.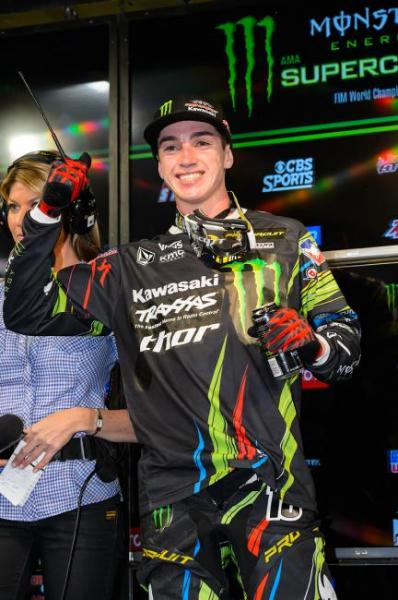 It was all smiles for Wilson on the podium after the win.
Simon Cudby photo
How about your teammate, Justin Hill? First pro supercross tonight. Thought he did all right… he got fifth.
Yeah, that was awesome for him. I don't even know what he got in the heat race, and then to kill it in the main and get fifth. That was good for him. I'm happy the whole team did good. Kind of upset though, I got 6th in my first rookie race at Indianapolis [laughs]. But I'm really happy for him.
Well he must just be a better rider than you then.
[Laughs] Yup I guess that's what that means!