AT&T Stadium
Arlington

,

TX
Dallas
Monster Energy AMA Supercross Championship
If you could only witness the weekly conversations in the Monster Energy Kawasaki rig between Ryan Villopoto and our man Steve Matthes. Maybe you think of RV as the quiet type? Not when Matthes is around, because the two-time defending SX champ likes to tee off on him. But Matthes likes the abuse, and he did what he could to stoke the flames this week in our Monday Conversation (Don't complain, we could make this much more boring if you'd like).
Racer X: Let's talk about that heat race. [James] Stewart was phenomenal. He caught you and passed you and took off for the win. It was a great ride by him.
Ryan Villopoto: Yeah, it was good. I don't think he necessarily caught me from a long ways, but he caught up a little bit. I made a little mistake on that double after the finish. It was good. He rode a solid eight laps.
The main event, this is what you needed. No inside gate. Shorty went there and it screwed him this week like it screwed you so many times. But the start, Davi [Millsaps] got the holeshot, but this is what you needed. Twenty, I don't want to say easy, but 20 good laps.
Dallas has been tough the last couple years. Actually last year's dirt was good, but this year and two years ago the dirt has been really bad. It was good. Davi has been really consistent, riding well. Obviously that only gave me the three points on him. I need to try to start having some more fun at it and look at it and just be consistent and look at a third, a third is on the podium, it's good. A second is good, it's on the podium. Even fourth or fifth, that's pretty consistent. I think the sport as of right now up until this point, I'm not saying it's going to be like this tomorrow or next weekend, but at this point from fifth through tenth has been a lot quicker than normal and if you get a little bit of a bad start, you are not coming through the pack very easily. So I think it's almost kind of like NASCAR. We have a fifth place car today or we have a fourth place car. That kind of depends on your start in our sport. That's never going to be like NASCAR.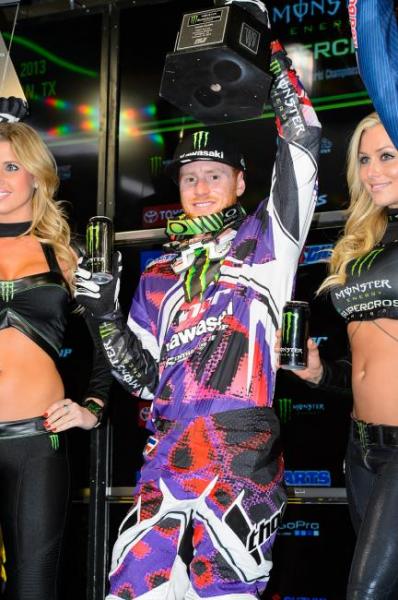 Ryan Villopoto got a much needed win in Dallas on Saturday.
Simon Cudby photo
Also, these tracks they don't encourage hanging out and pushing because you're going to go down.
Exactly. And that's just the dirt style, with the West Coast rounds. We'll see. Not going to say every track is going to be that way but it has been up until this point.
You said it's now about having fun, was it getting to you? Were you looking at the points and stressing and doing all that?
Not necessarily the points, but for our team and myself, we've won two years in a row and we expect to win. Every team does out here but obviously especially us, we've won two years in a row and we kind of put ourselves up on this pedestal and when we fall, we fall a long ways. When we need to look at thirds and fourths and being consistent as a win. Look at Davi. Yeah, he's got two wins but he's been the most consistent guy out there with seconds and thirds.
He's only been off the podium once.
Exactly. And he's got a 21-point lead.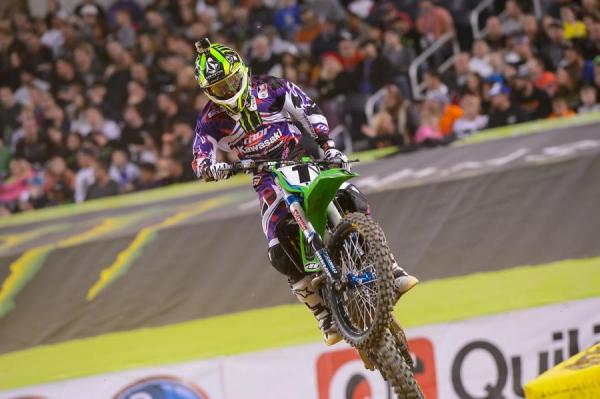 RV now trails Davi Millsaps by 24 points after his win in Dallas.
Simon Cudby photo
No one is happy with the track tonight. Windham told me the only guy that's going to like it is the winner. So, did you?
I mean, it was tough one side—it was very easy, but tough on the side of traction. This dirt is just terrible. It's just terrible. Things [obstacles] are small. There were quite a few ambulance rides today. So if it would have been any gnarlier… It would have been ugly.
I feel like when we get to the East Coast where there's traction and a guy like you grips it, you grab a handful of throttle and you steer with the back, and that's going to favor you. Do you think about that at all?
Yeah, I'm definitely waiting for that track. I'm looking for it. I think that's obviously where I'm going to shine more. Everybody's going to be like, oh yeah, more traction, I can ride harder… But for me, yeah, I'm able to ride that edge a little bit more and push where I want to push.