Angel Stadium
Anaheim

,

CA
Anaheim III (A3)
Monster Energy AMA Supercross Championship
After an injury-riddled rookie season in 2012 with Star/Valli Yamaha, Kyle Peters was left without a ride just a year after winning the 250 A title at the Red Bull AMA Amateur National Motocross Championships at Loretta Lynn's. Peters was set to contest the 250SX East Region as a privateer, but early last week AG Motorsports announced they had signed Peters for the 2013 season. We caught up with the North Carolina native earlier this week to talk about his new deal, his tough season last year and more.
Racer X: You signed with AG Motorsports last week, a deal that came through probably later than you wanted. Can you take us through the details?
Kyle Peters: After Elsinore, we weren't wasting any time. We bought some bikes and everything that we were going to need for 2013. The plan was to do my own thing for this year. We were talking with Al [Albiker, AG Motorsports Team Owner] and his team and what they could do for us and everything sounded great. The team is going really well. He has helped me out a lot with setup and knowledge about things. I think we are going in the right direction and everything is a lot more positive.
If years past the team has run KTMs, and last time we spoke you had just bought a Honda. Will you be making the switch to KTMs?
No, we are going to stay with Hondas and get the suspension working really good and go racing.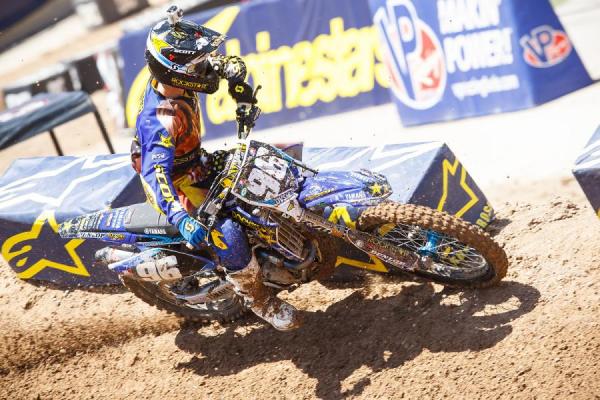 After a year with Star/Valli Yamaha, the team and Peters parted ways after the 2012 season.
Simon Cudby photo
Last season you dealt with a lot of injuries and probably didn't have the rookie season you were expecting. But through those tough times what were you able to take away from last year?
Last year was definitely rough with all the injuries. The main thing I learned from last year was not to continue to ride hurt and continue to break yourself down more and ruin your confidence. I learned that you have to take the time to heal up and get back to racing. I never really had my breakout ride last year. It's definitely going to be a lot better year. I'm a lot more comfortable with my bike and my team. I'm really excited for Dallas.
Do you feel that you put too much pressure on yourself to ride through the injuries and prove yourself?
Yeah, for sure. It was my rookie year and I was excited to go racing and that's what I wanted to do. But looking back it wasn't really the right thing to do and I learned a lot from that.
After one season with Star/Valli Yamaha you and the team parted ways. Given the circumstances, do you feel you got a fair shake?
Honestly, no not really. I got hurt right before Dallas last year and missed a few races. But when I came back I was definitely not 100 percent. I didn't start feeling good until Vegas last year. We went into outdoors and I was doing pretty well and then crashed again and hurt my other shoulder. And that was pretty much that. Everyone is so fast, you can't be injured and expected to ride with those top guys.
Talk about the competition on the East Region this year. You have Dean Wilson, Justin Bogle who is recovering from injury, Blake Wharton, Marvin Musquin, Wil Hahn, among others. How are you feeling coming into this year.
I feel really good coming into this year. All these guys are fast every year and every one is putting in the work, but all I need to do is go out there and ride like I know how to ride and I know I will be up there with those guys. I'm pumped to get out there and show everyone what I got.
You are training in California right now, but you're originally an East Coast kid. You trained out in California last year as well, but how is the adjustment coming for the east to California?
Yeah, California is definitely a lot more high speed. I like it, but I would much rather be back east training and riding at MTF [Millsaps Training Facility]. But sometimes you have to come out here and do some testing and do some different stuff. You never really get away from California.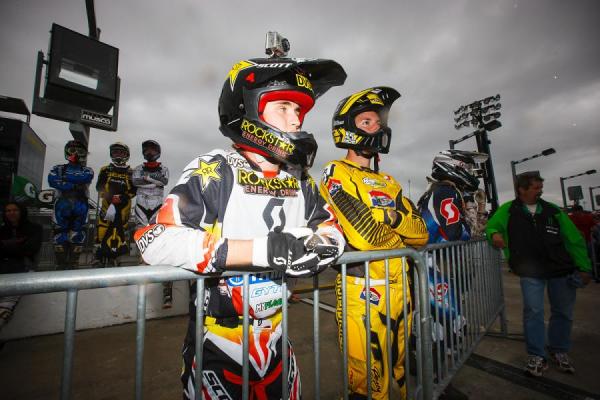 After injury-riddled rookie season, Peters is looking to have a breakout year in 2013.
Simon Cudby photo
Were you down at MTF before you headed out to California?
Yeah I've been down there since after Lake Elsinore. That's where I have been riding and training. I have been riding supercross for so long that I'm really getting ready for the season and get out there and get it done.
Over the past decade, North Carolina has produced a lot of pros: Austin Stroupe, Taylor Futrell, Ian Trettel, Jacob Hayes and yourself, along with up-and-coming pros Cooper Webb and Shane McElrath. What, if anything, are you able to attribute the rise of talent from North Carolina to?
It's starting to get a lot worse around home with tracks closing … there really is just no place to ride. I think that is why a lot of us have to go to Georgia and Florida to find tracks. It's definitely tough right now with how anything is, but there is a lot more talent coming from North Carolina. We have South of the Border [Training Facility], which is right on the edge of North Carolina and Club MX, which is in South Carolina. Those are great tracks and they have some great riders there.
Have you made any changes to your training program this off-season?
Yeah, for sure. Last year I was a pretty small little kid, so I beefed upped a little bit and put on some weight, so I'm definitely a lot stronger than I was last year. The main thing is putting in the motos. If you put in the laps you're going to get the results and I have definitely been putting in the laps so far.
Thanks, Kyle. Who would you like to thank for helping you this season?
I would like to the Lord Jesus Christ and my entire family. I would also like to thank Unit Clothing, One Industries, Bell Helmets, FMF, POD Knee Braces, ICW, EVS, DVS Shoes, 100% Goggles, Tag Metals, Sunline, Moto Tassinari, MTF, Pro Circuit, DT1 Air Filters, and C4mx.