O.co Coliseum
Oakland

,

CA
Oakland
Monster Energy AMA Supercross Championship
We're going to Oakland this weekend and more specifically the Oakland-Alameda Coliseum, wait, make that, now, the O.Co. Coliseum, home of the Oakland Raiders of the NFL and Oakland Athletics of MLB fame. Monster Energy Supercross has just recently returned to Oakland after a few years of racing across the bay in San Francisco. So despite just a few races in Oakland, it's got a history and a nefarious one at that. It's the race that got a rule changed.
1979 Oakland SX
On a sandy supercross track in 1979, Kawasaki's Jimmy "The Jammer" Weinert won the race but it was not without controversy. Weinert raced with a paddle tire, which was a smart decision considering the tracks surface and enabled him to catch and pass early leader Bob Hannah. Weinart's mechanic Roy Turner picked the tire up on the way to the race after hearing from other mechanics that were already there about how sandy the track was. It was a brilliant move and also led to the AMA immediately banning paddle tires from competition because of the danger of throwing rocks and whatever towards other racers. So that was it, Oakland's first ever supercross was shrouded in controversy. For good measure, The Jammer raced the event wearing a foam neckbrace. He was a character, for sure.

RC won in 2003 when the series returned to the Bay Area.
Simon Cudby photo
1984 Oakland SX
Honda's Ron Lechien captured the win on this night, it was the 17-year old's first AMA supercross win (the 1983 San Diego SX that Lechien won on a Yamaha was actually a CMC promoted race) and just reinforced the notion that this kid was going to be something special. Details are sketchy on this race but his teammate David Bailey got second and Yamaha's Rick Johnson finished third. Privateer Eric Eaton finished tenth which for him is a great finish with a field that is full of historic greats. And then poof, the supercross series withdrew from the bay area after this race and wouldn't come back for 19 years. NorCal fans did have the San Jose race here and there, but the true Battles of the Bay were on hiatus for awhile.
2003 San Francisco SX
Across the bay, at the beautiful AT&T park in San Francisco, the supercross series returned with a bang in a sold out stadium in 2003 and saw Honda's Ricky Carmichael take the win over Yamaha's Chad Reed. I was a mechanic for Tim Ferry on this night and there are a few things I remember from this race. One is that Ferry had to go to the LCQ but ended up fourth in the main and the other is that Reed and his mechanic Dave Dye were riding back to the team truck after a heat race when they clipped bars with another rider, and down went Reed and Dye to the ground. Dye's knee was in really bad shape and he was unable to work the rest of the night. Bob Oliver stepped in (like he did with Bradshaw in 1992, when Damon's wrench Brian Lunniss fell off of a tailgate in Atlanta, and Oliver had to step in and guide Bradshaw to the win) and pit-boarded Reed to the podium which caused all of us to mock Dye incessantly. Good times.
Results from 2003 San Francisco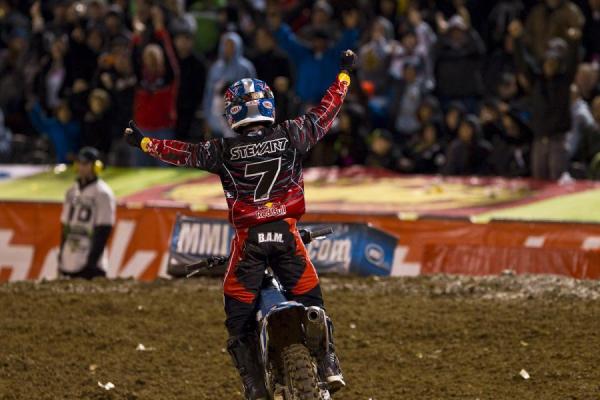 James Stewart won the first race in Oakland since 1984 in 2011.
Garth Milan photo
2006 San Francisco SX
Great race with some mud thrown in, the 2006 450SX main event was cut from its usual 20 laps to 12 because of the slop. We saw a great race between Kawasaki's James Stewart and Suzuki's Ricky Carmichael for almost the whole race with Stewart getting by right before the last lap flag. Watching this race on YouTube, I forgot how bad it was. Notable was the third place rider who was MDK Honda's Nick Wey- privateer power!
Results from 2006 San Francisco
2011 Oakland SX
We're back across the bay to Oakland, which enabled a larger track and more tickets to be sold. What we saw was L&M's James Stewart take the win with a great ride and one that he would back up last year meaning it's a two year win streak for Stewart. Can he make it three in a row this weekend?