O.co Coliseum
Oakland

,

CA
Oakland
Monster Energy AMA Supercross Championship
Hello, everyone and welcome to the Rev Up. I first laid eyes on the #511 of Kevin Windham at Lake Whitney, TX when he was leading Robbie Reynard in the 60cc class. I didn't think it was possible to lead RR, but here came this kid from Baton Rouge, Louisiana out front and heading into the famous sweeper by the starting line. The inside was impossibly whooped out while the outside was smooth with a perfect berm. I'll never forget watching KW choose the inside, charging in what had to be 5th gear, his bike hardly making a sound. Jumping through the long sweeping corner, he only touched about three times before sending the following table top with a little whip. He also pulled about five bike lengths on Reynard who screamed around the outside wide open and had to be just as astonished as everyone else. That was just the kind of thing Kevin did for the next three decades. Right up until the very hour he called it off. As an amateur his bikes and gear were always clean and everything from the numbers on his plates to his goggle strap were razor straight. Never before has a motocross racer championed such style and innate ability. Congratulations, old friend! Thank you for the memories.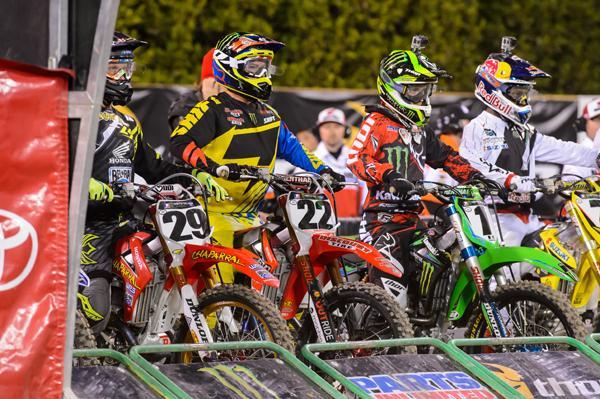 Reed, Villopoto, Stewart (pictured above), Canard, Millsaps and Barcia lead the charge into Oakland.
Simon Cudby photo
Oakland

With three winners in as many weeks, the series makes its way Oakland, California. The Bay Area is already buzzing with the San Francisco 49ers making the Super Bowl, much to the chagrin of Raider fans, but enough about the NFL. "NORCAL" is a passionate motocross demographic and they will be going nuts for our version of the Battle of the Bay. While still "California" all the way, the style is a shade more mellow in this part of the state. You can expect to see an ocean of flannels and hoodys in the stands, and these fans are as core as any in the country. They only get the Hangtown Motocross Classic, one SX a year and will arrive to the stadium loaded for bear. Heck, even during some of the rainy nights in San Francisco, these fans kept the stands packed all the way until the final checkered flag.

Last weekend saw tight racing in both classes, but bigger and burlier battles are yet to come. Monster Energy/Kawasaki's Ryan Villopoto stormed through the pack last weekend leaving his competitors with a cold reminder of his speed. He hasn't gotten the best of starts in 2013, and if he sharpens that part of his game the rest are going to have to step it up. Taking a look at the points. He is now 11 behind the series leader, and only eight shy of who I feel will be his championship nemesis toward the middle of the tour. That would be Muscle Milk/Honda's Trey Canard, who is getting great starts and finished in the top five three times consecutively. As the charge makes its way to the cool salt air of Oakland, he could be heating up.

Ah, but so much is growing. Like Canard, TwoTwo Motorsports Honda's Chad Reed comes into round four on a steady progression of speed and consistency. If the track is softer with more ruts, both of these guys should be greater threats to win. They'll need good starts though. Fellow Honda pilot Justin Barcia took a gruesome shot last Saturday night, and just like he was a little off at the season opener, A2 and Bam Bam didn't mesh. His points situation received the most damage, although don't expect his injuries to slow him down as he goes on the offensive to climb back into the title hunt. Like Chad and Trey, Barcia should have a better chance to take down RV if the track surface is more forgiving.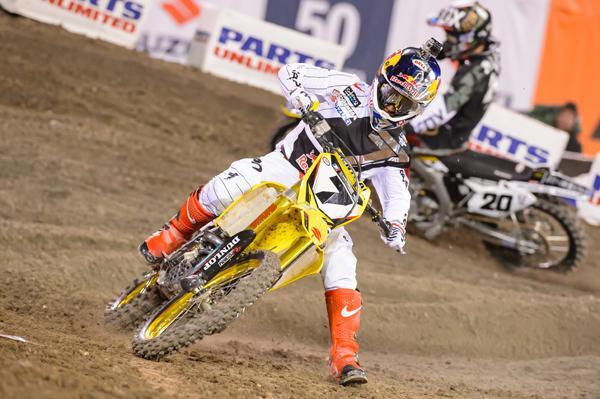 Stewart looks to bounce back from a slow start to the season and win his third straight race in Oakland.
Simon Cudby photo
The dark horse contenders of defending event winner, James Stewart, and another former SX champion, Ryan Dungey, and the emerging Jake Weimer fuel the race scenario. Fans shouldn't be surprised to see any of the trio put forth their biggest effort of the still young series. Dungey is primed for a breakout performance and needs to return to the podium soon. Weimer has been a silent killer and only showed a flash of his full potential with that holeshot last weekend. Stewart ... well, you never know. He's pumped about returning to Oakland and maybe he can run? What's great is you never really know with all of these guys. Yet. I say yet, because Villopoto has the potential to go on a streak.

Still missing are the JGR Yamaha squad and RCH Suzuki. Battered by illness and injury, both teams had hopes for 2013 that have yet to come to fruition. With Josh Hill soon to return, and Just Brayton winning a heat race last week, better main events are on the horizon for the satellite powerhouses. Their absence from the podium is over-shadowed by the efforts of privateers Weston Peick and Vince Freise who are conversely over-achieving. As gnarly as the 450 class is, don't be shocked to see one or both of these tough and fast racers knock a big name out of the main event. Speaking of making the most of things...
Rockstar Energy Racing's Davi Millsaps owns the red plate through three rounds and hasn't backed down from anyone. Climbing back from that freak heat race spill and going toe to toe with Reed in the main showed championship fortitude. You have to respect the effort from Millsaps and his team. A veteran thought to be past his prime, with absolutely no factory backing or teammates to aid him, remains the alpha. This is still the headline story of 2013.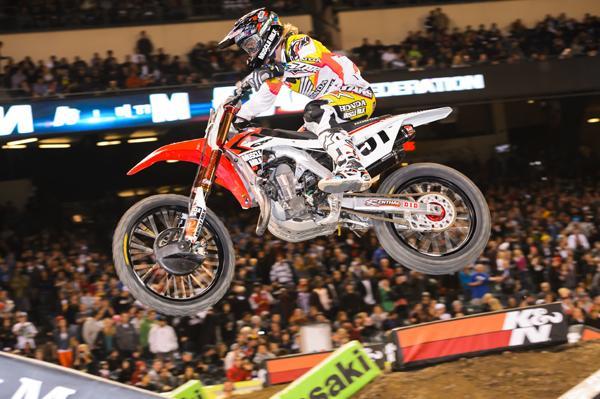 After a big crash last weekend in Anaheim, Justin Barcia looks to get back on track in Oakland.
Simon Cudby photo
It's already time to drop the gates again, folks. What's up, NORCAL? The relocation of the charge to scenic Northern California should reinvigorate attendance, and The Bay Area crazies are going to rock this Saturday night. Will their cacophony be the result of witnessing the fourth different winner in 2013? Is Canard ready to pull the trigger? Can Millsaps keep it rolling? There is already bad blood, rivalries, and championship pressure after just three rounds. Time for more, more, more! Time for Oakland, where the boys will be racing with the mindset of the famous Al Davis quote, "Just win, baby. Just win."

Thanks for reading, see you next week.