O.co Coliseum
Oakland

,

CA
Oakland
Monster Energy AMA Supercross Championship
By Jason Weigandt and Davey Coombs
How did Kevin Windham's glorious career end? After a few laps of untimed practice at Anaheim 2, he had an epiphany: He knew the time was right and his heart wasn't in it any longer. He took his gear off and said, "I think I'm done."
Hardly the way it should have ended. But in this sport, there isn't much of a script to follow. So this week in The List, we highlight the ways some other top riders went out—with a nod to those who didn't get to choose their departure time.
Jeremy McGrath: For this piece, we'll exclude MC's 2004-'06 comeback rides, because he announced right from the start he'd only race a set number of events. That was all bonus time anyway. McGrath's regular full-time career ended, much like Windham's, quite suddenly. On the eve of the 2003 season, literally days before Anaheim, the all-time SX King, trying to adjust to a new KTM and coming off of a hip injury and two disappointing World Supercross rounds in Europe, just realized he couldn't make it happen anymore. He did come to most of the races in 2003 to do a victory lap and salute the fans during opening ceremonies, much like Windham plans to do now.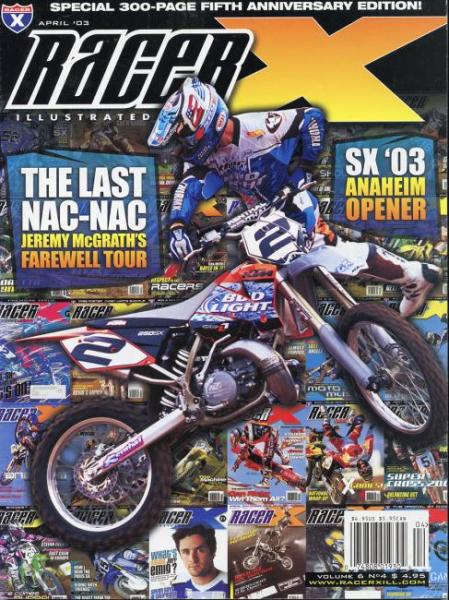 On a TWMX cover, MC proclaimed, "I will win races on my new KTM." It didn't quite work out, and he retired before the domestic AMA SX tour even began. We thought it was over when this issue came out, but McGrath did return to race some in 2005 and 2006.
Cudby photo
Ricky Carmichael: The opposite of sudden, Ricky actually announced his retirement plan at the pre-race press conference for the 2006 Las Vegas SX. He explained that he would race about half the races in 2007, then do the Motocross of Nations (if selected), then call it quits. In September of the following year, that's exactly what he did. He also won two supercrosses in '07, every national he entered, and that Team USA squad won the Nations, although Ryan Villopoto's unreal 1-1 on a 250F stole the headlines that day.
Bob Hannah: The Hurricane was still a member of Team Suzuki by the late 1980s, in more of a PR and R&D role. He'd only race select events each year, and then announced before the '89 Unadilla USGP that it would be his last race. He didn't win it, but he did get cheered like crazy all the way around the track, all day long. He ended the day with a victory lap, on which he was joined by the race winner, Rick Johnson.
Jeff Ward: Wardy announced prior to the 1992 season that it would be last. He hoped to go out a champion in the 500 Nationals but ended up third in the series. Budds Creek marked his last race, and he went 4-2 for third overall on October 4, 1992.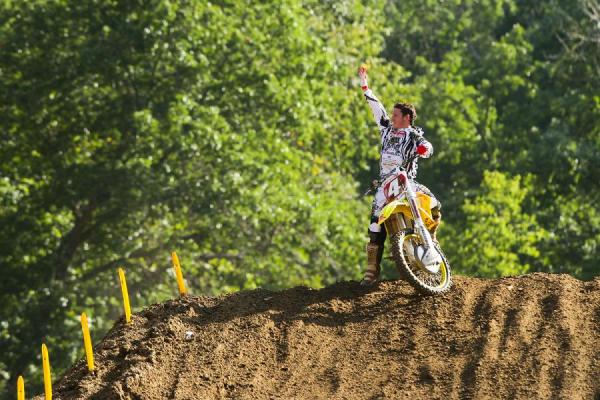 In a crazy 2007 AMA MX National Championship, RC could have potentially won the title without even making all of the races! But he stuck to his retirement plan and skipped the final rounds.
Cudby photo
Jean-Michel Bayle: This retirement was as bizarre as any, and on the exact same day as Wardy—October 4, 1992. After JMB won everything there was to win in 1991, he announced he would race in 1992, at Honda's insistence, and then retire from moto to try road racing. At that same Budds Creek National where Ward's career ended, JMB actually slowed at the end and let Kawasaki-mounted Mike Kiedrowski pass him, hoping to avoid seeing his rival (and teammate) Jeff Stanton take the 500cc National Championship. Stanton went 1-1 for maximum points, but it wasn't enough to beat Kiedrowski, who ended up with 2-3. The final points difference was three (229-226). Had JMB gotten between Kiedrowski and Stanton, Stanton would have won the title.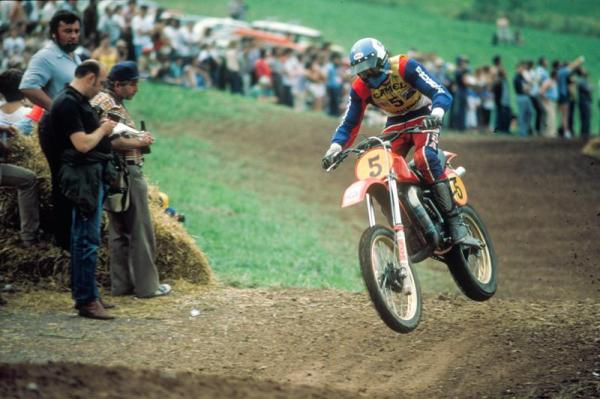 DeCoster raced the 500cc GP tour and won his last race, the 1980 Luxembourg 500cc GP, with a 1-1 sweep.
Moto Verte photo
Damon Bradshaw: Okay, Bayle announcing his retirement while also holding three AMA #1 plates was bizarre, but Bradshaw topped that a year later when, after a disappointing 1993 season, he just up and called it quits. Bradshaw was only a year into a massive three-year Yamaha contract but cited burnout as his reason for an immediate, and possibly permanent, hiatus. He tried a few comebacks after that but never quite got back to his old level. But the record books show his last win to be 1997, in the mud at High Point Raceway, on a Manchester Honda CR250
Mike LaRocco: At his home-state Indy SX in 2006, The Rock announced he would retire at end of SX season. Then he broke his wrist in practice. Season (and career) over.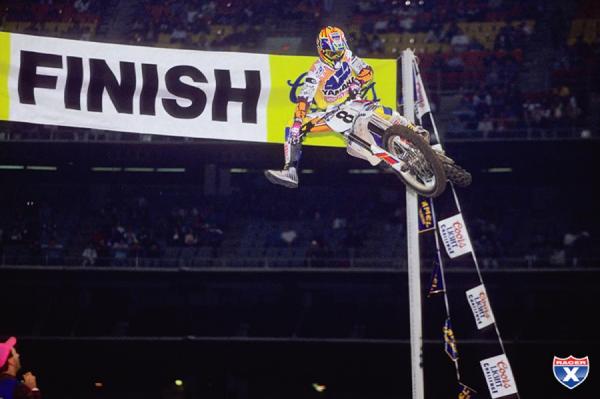 When Damon Bradshaw won the Atlanta Supercross in 1993, it looked like his house was back in order. Instead, he struggled through the rest of the season and never won another supercross race. He retired at the end of the season, at age 20!
Racer X Archives
Stefan Everts: Everts kicked everyone's asses all year in the 2006 GPs, winning twelve races and his tenth FIM World Championship. He went out a winner at his final race, the 2006 Motocross des Nations, to boot. He and Carmichael were practically running parallel lives in "How to Go Out on Top" status, but we have to give Everts the edge in dramatic farewells, because he beat James Stewart in both MXdN motos, then took his leave as gracefully as anyone ever has in motorsports racing.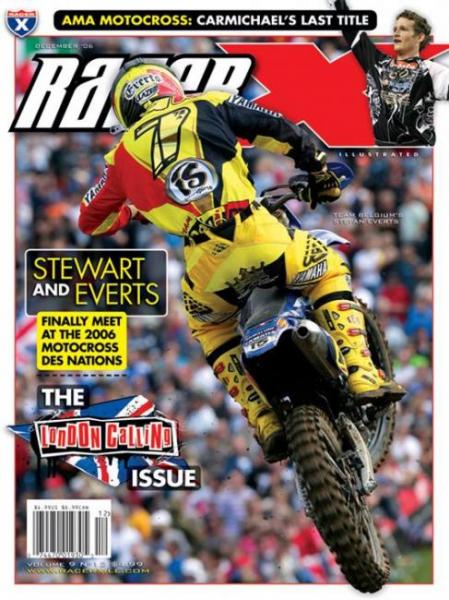 Dominating the GP season and the 'Nations in 2006, it's hard to top Stefan Everts' final season.
Cudby photo
Broc Glover: The Golden Boy embarked on a final racing season in the 1989 250cc GPs, developing an all-new KTM. It was a rough year, but he did win the last moto of his career, at the season finale at Belgium's Angreau circuit, where some half-dozen years earlier he helped Team USA win the Motocross des Nations.
Roger DeCoster: Old-timers might recall that The Man spent a decade racing for Suzuki, winning five 500cc World Championships for the brand. But then he was let go before 1980 and signed a unique R&D deal, as in "retire and develop." DeCoster raced the 500cc GP tour and won his last race, the 1980 Luxembourg 500cc GP, with a 1-1 sweep. Like Everts and RC, he went out on top of the world.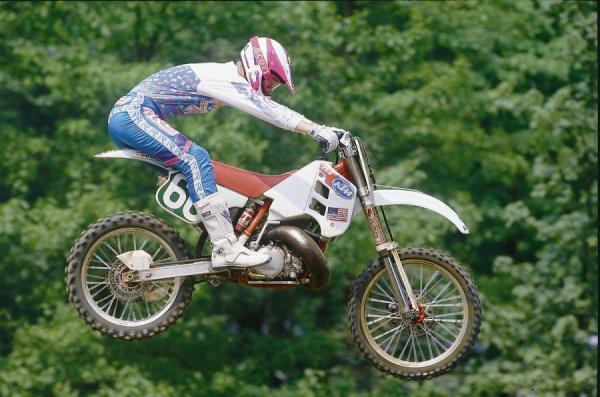 Broc Glover won the last AMA race he ever entered--the 1988 Los Angeles Supercross--and then won the final motocross moto of his career the next year, at a GP in Belgium.
Moto Verte photo
And the greatest retirement ever (even on a list that's in no particular order):
Sweden's Håkan Carlqvist was winning his last race ever—the 1988 500cc Grand Prix at the fabled Citadelle in Namur, Belgium—by such a large margin that he stopped to drink a Jupiler beer in front of the Monument Cafe on the last lap with the fans. And he still won! Here's a YouTube clip.

Drinking a beer during the race with the fans while on the way to a win. That's how you go out! Man, if New Orleans were still on the SX schedule this season and K-Dub could have just hung on for a few more races....