Angel Stadium
Anaheim

,

CA
Anaheim II (A2)
Monster Energy AMA Supercross Championship
We've got your Idiot's Guide to Supercross right here. Or, maybe we just have some idiots. Either way, our well-traveled trio will tell you where to go and what to look for when you head to a Monster Energy Supercross round this year. Be sure to check out parts one and two of this guide for additional entertainment, too. See ya' at the races!
Houston
Everyone knows New York, L.A. and Chicago are the three biggest cities in the nation. Did you know Houston is fourth?
It's cool to go to this race just to watch the evolution of the football stadium. Next to the giant Reliant Stadium is the old Astrodome. That's the first domed stadium ever, and it was so massive that they called it the Eighth Wonder of the World when it opened in 1965. But parked next to Reliant Stadium, it looks like a postage stamp. A dirty, unmaintained postage stamp.
Houston is pretty spread out, and the stadium is somehow both not close to the airports and not that close to downtown. Did I say airports? Yes, there are two of them, so if your meeting your Match.com sweetheart here, you're guaranteed to try picking them up at the wrong one. And Texas really is its own country when it comes to road signs, highway numbers and traffic patters in general. Dallas is even more confusing, but Houston is no picnic. If you're driving a dually crew cab pickup with a giant front bumper (the official vehicle of Texas!) good luck with the U-turns.
These big new stadiums seat you so high up that the track looks more like a video game than the real deal. Houston dirt is usually pretty good and the riders like it. Fans here love them some Kevin Windham. Also, there's a Holiday Inn at the end of the stadium parking lot. If you're into star gazing, wander over to the hotel bar on Saturday night. Watch for the team semis over there, as well, but remember that whatever happens in Houston stays in Houston. – Jason Weigandt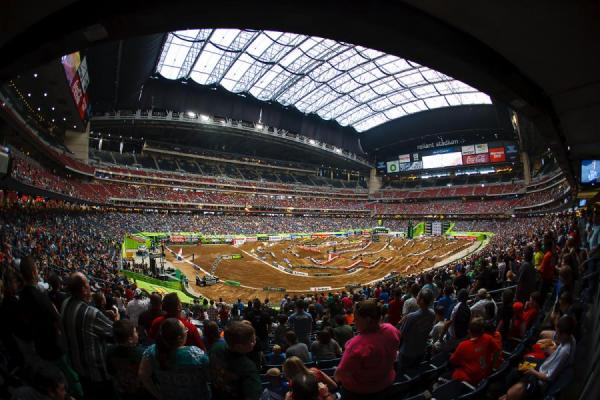 Reliant Stadium in Houston.
Simon Cudby photo
Minneapolis
Minneapolis is back in the series for the first time since 2008 and that's a good thing. The Metrodome first hosted a supercross in 1996 and fans packed it for many, many years. Then something happened where the fans sort of went away and the race did as well. The people of District 23 love this race and I'll go to my grave as saying that I'm not sure I've EVER heard a dome as loud as when Jeremy McGrath was winning on a Yamaha in the late 90s. I'm sure it wasn't Kirby Puckett Game 7 of the World Series loud, but it had to have been close. Now they have Ryan Dungey, and I'm predicting Kevin Windham will be a crowd favorite this year. Call me crazy.
Yes it's cold in Minny but the race takes place in April so that shouldn't be too big of a deal. Sweet Jesus, I still hear people telling me about '96 and '97 when they raced in January and everyone froze their butts off. I get it, people, it's cold. The only bummer for the fans is because of the weather, most teams pit inside their trucks or down in the belly of the stadium where fans aren't allowed. It's a lot like Toronto and if you're one of those creeper fans that like to hang outside a team's tent all day, you're out of luck here.
Again, the airport is on the outer edge of the city and the stadium is right downtown. It's 20 minutes between the two. No big deal at all. I prefer to stay out by the airport as the hotels are a bit cheaper. But hey, whatever floats your little boat. There are Starbucks all along the way but when I'm in Minny, I try to hit up the started-in-Minneapolis Caribou Coffee. Of course there is the Mall of America but that's a bit played out if you ask me. There is however a lot of good restaurants in there where you can grab a bite and people watch. That's out by the airport -- if you're downtown then I'm out of info for you.
All in all, it's awesome to have Minneapolis back on the calendar once again and you know, if you guys find yourself with some time on your hands, my hometown of Winnipeg, Manitoba Canada is just eight hours up the road. – Steve Matthes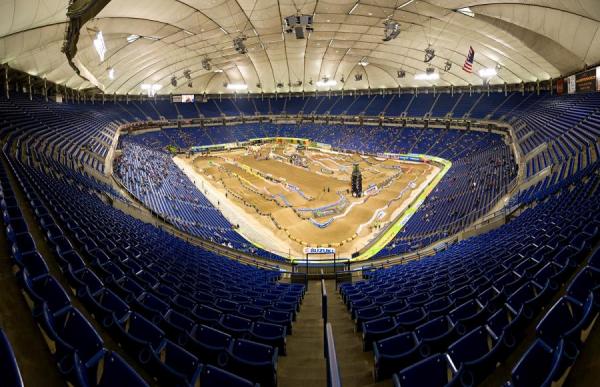 The Metrodome in Minneapolis.
Andrew Fredrickson photo
Seattle
Seattle is one of my favorite cities to visit. It's musical heritage and thousands of coffee houses give it a cool vibe that I enjoy. The rainy spring weather, however, is not so awesome. Why would they would hold a supercross in an open air stadium in Seattle is a mystery to me but as long as you own a poncho, it's still a great time.
The dirt is usually either soft or muddy, depending on the rainfall that day. I know most of the riders are leery of this race as the only constant is the fact that it's unpredictable.
Most of the teams and riders stay out by the airport but there are some nice hotels downtown as well. It should be noted that if you choose to stay by the airport, it's a good 20-30 minute drive to the stadium.
Ryan Villopoto is king in Seattle and the crowd in 2012 was eerily silent when their hero was injured on lap 1. Expect a triumphant return in 2013 as their long lost son brings his #1 plate to town. – Jason Thomas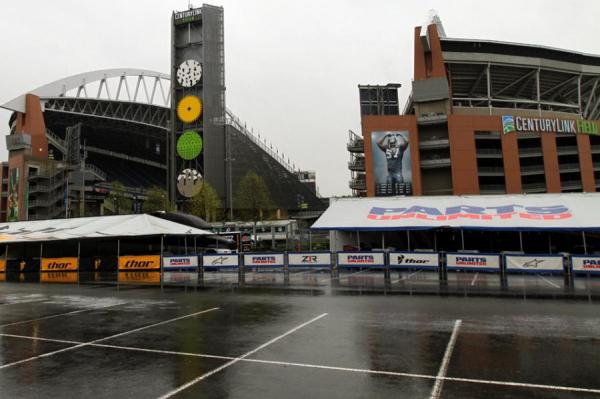 Century Link field in Seattle.
BrownDogWilson photo
Salt Lake City
The Salt Lake City stop is probably underrated. The Utah city is sort of up there out of sight, out of mind but it's a very cool. Very clean, nice scenery, and the only thing that is dicey is the weather. It can be very, very cold and a couple of years ago we were watching the guys fly through the snowflakes. Still, there have been years with very nice weather, and the open air Rice-Eccles Stadium has a great view of everything, especially when the sun is setting.
If you get to town early enough, some of the nicest ski towns and resorts in the country are not too far away. Makes for a fun side trip.
The drive from the airport to the stadium is a bit far but I always stay downtown when I visit because it's pretty cheap and kind of new-ish down there. There's a Starbucks on the one-way street on the way to the stadium as well (Editor's note: Matthes, you've reached your limit on Starbucks references. Are they sponsoring you?). There are always plenty of fans there and they all love Kevin Windham. I really thought Davi Millsaps had this thing won last year but Ryan Dungey put on an excellent charge to win the thing.
All in all, you've got to check out Salt Lake City at some point -- it's actually pretty good. Now that I think about it, that could be the slogan for the city or for the supercross commercials. Salt Lake City: It's actually pretty good. – Steve Matthes

Rice-Eccles Stadium in Salt Lake City.
BrownDogWilson photo
Las Vegas
Viva Las Vegas!  The season finale in Nevada is easily the most laid back race of the series.  After four grueling months of racing, riders are looking forward to a change and a vacation albeit for only a week. The bright lights of Vegas welcome riders and fans alike to wrap up the series and party your face off while you're at it.
The race itself has seen every scenario possible. Title consequences are a Godsend for Feld Motorsports but about half the time, the championship is decided long before bikes hit the desert adobe. As the only East/West shootout race on the schedule, it also gives the Lites riders a chance to prove which coast has the goods. These shootout races are cool and often carry big bonuses for the riders, so watch for great racing here.
Flying into Vegas is easy peasy. As America's #1 vacation destination, there are tons of flight/hotel packages available but be forewarned. The Vegas SX falls on the same weekend as Cinco de Mayo and there is usually a big boxing match scheduled for the same weekend so you should make plans early. Depending on your budget, there are limitless options for accommodations. Most of the teams and riders end up at the Hard Rock and this is where the year-end SX Awards Ceremony is held on Sunday night. It's a private show but if you hang out at the Hard Rock, well, let's get into that below.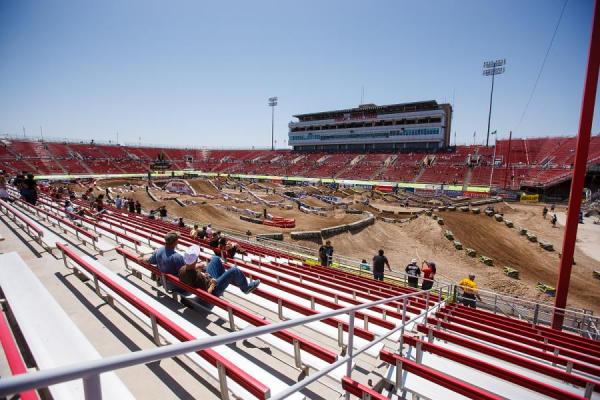 Sam Boyd Stadium in Vegas.
Simon Cudby photo
Yes, the infamous Vegas nightlife. Friday night you can find a good supercross crowd at the Hard Rock Circle Bar and this holds true for after the race Saturday night. There are numerous after-parties and the most decorated is the Monster Energy affair. It moves around year to year but it is a hot ticket and they know how to throw a party. With Nelly performing last year at the Aria, it's a tough one to miss. If you can still remember your name on Sunday, Rehab at the Hard Rock pool is a good bet but come early as it's world renowned and lines stretch around the building. If you are looking to avoid the supercross crowd, Mandalay Bay, and the Aria are popular spots for post race celebration.
All in all, Vegas is more of a release than a race. Sure, the racing is still taken seriously but it has a different feel than the rest of the series and smiles abound. Next to A1, I think it is the "must see" event of the year and if you've never been, I suggest you change that in 2013. —Jason Thomas