Angel Stadium
Anaheim

,

CA
Anaheim 1 (A1)
Monster Energy AMA Supercross Championship
The season has begun, so our minds have switched to not only bench-racing, but also bench-traveling. Of course any supercross race is awesome, but our crew knows the ins and outs of each round pretty well. All three of the authors here have been hitting the circuit for over a decade, so enjoy your Fodor's guide to Supercross, part 1.
Anaheim 1
Anaheim 1 is the race to be at. Everything is new, from graphics and gear to hauler paint schemes and rider numbers. Months of hype all culminate into one Saturday night in early January. Everyone in the industry has this race circled on the calendar for different reasons. With celebrities in the Knothole Club, every seat in the house sold and rider tension at an all time high, it is an event not to be missed.
With Disneyland just down the way, most fans and riders stay in the hotels near there. I also like the DoubleTree hotel just a mile away and I would definitely recommend the Hilton across the parking lot as well. Both are great for spotting riders and are in a very convenient location.
As with all of the Anaheims, the track will be get slippery once the sun goes down. The Pacific ocean sweeps in a layer of moisture that makes the track more slick as the night goes on.  Throttle control is key here and a keen eye can see this at work in Anaheim's numerous flat corners. Being the first race, many riders are still working the bugs out of new machines in race conditions. The most organized teams often do well here as they are ahead of the curve with their setup. Something to keep in mind when you see some riders excel and some look a bit off.
With 4-5 viable airports within an hour of Anaheim Stadium, flying into town is the most flexible situation of the series. Most of the riders live in the area so this isn't an issue for most. But for me, it was always nice to have options. Speaking of that, this race is in the heart of the motocross world so be sure to schedule some time to go check out your favorite company while you are in SoCal. With three Anaheim races a year, its easy to underestimate the "cool" factor of the first one but it should be on your list of must see races. - Jason Thomas

Angel Stadium in Anaheim.
Simon Cudby photo

Phoenix
Anaheim 1 has all the hype, but everyone involved in the actual racing likes Phoenix much more. The pressure is dialed back significantly for this one, and moving five hours from the SoCal industry center removes half of the extra people in the team pits. And with a race under the belt, everyone is a little more assured of their setup.
Chase Field opened in 1998, but it's still one of the coolest structures you'll find. The roof and the massive side windows open up, a TGI Fridays is built into the stands, and there's even a pool over the centerfield wall! The pit layout is pretty crazy, though, because this stadium is built downtown and doesn't have endless parking lot space. Most of the factory teams are pitted under a highway overpass next to the stadium, and the privateers are laid out on a side street.
This is the desert, of course, so the dirt is hard and slippery. The track is usually pretty fast, too, because track builders don't get really technical until later in the season. – Jason Weigandt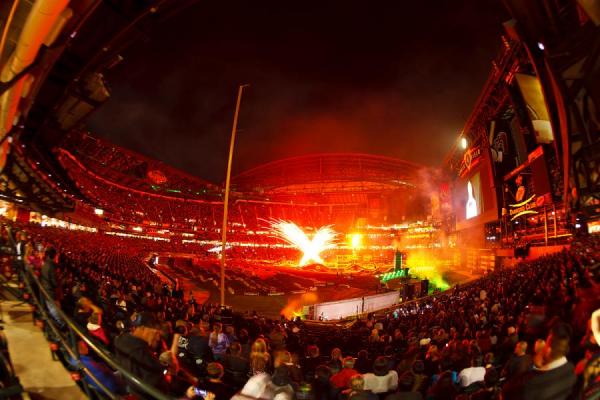 Chase Field in Phoenix.
Simon Cudby photo
Anaheim 2
Oh yeah, Dodger Stadium! Wait, what? We're not going there now? Okay, back to Angel Stadium, which the spoiled Southern California SX fans seemed to like better anyway. Anaheim draws a much bigger crowd than L.A. did, which is mind boggling because if you grew up in the east like me, any supercross race within about 10 hours is worth driving to. And if you're scared off of downtown L.A., how come the Dodgers draw millions of fans there for 80-some games for the last 50 years? Can't be that bad.
Oh, so, Anaheim 2. You've heard about the dirt from JT above. It can actually change a little bit for this race, though, because they'll usually hold a Monster Jam event the weekend that SX is in Phoenix, and that can polish the dirt a bit. I will add that the first five rounds of the year are held in baseball stadiums, so the track is diamond shaped, instead of a rectangle like a football stadium. The rectangle tracks lead to standard 180-bowl berms and obstacles, while the baseball stadiums usually have weird angles and curves. All of the SX test tracks are rectangles, so every year the riders will say they hate the diamond-shaped tracks because they're not used to it. Hmm, why not build a diamond-shaped test track?
One more note: I have a theory that round three is the best race of the year. The nerves are now totally gone, but everyone's bike setup is closer, and, no one has given up, lost confidence or gotten hurt yet. Think about it. – Jason Weigandt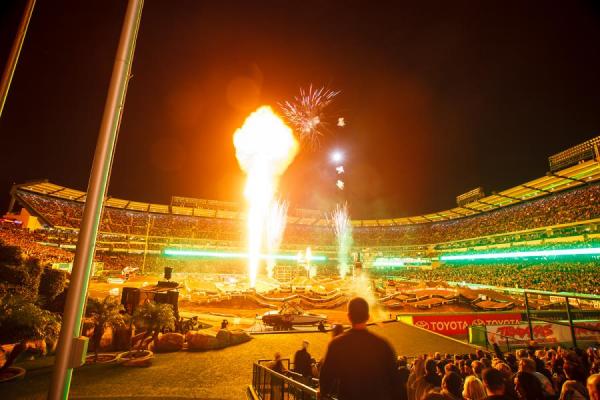 A look from the inside at Angel stadium.
Simon Cudby photo
Oakland
Oakland is, for lack of a better term, interesting. It's not the nicest stadium around but it is historic in the fact that championship winning teams from the NFL and MLB have played (and still play) there. As a Raider fan, I can smell the commitment to excellence just walking around. Or maybe that's the smell from the A's dugout after a day/night game. I'm not sure. The series used to visit San Fran across the bay in a super-cool stadium but it was a short track and it holds less fans than Oakland, so we headed this way to fit more NorCal SX fans. The track is way better in Oakland than in San Fran.
I've looked around for the late, great Al Davis's private box but have so far struck out. I will say that the press box in Oakland is probably the worst one in the series. It's cramped and a long walk from the pits. I know, call the Whaaaambulance, right? You'll want to fly into Oakland rather than San Fran. Flights to San Fran and rental cars from SFO are very expensive when compared to its brother across the bay. Stay by the track, there are all sorts of ranges of hotels around there but good luck finding a place to eat after the race. The surrounding areas are a little rough. It's no secret to me why the Raiders and the A's are desperately trying to get a new place to play, the Oakland Coliseum has seen better days but if you're a sports fan like me, you appreciate the history. And if you want to take in San Francisco's sights while you're here, it's not far away. – Steve Matthes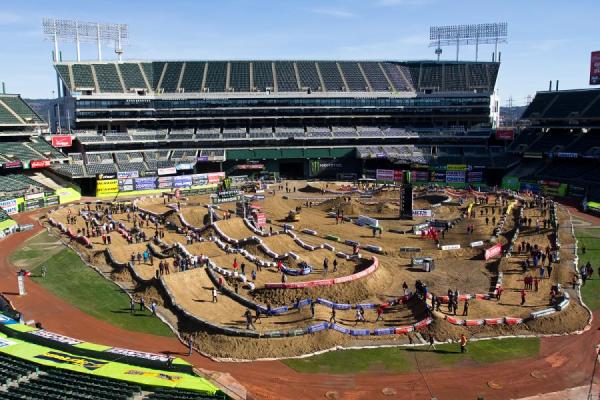 O.co Coliseum in Oakland.
Andrew Fredrickson photo
Anaheim 3
Look, if you're hitting Anaheim 3 then a good guide would be what the other two jerkies said above me. You've got to hit up an Anaheim at some point so why not the third one? You can probably get some good tickets, the series is just heating up in its fifth round and the people watching is pretty epic. See if you can get a seat in the prestigious Knothole Club (of which I am 0-for-20 as far as getting in) and cram your neck to see the real cool people. Jeremy McGrath's in there as is Davey Coombs and probably some reality TV stars. But that's just what I hear.
Fly into Santa Ana/Orange County airport. It's about ten minutes up the road from there. If you're not from California or aren't used to driving there, remember the far left lane is only suitable for going 120 mph -- anything less and you'll get beeped at. You may also end up going 5 mph in a traffic jam. There is no in-between. Hotels are plentiful around there as it's not far from Disneyland and across the street there's a little strip mall with a Starbucks in it. Hit that up if you're dragging a bit.
Anaheim is weird in its rider allegiances. Of course it was McGrath's house for a long time but since then I hear both loud cheers and jeers for Reed and Stewart. There's just a warm applause for Villopoto and Dungey. Kevin Windham is a fan favorite because but that's just a given at this point. There isn't a bad seat in the house at Anaheim Stadium either, it's all pretty good but here's a warning, stay away from the Panda Express in the stadium. Not good. – Steve Matthes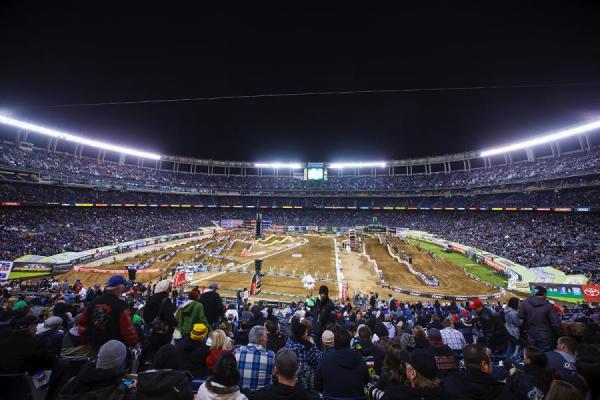 Qualcomm stadium in San Diego.
Simon Cudby photo
San Diego
San Diego is considered by many to be the nation's finest city. With incredible year round weather, beautiful beaches and mountains in the backdrop, it's a hard destination to beat. The race has hosted some incredible battles over the years and is well liked by most of the paddock.
San Diego airport is only 20 minutes from the stadium and if that doesn't suit you, the Los Angeles area airports are only an hour or two north. There are numerous hotels near the stadium as well as some beautiful places near the Pacific if you are wanting to splurge a bit.  The Gas Light District is a must if looking for pre or post race fun.
The track can vary quite a bit year to year. With winter time rains frequenting the area, there have been close calls on the race turning into a mudbath. It tends to be fairly good when the night show comes around and a nice change from the slip and slide of Anaheim. One thing to watch, Chad Reed seems to have a secret for Qualcomm as he always seems to put in his best efforts here. – Jason Thomas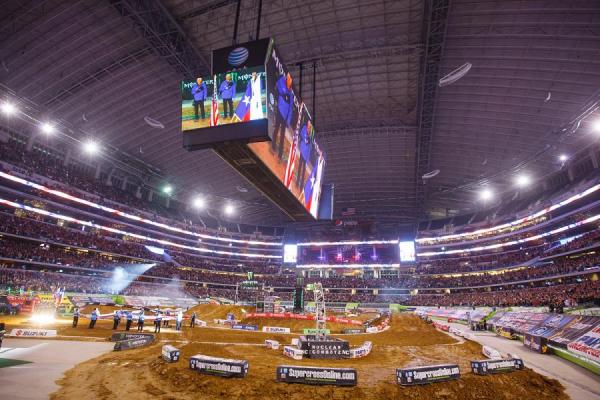 Cowboys stadium in Dallas.
Simon Cudby photo
Dallas
Dallas is a pretty sweet race. The move from Irvine's old Texas Stadium to the new Cowboys Stadium a few years ago is the equivalent to going from a Ford Pinto to a Lambo. The new Stadium that Jerry (Jones) Built is magnificent in every way possible from an amazing press box (although it is a bit too far in one corner for me) to the suites and the seats. The concourses are amazing as are the concessions (no one does cooked meat like the Texans). And I haven't even mentioned the massive HD screen that you sometimes find yourself watching instead of the action on the track. It's really, really impressive. Plus, from the outside, the stadium looks like something that landed from Mars. That's worth seeing in person, right?
The uniqueness of the race that I was speaking of is that back in the day, for years and years, it was blue-groove hard pack. Like Bridgestone M22-type dirt. Since the move to the new place, I don't know if it's dirt from a different location or what but it's not quite like it used to be. Still hard pack, but nothing like before. So we lost some character from the race but we also lost those massive cockroaches that were in between the girders at the old stadium as well (almost lost a hand once when I steadied myself going to the old press box).
Dallas is a must-see in my opinion just because of the stadium as well as a packed crowd that really gets into it. The pits are right outside the stadium and fully open and accessible for the fans. The only drawback is that it's a nice drive from the airport (either one) to the stadium but that's just more time to find one of the plentiful Starbucks. There are lots of hotels by the stadium or airports but either way you look at it, you've got a drive in the morning back to the airport or to the stadium itself. You figure it out. And of course the Dallas/Fort Worth Airport is Texas sized so even driving through it takes forever.
I've always stayed by the Six Flags amusement park near the stadium but one time Priceline put me in some hotel right downtown that wasn't close to either the stadium or the airport but it was an Omni with a giant ball on top. I made the best of it though because I was within walking distance to the JFK stuff and caught a hockey game later that night at Reunion Arena. Remember hockey? No? – Steve Matthes