So how good was race winner Justin Barcia? Pretty darned good. Once again, James Stewart and Ryan Villopoto were fast, but Barcia was right there with them, actually tying (to the thousandth of a second) Villopoto in practice, with Stewart just a tenth of a second ahead. And Barcia almost never goes that fast in practice, in fact his long-time mechanic, Snikey, suspects they only topped the board in the Lites class one or two times in two championship seasons. "I work on the sprint laps at home, but I guess it doesn't work," says Barcia. "I'm a racer and when the gate drops, I twist it harder."
How pumped was Justin Barcia on his win? Well, believe it or not he went into the Honda semi to make himself a cup of coffee once he got back to the rig. Shouldn't the natural high take the place of caffeine? "Hey, I live on the east coast, so it's late, and my mom doesn't let me go to bed late at home," he explained.
The track looked somewhat tricky and technical early, but everyone figured out the same lines and sections, and passing actually ended up being pretty tough. And, as expected, things got slippery as the race went on.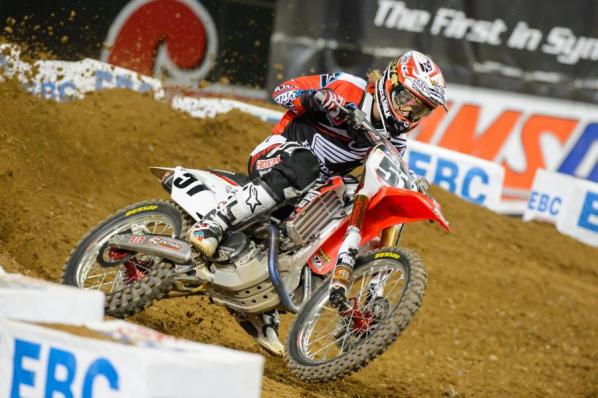 Barcia was plenty fast. Villopto may have been even faster, but he fell early and that ended any chance of a challenge.
Simon Cudby photo
Still, Villopoto has so much speed that he might have been able to give Barcia a run, but, once again, he crashed. He was fourth early on, certainly in position to make it happen. It was a minor one on lap two, where he lost the back end of his Kawasaki in a flat corner, but it was enough to take him out of any chance of winning. Dating to Monster Energy Cup, RV has had at least one crash each night since he's come back to racing. What gives?
Trey Canard coulda' shoulda' woulda' had second. He rode solid and smart, and while Villopoto might have been slightly quicker, each time he caught Trey, Trey would make a pass on the next rider in line (Reed, and then Millsaps) to get back away. On the last lap, Canard admitted he rode too conservatively, and attacked a rhythm lane differently than he had all night. And he crashed. Villopoto was close and might have been able to make a last-ditch pass even if Canard hadn't crashed, but, still, Canard made it easy on him. If the series ran 19-lap mains, Canard would easily be the points leader so far.
In our Going for the W with Canard from earlier on Saturday, we wondered if he'd still be "just happy to be here" if he didn't get the results he expects (Trey is notoriously hard on himself). Well, we have an answer. Despite throwing away three positions (and the points lead) on the final lap with a crash, Canard was still all smiles at the end of the night. "It's just so much fun to be here," said Canard. "On lap 17, I was just thinking about being in this position, and I realized I am having a blast out there."
Davi Millsaps admitted he just didn't feel as good as he did last weekend at Anaheim, and he wasn't sure why. So he was happy to just pull out a podium, and he'll remain the points leader for next week.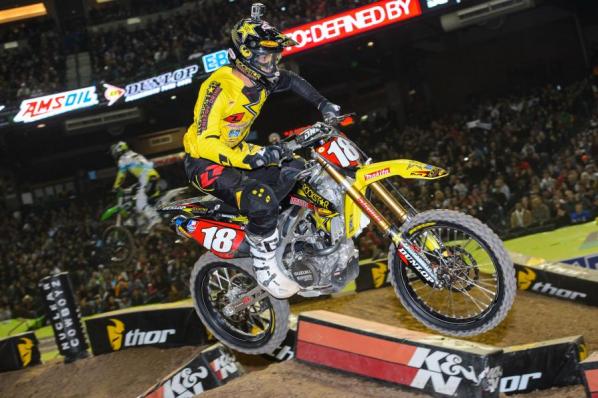 Millsaps wasn't as good as he was at Anaheim 1, but he was still good, and still has the points lead.
Simon Cudby photo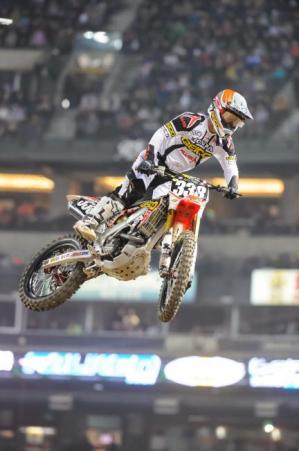 The 250 class almost turned into a race of attrition. Blake Baggett was knocked out of the series with a broken hand (suffered last week, but he tried in practice this time but couldn't go). Then Zach Osborne almost missed the race when he dinged his shoulder in practice, but he gave it a go and grinded out a sixth.
Simon Cudby photo
When it's not your night, it's not your night, and it wasn't Ryan Dungey's. He was wiped out in a huge crash three turns into his heat, and had no chance of qualifying. Next came another bad start in the LCQ, where he finished second to Jimmy Albertson, and then he grabbed yet another horrible start in the main event and had to fight through for eighth. Overall, not a great night for the Dunge.
Chad Reed rode okay—and once again pulled out a fourth. He seems to be working through setup issues on the new 2013 Honda much more than some of the other riders on that bike. For example, Barcia didn't even stay in California during the week, he just went back to his place in Florida and basically never changed anything on his bike between A1 and Phoenix.
Jake Weimer wasn't thrilled on his ride for sixth. He says he made too many mistakes early and just let the leaders get away.
James Stewart didn't look to have any problems with his knee in practice, but he started to slow a few laps into his heat race. Stewart actually told us the cold weather had an impact. "I just froze," said Stewart. "It was cold in that stadium. I was frozen! It's kind of stupid, but it is what it is. It's no excuses, we have a few things to work on, but it even happened to me in my heat race, after three laps I just froze."
Eli Tomac definitely has crazy speed, but once again Ken Roczen was pretty much his equal in lap times during practice. But Roczen got a bad start in the main and never had a chance to race him for it this time.
Last week's fourth-place 250SX finisher, Jason Anderson, was running second in the LCQ when he crashed and threw away the final transfer spot. He had to watch the main event from the sidelines.