Angel Stadium
Anaheim

,

CA
Anaheim 1 (A1)
Monster Energy AMA Supercross Championship
This week, Feld Motorsports announced the Ricky Carmichael Road to Supercross program, which will require riders make three night shows at an AMSOIL Arenacross race before they are eligible to race a Monster Energy Supercross event (in either the 250SX or 450SX class). The program does not become a requirement until the 2015 Supercross Championship, which means amateur riders will have to start using the Arenacross program in 2014 (they can use 2013 Arenacross races to earn their supercross license for 2014, but it's not required).
We saw Ricky Carmichael himself at Anaheim Stadium so we asked him about this new program.
Racer X: Kind of a surprise when we see a press release connecting you with arenacross, which isn't a series we've known you to have a connection with. So what is going on here?
Ricky Carmichael: Well, I didn't have much a connection with arenacross. But I have to say, I've always had this thought in my mind. Feld wants to make supercross the F1 or MotoGP of dirt bike racing, and we need to start acting like that. When we come to these supercrosses, there are guys out there that really shouldn't be out there. Number one, they're risking their health, and there's no amount of money, fame or fortune, or even just pride in front of your family and friends, saying "I suited up for a supercross and went out there" that is worth risking your health like that. There are just guys that have no business being out there on a full-blown supercross track in these conditions. We've got to make a qualification system, somehow, someway, to benefit the young guys coming up. They need to race in a confined area like this, where it's tight, it's loud, and sometimes you can't hear your bike, things like that. So we came up with the Ricky Carmichael Road to Supercross concept. It's new, but where I really think you'll see the benefit is three to four years from now, when you come to a supercross, and you will only have top guys out there. I just think it will grow the integrity of supercross—it's not a place where you can just come and try to qualify. It's only for the best of the best. And I don't want to say that in a way that sounds disrespectful, but it's only going to help. It will give the track builders more time, the other riders more time, it will make the track better, you won't have everyone running around like a chicken with their head cut off trying to figure out what to do out there.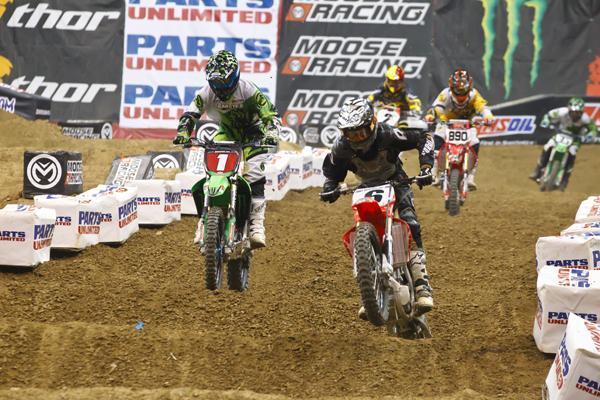 Arenacross has undergone a major face lift during the last few months.
Simon Cudby photo
Now, also, what is this going to do for arenacross? I think it's going to do a lot for arenacross. You're going to have guys, a top amateur like a guy at Adam Cianciarulo's level, they will have to go there [Note: riders will only be required to use the AX seeding system in 2014 for the 2015 SX races. Cianciarulo and other current A riders will still be able to race supercross in 2014 using the current system. After 2013, though, the new rules come into effect, so most likely today's B riders will be the first to use the AX system en route to a professional supercross license in 2015]. You know, Ryan Dungey did one in Fresno once, for some supercross pre-prep. And I know being a team owner now that it's good to get the young guys some experience in a tight, enclosed environment, instead of sending them into the deep end of 250SX Supercross. That was my goal, that was my vision.
People always think top down—how does this effect guys like Cianciarulo, or a guy like you when you were starting out. You guys could ride a supercross track safely. So maybe this doesn't seem necessary at first, until you start thinking about those local riders who don't have factory deals and supercross test tracks.
Well, that's what we say, but Ryan Dungey went and did it when he was a factory Suzuki rider. He's got some pretty good credentials! It has to be the same for everybody, and I honestly believe it would be good for a rider like Adam Cianciarulo. I was extremely successful as an amateur, and even with all of my off-season testing with Pro Circuit for supercross, I felt like a fish out of water at my first race in Indianapolis.
Well, this all begs the question: do you wish you had done this yourself?
Absolutely. And I know it sounds so cliché to say that, because obviously I've done a deal with arenacross now. But really, looking back, I wish I would have done an arenacross or a race of that nature so I could cut my teeth a little bit. It's just different, and I don't care how much testing you do, nothing can simulate being out here in a supercross. This closest we can get is arenacross.
Yeah where did you finish in that first supercross race?
I think 19th! I fell down and my clutch lever broke off, and I ended up pulling off. But the next weekend I won. See? I could have gotten that out of the way. You're just so nervous out there, there's a lot of hype, it's so tight. You get that out of the way at an arenacross—and that's extreme, it's even tighter than a supercross—get that out of the way and you're ready to go.
But on the other hand, clearly, this is a big boost for the arenacross series.
Yeah and I think a lot of people are going to say, "Oh, they're just doing this to help arenacross." Well, let there be no doubt about it, short term, it's going to help arenacross. But, long term, it is going to help supercross. It's going to keep people safer in my eyes.
Well, if it makes arenacross better, how is that a bad thing anyway? If that series grows, the riders in that series make more money and get more exposure and fans, which is good anyway.
Hey, take a guy like Buddy Antunez. He made a great living in arenacross, and those guys are taking the same risks as the guys in supercross. They should make a great living. For some guys, maybe supercross isn't their thing, but they're good at arenacross. Take a guy like Tyler Bowers. If arenacross becomes popular like it was when Antunez was racing, Tyler can make a great living at it. And there's nothing wrong with that. I see it all the time in NASCAR. There are guys who don't even have a goal of making it to the Sprint Cup Series anymore, they race the truck series and they make a good living at it. That's great for them. This is all part of a big package for arenacross, a lot more TV coming into it and things like that. But my big thing is the Road to Supercross. You can't have guys trying a supercross who only have local experience—I told the guys at Feld, hey, I can't just jack up my four-wheel drive and try to qualify for a Monster Jam event either!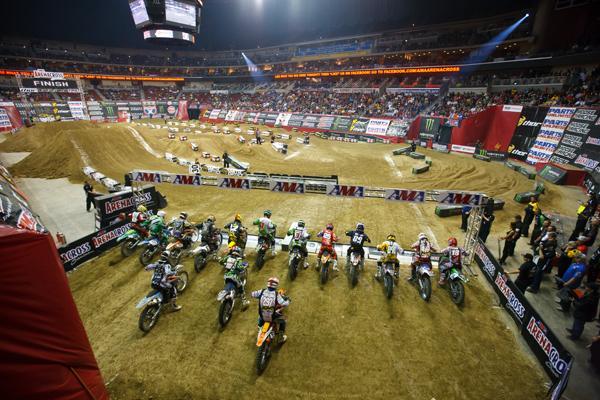 The Ricky Carmichael Road to Supercross program will require riders make three night shows at an AMSOIL Arenacross race before they are eligible to race a Monster Energy Supercross event (in either the 250SX or 450SX class).
Okay, people will get mad if I don't ask you for some preditions on supercross 2013.
Well, my prediction for the year is you can never bet against a guy like Ryan Villopoto. He's even more rock solid every single year he's on his program, with his training, and he's getting older and getting wiser. I would like to see Chad Reed do good and come back from that injury. But I think in the next few years you're going to see the tides change. Barcia is going to do good, and jumping ahead, next year you're going to see Baggett come in and Eli Tomac, Dean Wilson, these guys ride really fast, and they believe they can hang with those guys. Look at what Barcia did at the Monster Cup. I think Villopoto is the favorite. But, same old thing, I think Dungey is going to win races. I think Stewart is going to win races—I think he's in a must situation this year. It's the same old thing, but I think slowly we're going to see the younger guys evolve.
You doing TV?
Yeah, at eight races.
Hey, it's your first time doing TV as a team owner. You going to resist the urge to yell at or cheer for your guys as the race is going?
(Laughs) I know everyone thinks I'm a hard ass but I'm really not. We have our constructive criticism during the week, but at the races you need to embrace the guys and help them finish the best that they can.