"At the Dallas Supercross in 1997, it was really muddy," said Jeff Emig to me on the phone the other day. "I was jumping a triple in the mud that no one else was doing. And I think that's the only time I ever did something on a supercross track that no one else could do."
The Kansas-born Jeff Emig is very humble about his supercross career, as his three AMA National Motocross Championships show he was much more at home outdoors than in. However, he collected the 1997 AMA Supercross Championship, no small feat considering it came right in the midst of Jeremy McGrath's incredible run at the top of the sport.
Yes, McGrath had switched from his dominant Honda CR250R to a not-ready-for-primetime Suzuki RM250, and he never quite found his usual groove. But you can't discount the type of pressure Emig was riding under, holding a slim points lead over the uber-intimidating McGrath week after week, and bending, but never breaking, under the weight of it all. The goal of every rider on the gate is to someday win an AMA Supercross Championship. Emig did it, and that says a lot.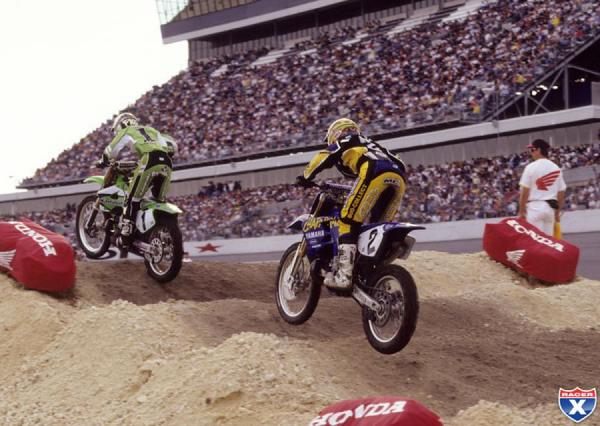 Emig (#1) won only one career title indoors. But it was over McGrath (#2), which says a lot.
Fran Kuhn photo
Beyond it, his stats aren't eye popping (seven career wins) and his style on a supercross track wasn't either (note his own story, above, about rarely being the first or only rider to bust out a big section). But he probably had more in him. After a disastrous title defense in 1998, and a struggle in 1999, Emig recommitted himself to racing for the 2000 season. Building his own team on Yamahas, he made a three-year commitment to get back to the top of the sport. But on New Year's day, 2000, he was hit with a Y2K bug in the form of a massive crash at Stephane Roncada's private track. Emig broke both wrists, and the season was gone. Another big crash preparing for the motocross season left Emig with a broken back. He called it a career after that.
Still, he retired with a supercross title to his name, and that's plenty enough to get Emig--now known as the color analyst for today's Monster Energy Supercross Championship on SPEED and CBS--into 17th on our Monster Energy Countdown of the 30 Best Supercross Riders Ever.
Check out Jeff Emig's entire career here in the Racer X Vault, presented by Kawasaki.
The 30 Best Supercross Racers of All Time Tracker:
#18 Johnny O'Mara
#19 Doug Henry
#20 Jimmy Ellis
#21 Mike Larocco
#22 Ezra Lusk
#23 Broc Glover
#24 Ron Lechien
#25 Jimmy Weinert
#26 David Vuillemin
#27 Donnie Hansen
#28 Larry Ward
#29 Mike Kiedrowski
#30 Marty Tripes