Today we reach #20 in our Monster Energy Countdown to Anaheim 1. We are naming the best riders in supercross history as we go, and today we reach #20: Jimmy Ellis.
Born too soon? You could make an argument that Cobalt, Connecticut's Jimmy Ellis (known as "Captain Cobalt") dominated the supercross game a little too early. And we mean dominated. When the series was just getting started, Ellis became the first star of the sport, sweeping the four-race 1975 AMA Supercross Championship by winning every single round. The exclamation point came at the '75 finale at the Superbowl of Motocross at the L.A. Coliseum, a huge race that was broadcast on CBS, showcasing the sport in a way it never had been before. The win there cemented Ellis' place at the top of the game.
Ellis won his title on a Can-Am, which you may think as a disadvantage. But those Can-Ams were actually one of the first effective supercross weapons, and that, combined with his technical ability, made Ellis and his white bike a hard-to-top combination. Many put Ellis as a key link in the evolution of SX riding, stringing together double jumps before it became part of every rider's repertoire, and dissecting those early tracks like few others.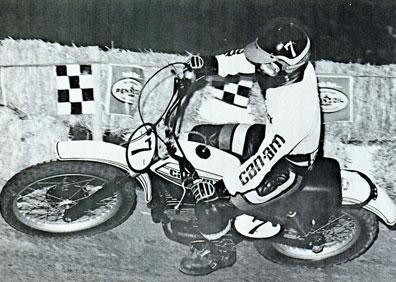 Jimmy Ellis in 1975 aboard a Can-Am en route to the 1975 title.
The Japanese brands were advancing quickly, though. Ellis kept the Can-Am brand competitive for several years, though, grabbing three more wins for them, and then moving to Team Honda in 1978, and winning his final SX race in Seattle of that season.
The SX schedule from his day hurts Elli's record more than anything else. The '75 season consisted of just four races, and the '76 schedule featured just six. Had he raced a schedule similar to today's 17-race tour back in his prime, he surely would have racked up many more wins that his career total is eight.
Like we said, born too soon.  Regardless, he manhandled the field for that 1975 title, and there's certainly credit that needs to be given for any rider who gets that dominant (in our voting for this top 30 countdown, we like to call it "Who's the man?" status, and there's doubt that Ellis reached that level in '75).
Today, Ellis actually lives in Australia, as he was lured there by an Aussie race promoter in 1983 and liked it down under so much that he stayed. But he did return to the U.S. just a few weeks ago, to be inducted in the AMA Motorcycle Hall of Fame. Check out his speech here and note the Aussie accent!
You can check out all of Jimmy Ellis' results in the Racer X Vault.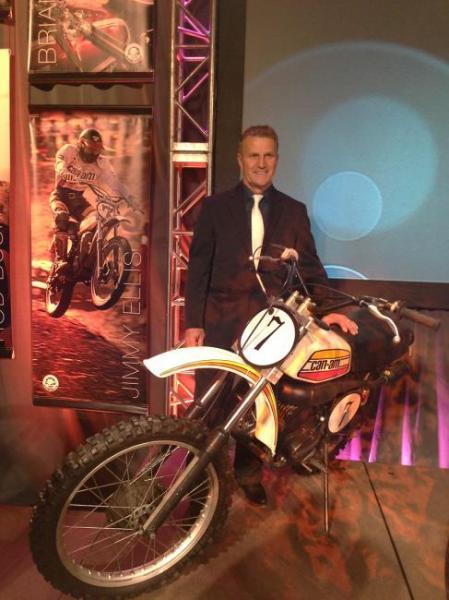 Ellis was inducted into the AMA Motorcycle Hall of Fame this year.
The 30 Best Supercross Racers of All Time Tracker:
#20 Jimmy Ellis
#21 Mike LaRocco
#22 Ezra Lusk
#23 Broc Glover
#24 Ron Lechien
#25 Jimmy Weinert
#26 David Vuillemin
#27 Donnie Hansen
#28 Larry Ward
#29 Mike Kiedrowski
#30 Marty Tripes