Angel Stadium
Anaheim

,

CA
Anaheim 1 (A1)
Monster Energy AMA Supercross Championship
The epic battle for the 2012 Lucas Oil 250 Motocross Championship is still fresh in our minds, but the ranks of the class were set to be gutted for 2013. Justin Barcia and Dean Wilson were heading to the 450s, and Eli Tomac was begging at the chance for a big bike, too.
But Wilson ended up back in 250SX, and Tomac has a 250SX West number one plate to defend. Wilson (and possibly Tomac, too) will be on a 450 outdoors, though. By 2014, Wilson and Tomac will have their tickets punched and their bags packed for big-time 450 deals. This season, a new crop of 250 riders has the chance to step up and fill the void.
You can count on the likes of Wilson, Tomac, Blake Baggett, Ken Roczen and Marvin Musquin, who all have professional titles to their credit, to have a big year. But who else is poised for a move? The year has the potential to be a make-or-break one for a few riders. First, we'll look at some established 250 riders, and then we'll look at some newcomers.
Blake Wharton
— Wharton returns to Rockstar Energy Racing for his second season on a Suzuki, and most likely his last in the 250SX class (more on that later). Upon entering the pro ranks full-time with GEICO Honda in 2009, Wharton captured his first career 250SX win only five races into his career. Consistency has also been a trademark for Wharton during his four-year career, as he has never finished outside the top-5 in 250SX points during that span, and has collected eight career podiums, including two career wins.
So why would Wharton have pressure to "step up" in 2013? It's pretty simple actually … because he's about to step up a class. Wharton almost pointed out after his first three years, but barring something unforeseen, he is almost a lock to have to move up in 2014. According to the AMA /FIM Supercross Rulebook, a rider that earns at least 135 points in a nine-race season or 120 points in an eight-race season in three seasons will be ineligible for the 250SX class. Meaning, if Wharton, who scored 158 points (9 race season) in 2012 and 125 points (8 race season) in 2011, scores over 135 points or wins a championship in 2013, he will no longer be eligible for the 250SX class.
Based on his solid riding and maketability, Wharton will likely find a nice landing spot on a 450 for 2014 if he indeed does have to move up. But the door is open for Wharton to make a huge move in 2013 if he's able win multiple races and battle for a title. If he does so, his options may broaden heading into 2014. The up-coming season could have lasting effects on what may lie ahead for Wharton.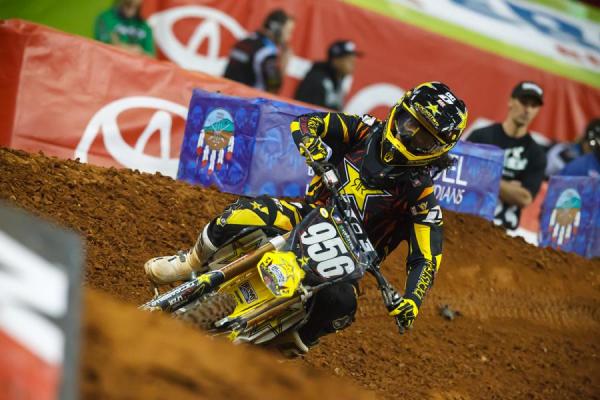 The up-coming season could mark Wharton's last in the 250 class.
Simon Cudby photo
Zach Osborne — If you had Zach Osborne penciled in for two podium finishes in four West Lites Supercross races (Osborne went back to Europe after round 4 of the series) in 2012, you may have been the only one. The former amateur sensation had a rough go in his early AMA pro career, but turned it around with a run through the GPs. The Virginia native had revitalized his career overseas (which included a GP win in Turkey his inaugural year), and thanks in part to that tremendous four-race SX stint in 2012, he secured a ride with the powerful GEICO Honda squad for 2013.
Osborne is used to the pressure he will face in 2013. He was facing a move to the MX1 Class in Europe, a step he wasn't prepared for, so he entered last year with one last chance to secure a ride in the U.S. And what an impression he made! But thanks in part to his powerful 2012 season, Osborne will no longer be overlooked. He will be expected to contend and bring home race wins. And with Barcia (and soon, Tomac) heading to the 450SX class, someone will have to pick up the slack for GEICO Honda. Asking Osborne to replace Barcia's wins may be too much, but expectations are high for the #338 in his return to the States.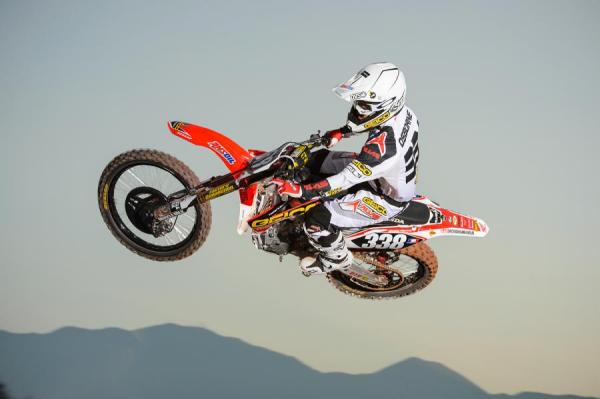 Osborne has high expectations entering his first season with GEICO Honda.
Simon Cudby photo
Darryn Durham — After a career year in supercross in 2012, which included four podiums and one win (all career firsts), Darryn Durham has dealt with a rash of injuries. Shoulder surgery on a torn labrum following a practice crash left Durham on the sidelines for the entire 2012 Lucas Oil Pro Motocross Championship, the series where he expected to do the most damage. Durham returned to testing in early October only to suffer what he described as "a dumb injury off the bike." Although he is expected to make a full recovery from a severed Achilles, this will mark his second major injury in a span of six months.
Unlike Wharton, Durham isn't faced with an impending move to the 450 class (unless he so chooses), but that doesn't make him immune to the pressures of securing a ride for 2013. Entering the last year of a two-year deal with Monster Energy/Pro Circuit Kawasaki, Durham has a lot riding on this season.
A rags to riches tale following a two-year stint with Eleven10 Mods, Durham's 2012 SX campaign proved he's a bon-a-fide title contender with factory equipment. But after missing half the 2012 season, and with no guarantees he'll make the East Region season opener (Note: Durham said in October he expects to be ready) the dreaded "your only as good as your last race" cliché starts to creep in. Luckily for the Pennsylvania native he still has one more year on some of the best equipment in the business and can easily catapult back to the forefront of the 250SX class.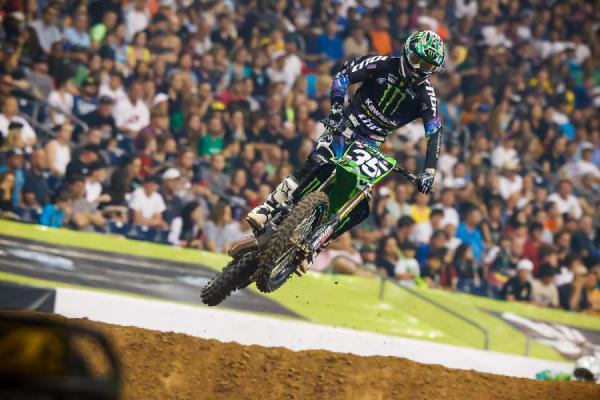 Will two major injuries in 2012 hold Durham back next season?
Simon Cudby photo
Will any of these veterans of the 250 scene have a breakthrough season? Or will a younger crop make the leap? We'll check out a group of younger threats, next.