We are now down to just 25 days before the 2013 Monster Energy Supercross Championship begins with Anaheim 1, so we turn to #25 on the Monster Energy 30-Day Countdown the best supercross racers of all time. Today we present one of the original superstars of supercross, as well as the 1976 AMA Supercross Champion, #25 Jimmy Weinert.
When supercross as we know it began on July 8, 1972, with the first Superbowl of Motocross at the Los Angeles Coliseum, Weinert was there, one of the top Americans riding a Yamaha. But his success in "stadium motocross" actually predates even the L.A. race. On March 11 of that same year, Weinert won the 250cc class at the Daytona round of the Florida Winter-Am Series, a race that would not be recognized as a supercross until the first "Yamaha Super Series" in 1974, the standalone tour that morphed into AMA Supercross.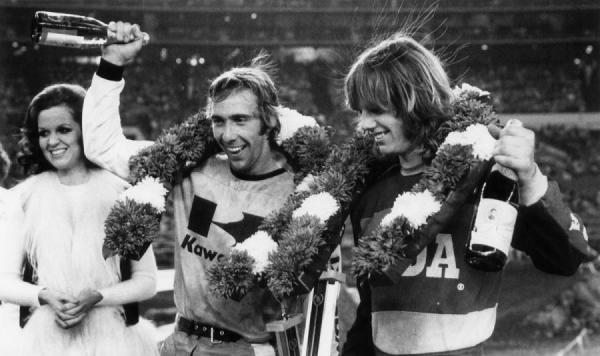 Jimmy Weinert celebrates an early SX triumph alongside the late Rich Eierstedt.
Racer X Archives photo
Weinert, who hailed from Middletown, New York, got his start in motorcycle racing on the "dirt scrambles" circuits of New England, then transitioned into full-on motocross as the sport began to rapidly grow. He finally got his first true supercross win in 1976, when he was racing for the Kawasaki factory team. Back then there were only five races in the series, and Weinert would end up taking the title by 10 points over the heavy favorite, Pierre Karsmakers, with defending champion Jimmy Ellis third.
Over the years that followed the hard-riding, fast-living "Jammer" was always a threat to win races. He was also known for his ability to psych his competition right out of their comfort zones. He famously showed up at the sandy Oakland Coliseum race sporting a neck brace and a dunes-style paddle tire on his rear wheel. Of course he won, and paddle tires were immediately banned!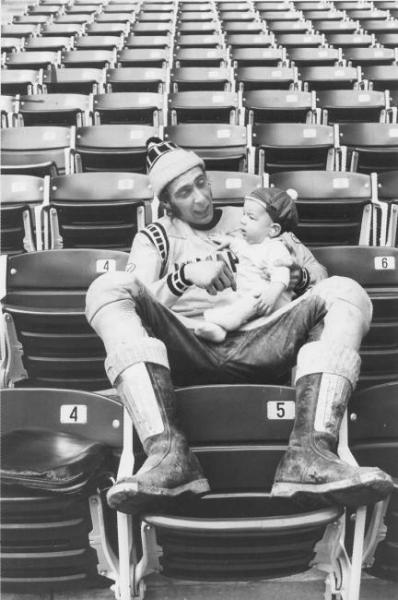 Weinert was not only the 1976 AMA Supercross Champion, but also a two-time outdoor champ, as well as a proud father.
Racer X Archives photo
Injuries curtailed much of Weinert's later years as a pro, but he did manage to win two supercross races in 1979, which was the height of Bob "Hurricane" Hannah's dominance. His charismatic persona has lived on in supercross lore, as Weinert ranks among one of the sport's all-time characters. He's also the 25th best SX racer of all time on our list!
Check out all of Jimmy Weinert's finishes in SX/MX over the years in the Racer X Vault.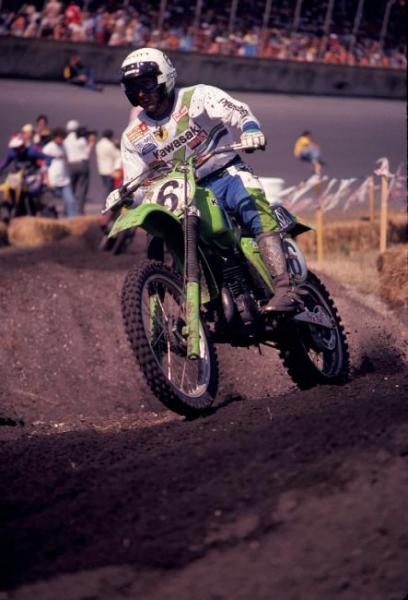 Weinert's last big win came in 1979 at the Daytona Supercross (though this photo was from a different year).Racer X Archives photo

The 30 Best Supercross Racers of All-Time Tracker:
#25 Jimmy Weinert
#26 David Vuillemin
#27 Donnie Hansen
#28 Larry Ward
#29 Mike Kiedrowski
#30 Marty Tripes