The KTM Junior Supercross Challenge, once a half-time show staple in Monster Energy Supercross, will return to a few select events in 2013. Why did it leave and why is it back? We rang up KTM Sports Marketing Manager Christy LaCurelle for this week's Between The Motos.
Racer X: Okay Christie, the KJSC is back!
Christy LaCurelle: That's right. We will be running it at seven events this year, five supercrosses and two arenacrosses, actually, and we've never done it at an arenacross before so we're happy about that. We've signed a three-year contract, so we're hoping each year we can increase the popularity, get some more sponsors, and maybe get it to more events in the future.
Yes this begs the question: Why did this program go away and why did it comeback?
Well, the economy was definitely a factor. KTM had to make some major cuts a few years ago. In fact, the economic crisis came a lot earlier for KTM than other brands, because we had been battling a horrible exchange rate. We had to cut a lot of staff and a lot of racing support just like other brands. It was a great program, but it didn't directly sell bikes, and when we looked at the cost, we just couldn't do it anymore. But, the day we stopped the program, we wanted to figure out a way to bring it back. It took five years, unfortunately, but it meant a lot to us, and we just needed to make it happen.
So the folks at Feld didn't want to get rid of it—it wasn't a change in the program based on the entertainment it provided, or something than that.
No they've always wanted it. But the costs of the sponsorship, and doing 17 events, are much higher than you would think. When we were doing it at every round, the program had to have its own dedicated semi and crew, so basically, it had the budget of a race team, except with 15 bikes!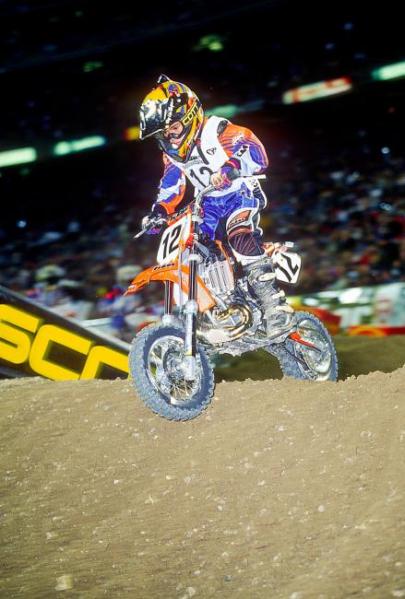 The KTM Junior Supercross Challenge returns for the 2013 season.
Racer X photo
When KTM reintroduced the program at the Monster Energy Cup, Ryan Dungey came up there to talk about racing in it when he was young. I didn't realize he had participated when he was a kid. By now, the list of top pros who participated in the KTM challenge has to be pretty thick.
Oh, there's a ton.  Mike and Jeff Alessi, Cole Seely, Jake Canada, Travis Baker, Zach Osborne, Michael Hall, Dungey, Tevin Tapia, Michael Leib, Tyler and Blake Wharton, Vince Friese, Blake Baggett, Justin Bogle, Justin Starling, Gannon Audette, Eli Tomac, Jesse Wentland, those are just some of the guys who are pros now, then we have more riders in the A Class right now, like Jesse Nelson who is just transitioning. The A and B ranks right now will almost double the count of pros who have done this, because the program was really big at the time they were within the age range for it. But it is kind of sad for me, because at my very first KJSC event, Jesse Nelson raced it, and now he's a pro, so it makes me feel like I've been around a long time!
Yeah and what makes that list more impressive is, it's a random lottery of who gets in right? It's not like you were trying to butter up this Dungey kid when he was nine-years old.
Yeah, it is a random lottery, you just have to meet some qualifications. And you can only do it once. We like keeping it random, because we get a nice mix of riders, not just the fastest riders in the nation.
And I'm sure there are fast kids that want this experience, though, so they'll do it even if they're not a KTM rider at home.
Right, it's open to any rider. But, when they come and do this and ride our bike and get that experience, maybe it will make them want to be a KTM rider. But that's not our main goal with this, it's just to give supercross families an experience and incorporate everyone as part of the orange family.
Okay so this program started in 1996. KTM has been through some big ups and downs during that time. They really weren't competitive in supercross in the 90's, then came a big push with Red Bull and Grant Langston and guys like that, then came a few more lean years, but now they're probably stronger than ever. So the program has to reflect differently on the brand now. At one point, it was the only thing KTM had going in supercross at all!
Well, it's funny that you say that, because that pretty much hits the nail on the head. The reason the program was invented at all in the 1990s was because KTM wasn't having success in supercross at that time, and this was one guaranteed way to get the brand in front of people. Now that we're bringing it back, it's for different reasons. With the success of Dungey, Ken, Marvin, all of the KTM riders, we don't need the KJSC to prove KTM can win. But, it shows that we're family-oriented, and it promotes the whole sport as as a family sport.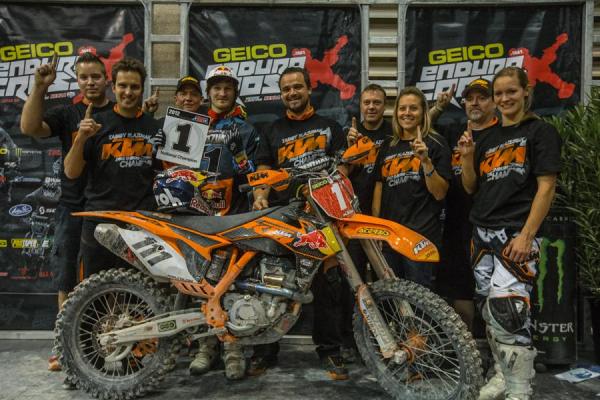 LaCurelle oversees all events for KTM. From supercross to endurocross.
KTM photo
Was this the gig that got you started at KTM?
Yes, I was hired to work the KJSC program and as a coordinator for amateur racing. A crew of us used to do both events; amateur races and the KJSC. I did this while I was going to college working on a marketing degree.
Wait, wait, you went to college full-time while working full-time at KTM?
Yes. This probably isn't entertaining for this story but I've been a super fan for a long time, and wanted to work in the industry badly. When I was 16 I was at the Washougal National and had my Travis Pastrana super fan sign, and I got my picture in Racer X! I couldn't believe it. Then, two years later I was working for KTM at Loretta's, and I was cheering on the infield....
Oh, that's a big no-no down there. No cheering from the industry!
Yeah so Davey [Coombs] sees me, and he's walking up, and I think he wants to start a conversation with me, and I'm excited! But then he just tells me I need to stop cheering. And someone took a picture of this, and he used that picture in his column in the magazine! Yup, those were my super fan days.
What else do you do now?
Any events we do, I oversee. So if it's in regards to racing, like a team launch like we had this week, or a new bike introduction, or our dealer show, some of our bigger demos, basically any type of event, I help with that. I also do any of the press releases and website stuff for racing. I also help with some of the racing aspects, like we have a few women's racers that we back under the marketing department, as well freestyle athletes like Ronnie Renner and Kenny Bartram, and our arenacross riders Kelly Smith and Jeff Gibson, so I oversee that, too. I get to dabble in a lot of stuff, from superbike racing to off-road, which is neat.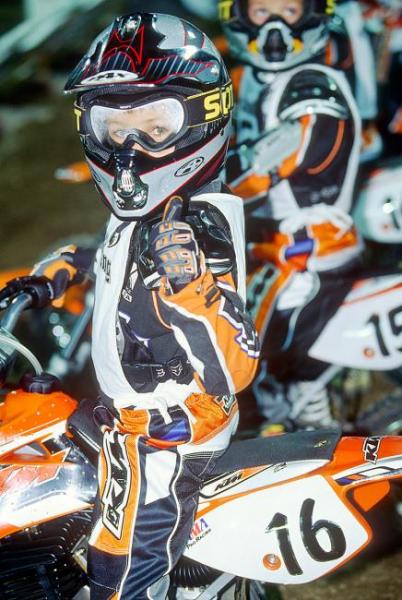 The KTM Junior Supercross Challenge will debut at select arenacross rounds in 2013 as well.
Racer  X photo

Yes but you have the busiest Sunday's of anyone in the industry, because you're doing race reports from what seems like 100 different series.
Yes, so December is a nice time of year for me. But luckily, as KTM has grown we've been able to bring on more staff, and more help is always good.
Okay so if you trace your path, you started with the KJSC program and have climbed the ladder since then. Really, it's a very similar path traveled by Ryan Dungey.
[Laughs] Okay. And I think this is the first time in my life anyone has every compared me to Ryan Dungey!
Okay so how do people sign up to participate in this program?
They can go to KTMJRSX.com, and all of the registration is online now. It used to be done via paper forms, so anyone who maybe had a younger kid who did it the old way, we're getting the word out that it's all handled online now. There are a few qualifications, riders must be seven or eight years old, under 70 pounds and 52 inches, have above-average grades in school, and one year of race experience. Other than that, everyone in eligible.