Welcome to the second day of the Monster Energy 30-Day Countdown to the Anaheim season opener, set for January 5, 2013. We are marking each day by counting down our 30 Best Supercross Racers of All-Time, as voted on by the Racer X editorial staff and our contributors like Eric Johnson, Steve Matthes and more. And at 29 days until Anaheim, we turn to our #29 Supercross racer of all time, Mike Kiedrowski.
Starting in 1990 and stretching over the next half-dozen years, Canyon Country, California's Mike Kiedrowski was a regular threat on the AMA Supercross circuit. A member of Team Honda at first, then Team Kawasaki, and eventually Honda of Troy, Kiedrowski was at his peak during a time when the sport was in a generational transition. We were going from the era of the Ricky Johnsons and Jeff Wards, into the time of Jeff Stanton, Damon Bradshaw and Jean-Michel Bayle, and then the outset Jeremy McGrath's reign.
They called him the "MX Kied" not just for his name but for the fact that he was a much more successful outdoor racer than stadium rider, winning four AMA Motocross Championships. But he was strong enough indoors, and against all that competition, to bang out five main event wins and finish the series ranked fourth three different times (1990, '91, '92), second ('93), third ('94) and fourth again ('95). He was especially lethal at Daytona—not a surprise considering his outdoor prowess. But after the '95 season, while still a podium threat, he decided to take a break. After a one-year hiatus Kiedrowski came back in 1997, riding for Honda of Troy, but his best days were behind him. Still, it was enough to get him to #29 on our list, one above yesterday's first man on the list, Marty Tripes.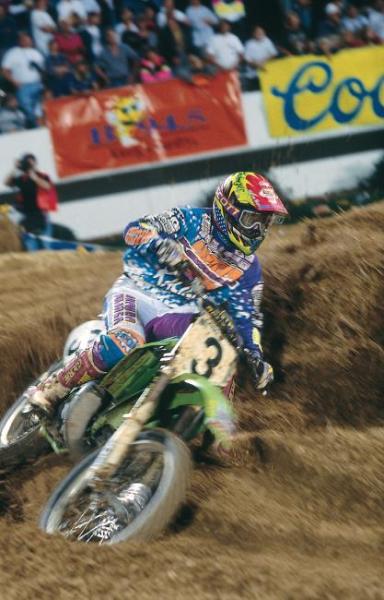 Kiedrowski finished with five main event wins and ranked fourth three different times in the series during his career.
Racer X Archives photo
Kiedrowski next ventured into off-road and enjoyed a solid career there. He was elected to the AMA Motorcycle Museum Hall of Fame in 2007. He is currently working on a brand new gig that should be just as exciting as racing—Mike Kiedrowski is going to be a fireman.
To see all of Kiedrowski's results in SX/MX, check out the Racer X Vault.
Join us tomorrow when Monster Enery Countdown to Anaheim unveils the #28 Best Supercross Racer of All-Time.
The 30 Best Supercross Racers of All-Time Tracker:
#30 Marty Tripes
#29 Mike Kiedrowski