Welcome to Racerhead. It's been a busy week at the test tracks and around the industry. Riders and teams are sorting out their photo shoots, their new graphics, testing, and just getting ready for Anaheim and beyond. Here at Racer X Illustrated we're also busy, working not only on the next magazine but the 2013 Monster Energy Supercross Yearbook, which will be available at every round of the series next year.
This is also a time for some last-minute responsibilities, like Monster Energy Kawasaki's Ryan Villopoto having to go to Monte Carlo last weekend to receive his #1 plate from the FIM as World Supercross Champion. RV has had his head down, working hard since August, getting ready for his return to begin his title defense and work on what would be a third straight SX crown if he wins again in 2013.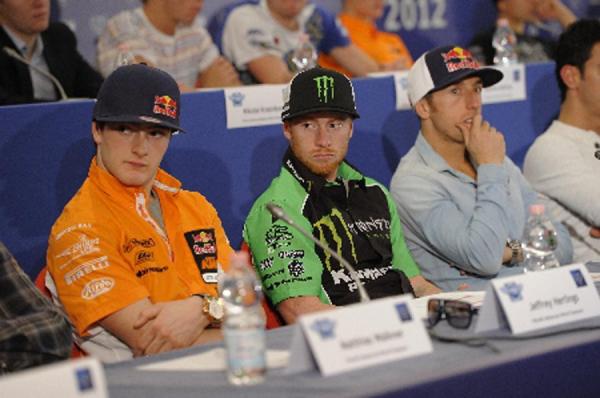 That's SX champ Ryan Villopoto, in between MX2 World Champ Jeffrey Herlings and MX1 World Champ Tony Cairoli in Monaco last weekend.
Back here in the States, Red Bull KTM announced their 2013 team at the race shop HQ in Southern California. They also unveiled their new team graphics, which have similar colors to the Denver Broncos—not a bad NFL team to emulate at the moment!
KTM also made news in that Jon-Erik Burleson, the president of KTM North America, was named AMA Motorcyclist of the Year. Jon-Erik, of course, helped lead the brand to its best year ever in the U.S. in 2012, with Ryan Dungey earning that long-coveted Lucas Oil 450 Pro Motocross Championship, and the team pretty much dominating much of off-road. I've known Jon-Erik since he used to come to off-road races when his dad—enduro icon Dick Burleson—was still competing. He's a great guy and a true motorcycle enthusiast, so congrats on the well-deserved award.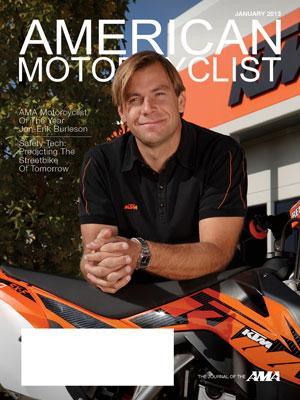 In other KTM news, Feld Motor Sports announced today that the popular KTM Junior Supercross Challenge (KJSC) will not only be making its return to the Monster Energy AMA Supercross, but it will also be debuting at some Amsoil Arenacross rounds: Wilkes-Barre (February 9) and Kansas City (March 2). Hats off to both Feld and KTM for bringing back the coolest sponsorship element in the history of the series!
Looking ahead to 2013, we began the Monster Energy Countdown to Anaheim yesterday—thirty days away—by beginning to reveal our list of the 30 Best Supercross Racers of All Time. Weege, Matthes, Chase Stallo, A-Fred, Eric Johnson, myself, and others are bench-racing down through the years to figure out just who those thirty best are, and we began the list with the winner of the first Los Angeles Superbowl of Motocross, Marty Tripes. That was back in 1972, and only 27,000 people were there to see it—including none of us on this panel! But I did see Tripes win a couple of times in March of 1978, when he went on a two-week tear and won both the Atlanta SX at the old Fulton County Stadium and then the Daytona SX seven days later. He was big even back then when he was winning, but he was also incredibly nimble and stylish on that works Honda. Hard to tell how good he might have been if they had personal trainers back then!
Next on the list, at #29, is Mike Kiedrowski. Check out why right here.
Since I've been in West Virginia working on the 2013 Lucas Oil Pro Motocross rollout (look for some big announcements very soon), as well as preparing to explain to everyone I know that the new MTV Series Buck Wild is so far from the reality of where we live that it's ridiculous, I will let the rest of the guys take over right here.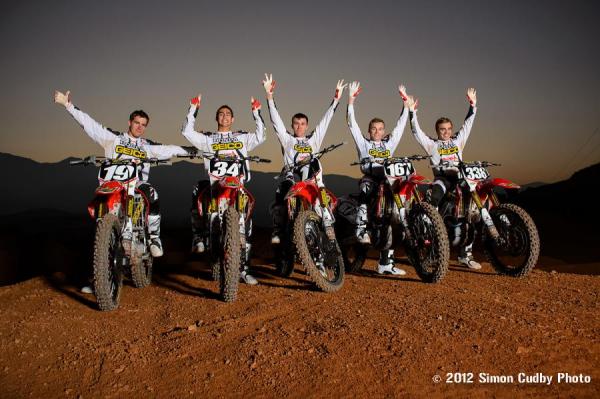 Meet the 2013 GEICO Honda 250SX Team: Hahn, Bogle, Tomac, Bell and Osborne.
Simon Cudby photo
Let's start with Weege:
This week I've contacted quite a few riders as we put together the annual Monster Energy Supercross yearbook, and it seemed like everyone was busy with team photo shoots. You can see what Brown Dog Wilson put together with last night's Red Bull KTM intro here. Photo shoots mean that the finishing touches have been put on everyone's 2013 program, and bikes and gear are ready to go. And most of the riders I talked to are feeling it, too, everyone seems positive and pumped. They always do at this time of year, though. I won't say anymore because I had a bad habit of jinxing stuff last year, if you believe in such a thing.
You won't be surprised to hear that one of the best conversations took place with Kevin Windham, a dude who could ramble and still produce poetry. Windham took five weeks off after banging his head in a crash at the Monster Energy Cup, and since the last race he raced before that, in Houston, also ended with an injury, the 34-year-old definitely had to pause thinking about his racing prospects. And since Windham has been working with the same GEICO Honda team and sponsors for so long, and most of his deals are made via handshake and not contract, he could really get out at any time.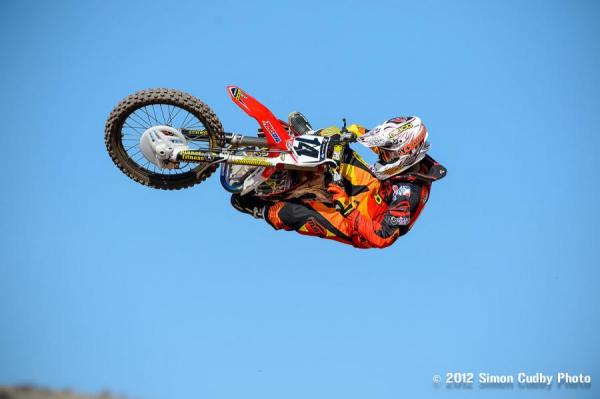 K-Dub showing off his smooth style at the GEICO Honda photoshoot.
Simon Cudby photo
But he decided not to. He kept up his cardio training while he was out, and since getting on the bike for the last few weeks, he feels fit and fast. The plan, still, is to push on to the 2014 season, which will mark a ridiculous 20 pro seasons for
K-Dub
. No doubt the fans and the industry will love still seeing him out there.
Now here's my esteemed colleague Steve Matthes:

The calm before the storm, twenty-nine days before Anaheim 1—the day the circus starts up all over again! It's been fifteen years of doing this thing for me as a mechanic or as a member of the media, and I'm having a hard time thinking about another year I was present for that stacked up like this coming year.
Just, please, no one get hurt.
The Geneva SX last weekend in Switzerland was pretty good—it's always cool to get to check out European races (although there's checking out Euro races and there's what JT$ is doing, which is practically living there right now, and no thanks on that). JGR Yamaha's Justin Brayton once again won, and Marvin Musquin looked pretty good as well.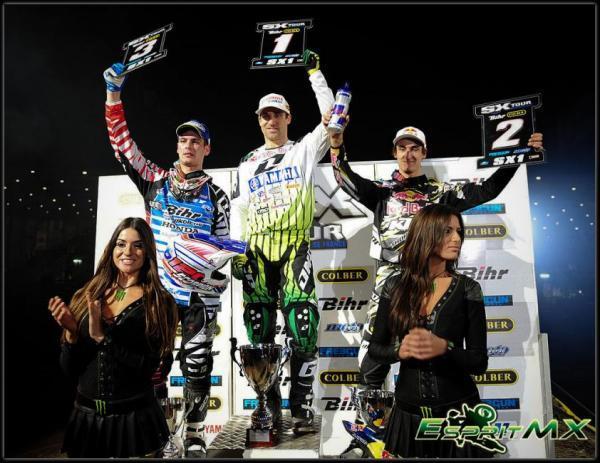 Brayton (center) dominated in Geneva last weekend.
Photo courtesy of EspritMX
"Moose (Red Bull) Can" was on his 250F against all the other guys on 450s and went 2-2 over the two nights. Marvin looked a little different as well in his new Thor gear and 100% goggles. We were talking about his plan to ride the 250SX East Region and I suggested that he should do some West races on the 350 or 450, and he responded that Red Bull KTM team manager Roger DeCoster asked him about it and said it would be fine but Marvin wasn't sure. There's always the chance of injury of course, but me, I'd want to get a few races under my belt in the stadiums with a real gate drop going into the East series, where Marvin will be one of the title contenders without a doubt—that's what Chad Reed did in 2002 and that worked out pretty well!
Funny moment as the mega-downtime in Geneva forced me to bust out the laptop and the hard drive (courtesy of Blazier) of old supercross races. I asked
Mike Brown
for his first SX win and just like that the 1994 Pontiac 125 main event was on! Brayton, Peppermint Patty, Brownie, and I all gathered around to watch Mike grab the lead when Ezra Lusk went down. Riding on his Honda with stock graphics, wearing #92, Brown took the win. And he told us how he was by himself that night in a white van—no mechanic or anything! We were laughing at that, at the riding style of the old guys, and how gnarly the ruts were at the Silverdome. Good times indeed!
That's what these races are good for, me hanging around and bugging the crap out of the racers. Thanks to Eric Peronnard for this honor.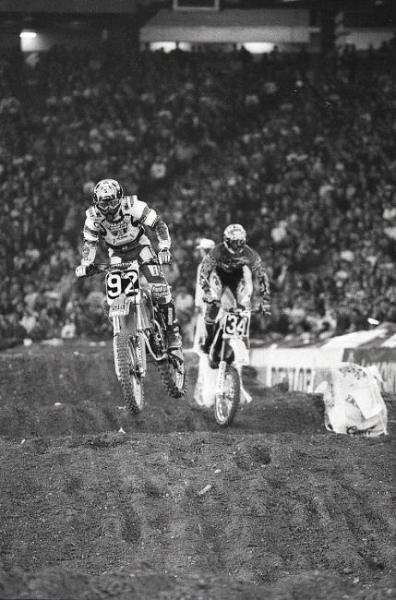 How old school is this? Mike Brown's first win, back in 1994 at the Pontiac Silverdome, on a store-bought Honda CR125, shot on 35mm black-and-white film by Cycle News contributor DC.
I was going back and forth on a text with Dan Lamb (his site is www.mxaddicts.com) on past winners this week, and by his count there are potentially ten past 450 SX main-event winners on the line at Anaheim 1: Chad Reed, James Stewart, Ryan Villopoto, Ryan Dungey, Davi Millsaps, Andrew Short, Josh Grant, Josh Hill, Kevin Windham, and Trey Canard. That's a lot of winners. He was asking me what other years he should check out and my suggestion was 1985, which seemed stacked with legends and heroes. Dan came back with only eight for the opener in '85 and '91, and that was the highest he'd found in the history of our sport. So clearly I hope we're approaching some history here (and hope I didn't rain on Dan's parade).
I've been thinking about hopping in the Ridgeline and heading south to hit some test tracks and check some guys out. It's always an interesting time to talk to the guys, as everyone loves their bikes and everyone's faster than they've ever been before. So maybe next week I'll have more interesting stuff to talk about. Or maybe not and I'll just talk about Tim Ferry again.
Some self-plugs here: check out Pulpmx.com for a list of the top 21 stories of 2012, some look back at retro gear from the Greg Primm collection as well as links to my column on Motoonline.com.au and some other interesting articles and podcasts.
Don't forget to listen this Monday night to the Pulpmx Show presented by BTOSports.com as we have our last show of the year. We'll have some great guests on as well as some laughs and probably giveaway some stuff as well. Thanks to the mighty Pingree for coming by thos past week. Check it out over at Pulpmx.com.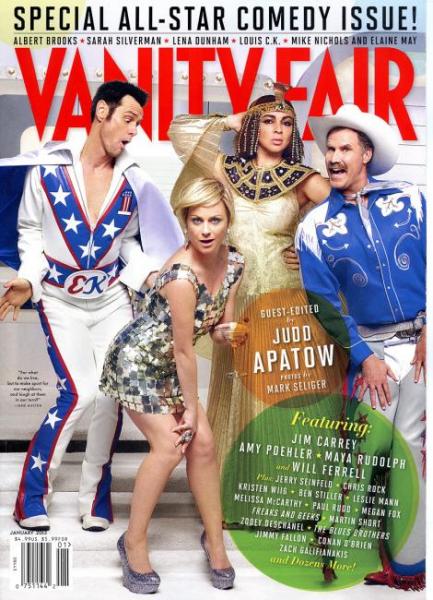 Check out Jim Carrey (left) on the new Vanity Fair cover rocking a sweet Evel Knievel outfit.
Here's Ping:
The big silly-season news this week revolved around Team Tedder/Monster Energy Kawasaki and the addition of Ivan Tedesco to their program. As Matthes, Weege, and I discussed in this week's podcast, this is a good thing for all parties involved. Ivan gets a home for another year on good equipment, the Tedders get a veteran racer with a boatload of savvy, and yet another good ride emerges despite the economy. Good news.
If you want to attend the Season Opener Academy featuring Grant Langston, Sebastien Tortelli, and myself as instructors, registration is open. John Louch, Tyler Kalisiak, and Brandon Beabout will be helping with the training and coaching. There are bikes available to rent if you're coming from out of town. This is the perfect opportunity to come see the supercross opener at Anaheim and get a couple days of riding in while you're here. The academy will take place at Perris Raceway on Thursday and Friday before A1. Check the flier for details.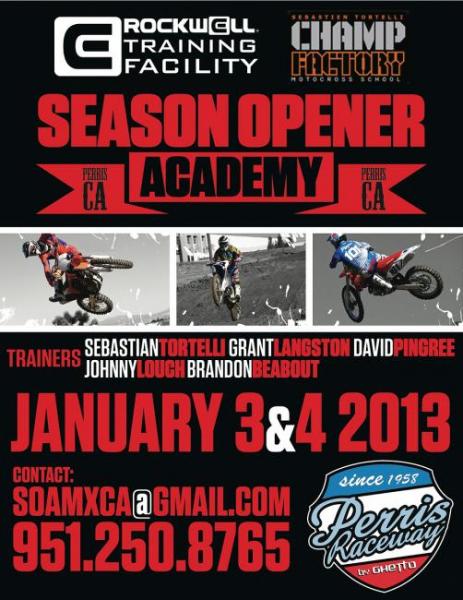 Here's the official flier for the Two Stroke Championship Series coming up this spring in Southern California. Throw a new ring in your steed and show up for this.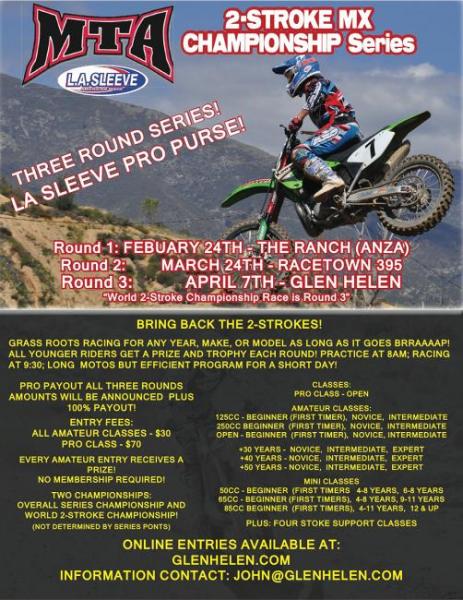 Hey, look what's catching on! Someone sent me this pic from central California. Think this guy reads Ask Ping on Fridays?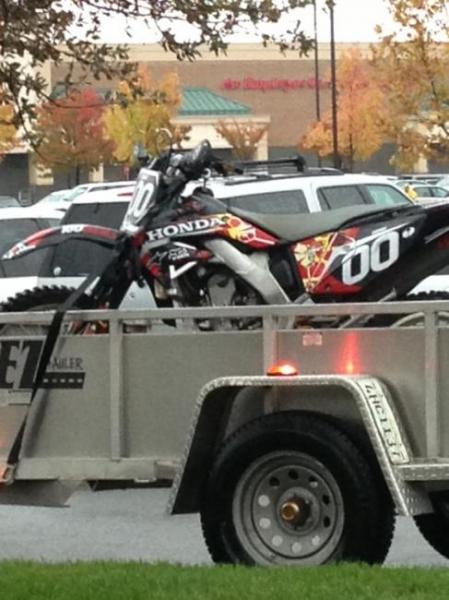 Lastly, I have to share this video of my buddy Daron Rahlves, a total moto-head, skiing legend, and one of the craziest guys I know. This is a clip of him escaping death in an avalanche on an Alaskan peak called the Chugach. It is insane.
Okay, we will close today's Racerhead out with some random notes:
Nick McCabe was going through some old magazines and found an interesting little tidbit from some twenty-two years ago in Motocross Action....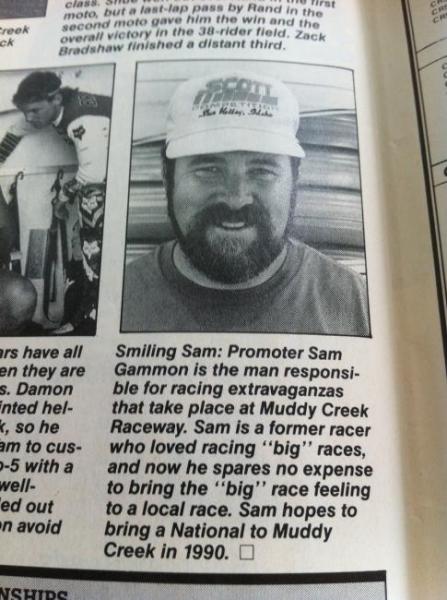 One of the strangest dirt bike cartoons yet.
Still looking for the perfect gift for your riding buddies? Send them a one-year subscription to everyone's favorite magazine, Racer X! They will be reminded of how nice you are every month when they get a new issue in the mail.
Plus, as a gift to our loyal readers, if you buy a gift sub you BOTH will get a free 2013 Racer X calendar. What a deal!
It's $19.98 for the first subscription and $14.98 for every additional subscription. This is our lowest rate of the year, don't miss out. Subscribe now!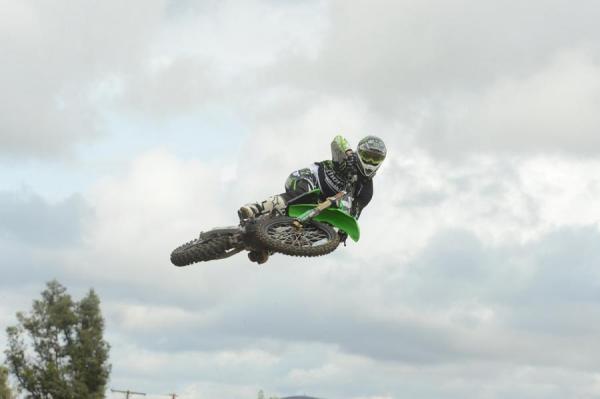 Dakota Tedder's #72 KXF250 will soon have a stablemate in Ivan Tedesco's #9 KXF450.
Team Tedder photo
AMA Pro Superbike racer and team owner David "Aussie Dave" Anthony is putting together a 250SX West and East Region team, according to Roadracingworld.com.
"We are going Supercross racing," Anthony told Roadracingworld.com. "That's 100%. It's only come about in the last three or four weeks. We're running everything out of the shop [ADR Motorsports, in Lake Elsinore, California]. A lot of the road race sponsors are on board for this. We're running the Supercross Lites, East and West, with multiple riders." An announcement concerning riders and sponsors is expected to be made soon.
Think you've had a tough week? Check out
the week someone is having in France
.
America's first 500cc Champion, Mark Blackwell, was in Oklahoma City last week to see his friend and fellow old-school Husky rider and Grammy-winning performing artist Lyle Lovett compete in reining at the NRHA Futurity event. Lyle finished sixth out of 100!
Okay, that's it for Racerhead. Enjoy the weekend, see you at the races. And thanks for stopping by!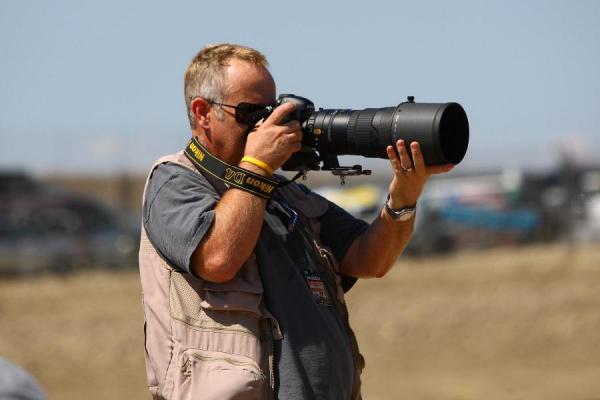 Happy Birthday to Racer X's own, Simon Cudby.
BrownDogWilson photo