The silly-season musical chair game is almost finished, and a few riders are finding themselves without a seat. Chris Blose is among them. After a rough 2012 season riddled with injuries, he found a last-minute ride for the Monster Energy Cup on a new team backed by Freestyle Godfather Mike Metzger. He hopes the Metzger team comes together for 2013, or he might find himself out of the game. We talked to him about it.

Racer X: Chris Blose, we haven't talked to you in awhile, and we haven't heard many talks about who you will be racing for in 2013. Have any plans?
Chris Blose: As of now, I don't have any plans, yet. But I want to go racing, but whether I actually go racing is a whole 'nother story.

It's not really up to you.
[Laughs] Right, it's not really up to me. I need to get a deal. Right now I'm still talking to [Mike] Metzger. We'll see where that goes.

Yeah, you rode for Metzger at the MEC. What was that all about?
Yeah Mike Metzger called me a week before the Monster Cup and asked if I wanted to ride, and of course I did. We just needed to get things set in time, and get on a good bike. He made it happen! I rode a KTM 450 for the first time a week before the race, for one day at Milestone on their supercross track, and I didn't ride it again until Monster Cup. So, yeah, I just kind of went out there and winged it, and hoped for the best.

Did you have a relationship with Metzger before?
No, I think he just always wanted a team. He just called me out of the blue one day, one of my buddies gave him my number, and asked if I wanted to ride Monster Cup. I think there were some potential sponsors there, and he could use that race to show those sponsors what supercross was like, and what they would be investing in.

So it's not like you guys were even friends before this?
No, I had never even met the guy! But from what I saw at Monster Cup, he's a good guy, and he wants the best for me.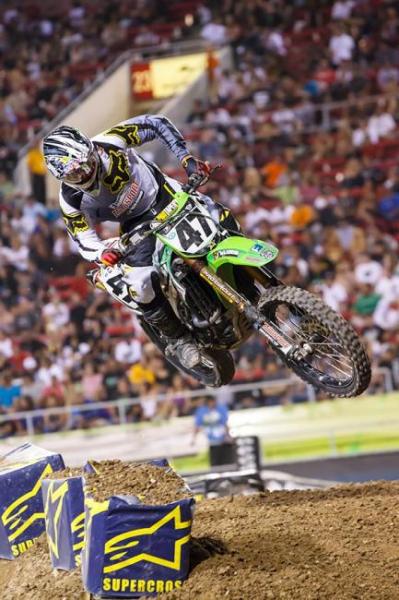 Blose rode for the Ti-Lube/Foremost Insurance/Motosport team in 2012, but injuries kept him out of most of the races.
Cudby photo
So, if this deal doesn't come together, do you have anything else?
Um, if this thing doesn't work out, maybe arenacross? That's a long shot. Who knows what can happen?

Will you stick a bike in a van and do it on your own?
I would probably try that, yeah. Just with the economy these days, it's just so expensive to go racing, and what we make on the return is nothing compared to that, especially coming into this year when the field is so stacked. No one has really left the class, but we've got more riders from the Lites class coming up. It's hard to compete with guys riding supercross every day of the week, going to the test track every day. I don't have that luxury, I just go for it.

Yeah. Ping mentioned in his column last week that you only have an old bike to ride.
Yeah, I have a 2007 Honda that was my dad's. And that's what I raced Steel City with, just to keep my name out there.

Wait, wait, wait. When you raced Steel City you were on a five year old bike?!
Yeah that's right.

I'm not sure if I've ever heard of something like that!
Well, I actually had to rig it a bit because they have like a five-year limit, you can't race pro on a bike more than five years old. But I passed tech with flying colors!

[Laughs] Okay so we have a great experiment now. How far have bikes come in five years? Was it actually competitive?
I think if you ask anyone who has ever ridden any of the old Hondas, the ones up until '08, they'll all tell you they're great bikes. They're probably the best Hondas ever built. They don't have fuel injection, they might be a little big heavier, but if you could add fuel injection you'd have an awesome bike.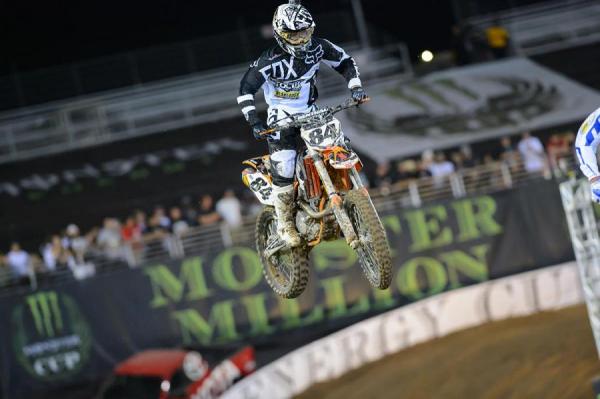 With only a day on a KTM, Blose had trouble in the MEC LCQ and missed the main.
Cudby photo
That Steel City race came out of nowhere. Why there and then?
Me and my dad were just sitting at home every weekend watching the races on TV, and I said, "Man, I really want to go racing." So my dad said, "Let's do it." We put the bike together and drove my truck out there, we have some relatives in Kittanning, PA, which is close by--that's where Hepler is from. It's close to Steel City. We went about a week early. But in practice I really tweaked my ankle really badly, so that was kind of the end of the trip.

You drove out there?
Yup, about 35 hours.

Why did you race it?
I don't stop training over the summer, I train all year long. I knew I was in good shape, but I hadn't raced a national since 2009, when I was on Troy Lee. The first practice didn't go too well, but the second practice I was getting used to it more, I was 12th in times, but that's when I hurt my ankle. I took it serious, I didn't drive across the country just to play around in the mud!

I've heard you talk about riding with a bad ankle too many times.
Yeah, in 2010, I broke my navicular before the season began, with Hart & Huntington, so I had to ride with that all season. Then in Houston I broke my ankle. I kept riding on it, because the races paid my bills.

And you did okay.
Yeah, I made every main event and got 13th in points. For the circumstances, I did pretty good.

Well, like you said, since '10, more fast riders keep coming into the class. So here's your chance to make a sales pitch. In this class, for 2013, where could you fit in?
I mean, there's no doubt, if I get on a good team and good bike, I can make every main event. I definitely have the talent to be fighting for top tens if I have good preparation. I've been in this class for a couple of years now, and I kinda' know where I stand, and I know what I need to do to better myself and better my results.

What about a replacement ride if someone were to get hurt?
Yeah, I'd definitely be interested in that. I have the bike and I don't stop training, my plan is to be ready if something comes up.

If people want to get in touch with you, can you give us an email?
Yup. It's blosemx@gmail.com

Good luck man, maybe we'll see you at the races.
Thanks. Hope so.