By Simon Makker/www.motoonline.com.au
When Ben Townley suffered his devastating practice crash at round two of the Monster Energy MX Nationals back in April, many people wouldn't have been surprised if the Kiwi ripper had walked away from the sport. But the 2012 Terex Australian Supercross Championship has seen the start of his comeback, and a second place behind Chad Reed at the Toowoomba round mud-fest on Saturday night might just signal BT101's return.

Even though it was his best result since the beginning of the year, he kicked himself for crashing four times and letting a good opportunity to make a race out of it slip from his grasp. We sat down with the Carlton Dry Thor Honda racer to find out what went down, how he's struggling with his new race strategy, and how he plans to return to the blistering pace he found at the beginning of 2012.
Racer X: Congrats on getting back on the box, Ben. Looking at your face though, I take it this is a bittersweet moment for you?
Ben Townley: [Laughs] Yeah, just a little bit! It's been a long time coming so I'm pretty stoked to get back up there, but I think my race could've been a whole lot better. I crashed four times and still finished second! I'm not saying my result on paper would've been any different if I'd kept it together, but I could've made a race of it. I had the speed to. In saying that, it's really good to be enjoying my racing again. I had a smile on my dial the whole time and just loved being out there in the mud. I revelled in it really.
Is your injured leg in the back of your mind at all, especially in tough conditions like Saturday night?
Nah, not at all. The only time it was in my mind was the first few times I rode in the sand. My leg was healed, but the strength of my hip flex area was a little bit weak. From then I've gradually progressed, but I can honestly say it's never in my mind now, which is a great thing.
Yeah, that's awesome. Word is you hurt your finger at Toowoomba. What happened?
I crashed and I had my finger on the clutch, but as I picked my bike up Todd smashed into the back of me and it forced the handlebars into the ground, jamming my finger between the clutch lever and the 'bars. It put a good gash in it, so I had to get it seen to by RACESAFE after the race. It doesn't need stitches or anything.
You're slowly working your way back to form. How does it feel lining up for supercross races and not going out with the intention of winning?
It absolutely sucks. I haven't had to do that since I first went to Europe when I was 16 – back then my aim was to qualify and just do as good as I could. The next year I podiumed at the first round and all of a sudden I was a World GP podium contender at the age of 17. Ever since then my intention has always been to get out of the gate, holeshot and win.
That hasn't been my intention at Dubbo and Phillip Island. It's a weird feeling sitting on the start line and thinking 'I'll be stoked to get top 10 tonight'. It's a really unusual mentality for me and it's something that I've really had to come to grips with.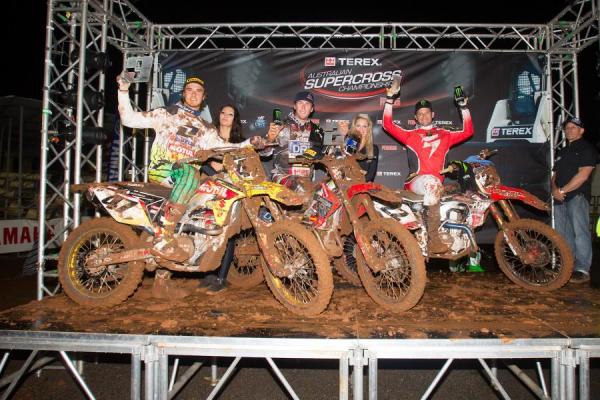 Townley on the center of the box--but that's for second place. He wants more.
Shayne Rice photo
Surely there's still the temptation to just pin it and try to win as soon as the gate drops? I mean, it's a mindset that's been ingrained in you for so long.
That's exactly right. Whenever I race I never seem to have a problem with speed, but I've had to be really reserved. I don't know how noticeable it is, but I've been really reserved in my riding this series. I'm trying to just build a solid foundation to win the 2013 MX Nationals, then set myself up for the rest of my career. In my mind there's still a lot that I want to achieve overseas.
So internationally, there're still a lot of unanswered questions for you?
Shit yeah. After my crash at Coonabarabran I've had to hit the reset button and start building right from square one again. I've had some bloody deep, dark moments with myself over the past eight months and I've been bitterly, bitterly pissed off at myself for the chance that went begging to ride for Reedy's team in the 2012 AMA Motocross Championship. Now I've got so much drive within me to get myself back into that position again.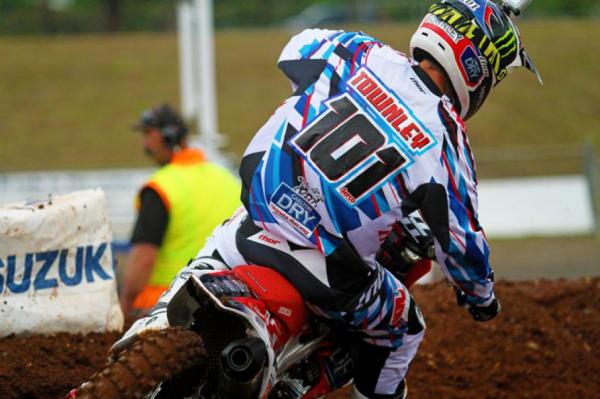 Townley hasn't let go of his goals.
Simon Makker photo
A lot of people wouldn't have been surprised if you'd said "stuff it" and walked away from racing after getting knocked down so many times. What made you decide to push through yet another injury?
I guess it goes back to the New Zealand season I had at the beginning of 2012, and the way I was able to ride my bike. I carried that confidence and speed into the opening round of the MX Nationals at Conondale. I came there not really knowing what to expect as I'd never raced those guys, especially in their own territory, and I led every lap and won each race by around 30 seconds. Looking back now, I believe that at Conondale I was the fastest I've ever been in my career – better than what I was when people talk about my speed in 2007. The way I rode my bike at the beginning of this year was phenomenal. I guess what burned inside me was if I could ride my bike like that, I can get to the highest level and have a crack at the big titles, whether it'd be in America or Europe. I'm putting my heart and soul becoming the best racer I can possibly be.
Awesome, thanks for that, bro. See you at Newcastle this weekend.
Cheers, dude, looking forward to it.