Add Jake Weimer's name to the long list of stars to win the prestigious Paris-Bercy Supercross. The Monster Energy Kawasaki rider had no problems through the first two nights of the three-day event, winning the first two mains. But a late crash on Sunday almost cost him the whole event--he bounced back by repassing Justin Brayton for second, putting him back in position to win the overall over Eli Tomac. Here's Jake after his triumph.
Racer X: You're the King of Bercy! You went 1-1-2, but we had some drama there at the end.
Jake Weimer: I know! All day today, I just felt like I had some pressure on me to not blow it. So that made me, not timid, but it put me in a different mind frame. Just one those things, when you're in second you know that's where you need to be, and I'm just saying, "Okay, be smooth here, don't crash here, don't wash the front" and oh, I washed the front and went down! The track was slick tonight.

Yeah I was talking to Brayton and he said it was the worst of the three nights tonight.
Yeah it was.

So you keep it running, which was key, and you made up some time on Brayton in that rhythm, you stuck it inside, and then were you like, "Oh no I need to do that table from the inside." Was that sketchy?
No, that was no problem.

So, King of Bercy, that's good.
Thanks. It's a tough race because there's so much involved. It's not just your heat and your main, we have a qualifying race and elimination races. And everything counts for gate pick, so it's important to do good everytime. It just keeps going.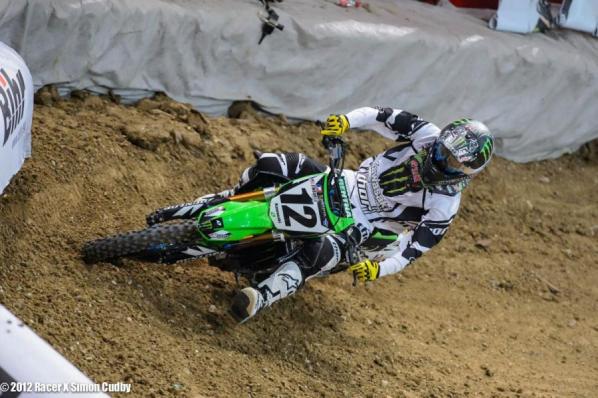 Through practices and qualifying comps and elimination races and mains--for three-straight nights--Weimer was tops of the field.
Cudby photo
Did it help you racing here last year?
It did. Last year I kind of got caught off guard with the racing three nights in a row. It's not like the main events are really long, but you factor in the jet lag, lack of sleep, and then long days of racing, I'm sure everyone, even you, just feels worn out.

I'm not even an athlete and I'm worn out.
[Laughs] And yesterday I hit the ground twice, so this morning I felt like a robot. I was so stiff. So it's not easy to do good here, with all of those races, and it's three nights.

Talk about Tomac. He was here last year, too, and it looked like both of you stepped up your game. He was your main competition this weekend.
No doubt, and I knew coming in here that he would potentially be the fastest. Look at the year he had, I knew he would be fast coming here. What else can you say? He was on the gas.

What about the crash?
I had two! One in practice in the whoops. That one was way worse.

Took you a long time to get up from that one.
It did. Then the crash in the Superpole, that one kind of hurt too, but I tried to play it off because I didn't want to look like an idiot. I was the only guy on the track. But you know, I'm fine with that, as long as I walk away, I don't mind crashing.

Check out this finish line celebration from Weimer!
(Okay, not really. This is a freestyle dude.)
Cudby photo
Over the last 30 years, the King of Bercy list is like a Who's Who for this sport. Not to be overly dramatic about it, but now your name is there, too.
No I'm excited. Coming here, I wanted to win, but I knew it was going to be tough. Even the last night, I knew I was in the driver's seat, but I knew today was going to be the toughest night of all, and it was.

Did you step it up for the mains? You won some elimination races but you didn't win the Superpole. Eli told me he really did try to step it up for the Superpole races, he was really on the edge. Did you maybe not ride like that in Superpole? Did you do anything different in the mains?
I think Superpole, I did try hard. It's one lap, that's the name of the game. But the mains, my biggest deal was to start up front. I holeshotted two out of three and then started second in the third race. So that was the thing, get good starts, be consistent, be smooth. It's so easy to make mistakes here.

Last question-your gate picks. You never took that inside gate all weekend.
Yeah I did. The last elimination race.

Oh that's right. You did. Did you have a gate you preferred?
I started in number two a lot, but I pulled about the same start from any one of them.

Well, congrats on King of Bercy.
Thanks, Steve.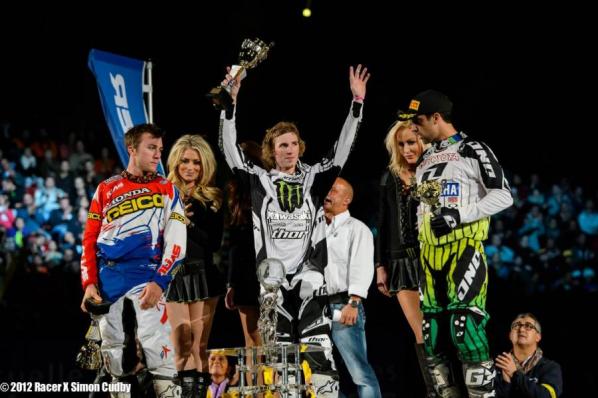 Weimer's a winner.
Cudby photo