Old racers never say die--they just say that they're vet riders. Glen Helen hosted the World Vet Championships over the weekend, and the race created some big buzz thanks to a last moto, last lap take out/bump and run battle between Travis Preston and Ryan Hughes in the 30+ class. They both hit the ground, but Hughes got up first, thus winning the moto. Preston took longer to get up and ended up fifth, squandering the overall.

Preston won moto one and would have had the overall if he had just taken second in the second moto. But he wanted to win…and so did Ryno! So when Preston found a late-race opening for a pass, Ryno tried to block, and they both ended on the ground, instead. Knowing these two are not shy, we chatted with both of them this week. First, Preston spoke on Matthes' PulpMX show on Monday night, and then we called him for more. Then we called Ryno. Here is what they had to say.

Preston: I was going into the race expecting to be in shape and having to run fast laps, and it was nothing like that. It was like I was having to pass a D8 bulldozer! And that sounds easy, but when it's weaving all over the track it's hard to do. He's smart, he knows what lines I wanted to take. Then I would come up with new lines and he would block it. It was crazy! Not even kidding, he wants to rip your head off and win.

First moto, I got a terrible start and just kind of slowly worked my way toward the front of the pack, and I was getting ready to pass him and he crashed.

Second moto, oh, you know what he does, too? He goes so fast on the first lap! He just pins it, he passed me on the first lap in the weirdest place. I didn't even see him pass me! I got it together and passed him back on like the third lap and started to pull away, but Glen Helen had this pipe break in the back and it just flooded like five turns. Just standing water. I over jumped the jump and landed in a bunch of breaking bumps and puddles, I locked up the front wheel and went down. He passed me, I got back up, caught back up to him, and that's when the battle started. He's just…he's just a tough guy to pass.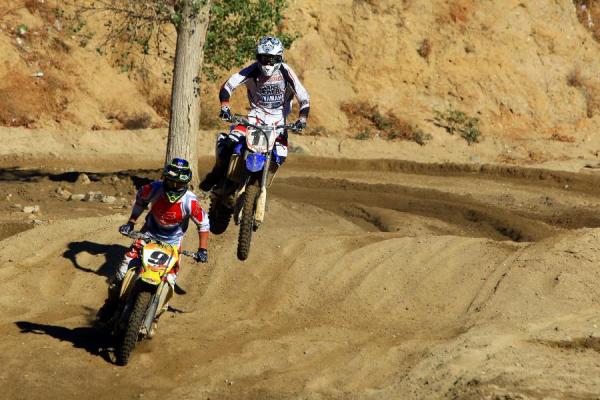 Preston (11) and Ryno (9) going at it.
Brown Dog Wilson photo
[In my career] I never really had a chance to race him. And how he races, I've never seen anything like it. He's like a tornado on the track! And man, he would go so fast down the hills, at Glen Helen it's all rough and choppy, then he would be cruising through the turns. He would just pin it down the straights and then cruise through the turns.

I had a great time. I could have stayed in second behind Ryno and won the overall but I really wanted to go 1-1. It was cool because we both went down and there was no fighting or anything. We just laughed about it! Ryno was blocking me like the purse was 1 million dollars! I didn't want him to win, so I thought when we both went down that Tedesco would win. But I didn't know he went down, too.

Ryno had a good idea--we're going to race [like this] at halftime during the nationals.

Hughes: My side was, I was struggling out there riding, and I had to rush some sections and slow up in others. He went inside me on the last lap and I just said, "I'd rather get taken out than let someone get by me."

I don't care what people think. People think I get mad all the time--hey if you want to rub me or bump me, that's racing. I love that. I'm not mad about that at all. But if you do something to endanger someone like LaPaglia did to me, we're going to have a problem. But what Travis did, I would have lost respect for him if he didn't do it--he's a competitor and so am I. You're supposed to want to win and if that means we're running into each other, so be it.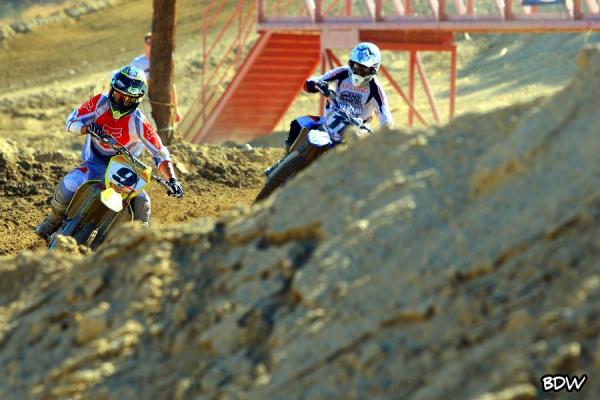 It's awesome when two riders go at it this hard--even better when it's two riders that love to talk about it.
Brown Dog Wilson photo
It was fun to have Preston and Tedesco there. It had just been me and Doug [Dubach] forever, those guys are 31 and 33, they're quite a bit younger than me, I'm 39, and and much younger than Doug, who is 49.

I've never won an overall riding that bad. I was just tired--I was at the track coaching for 19 out of the 20 days leading up to it. It was a struggle all day. The reason I was able to win was my preparation, I was as prepared as I could be considering my situation. And my will--I was sitting there between motos saying there is no way, no way, no way these guys were gonna' beat me. And just be able to adapt--I wasn't feeling good, I had to dissect the track and try different things to get comfortable. Most riders, when they feel like crap they're just done, they give up. I had to adapt. And at 39 you can still learn and adapt--that's why I love this sport.

But when we ran into each other, I wasn't mad. I didn't even have enough energy to be mad! In practice, I tried to do a sprint lap to wake up. I just pinned it as hard as I could go. It didn't wake me up! All I felt was, "Man, that was a lot of work. Now I'm really tired."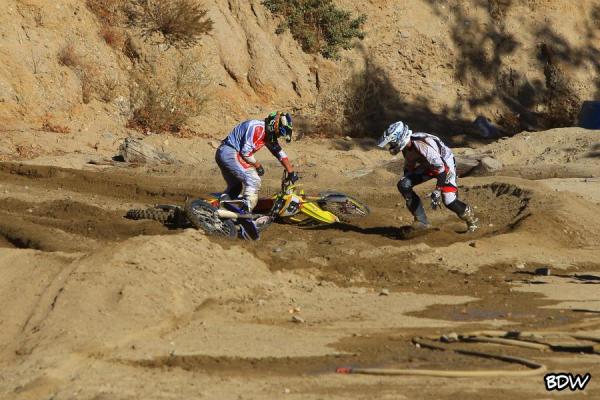 The battle ended like this....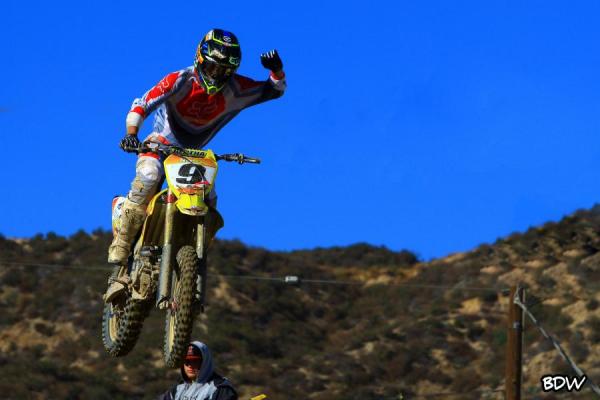 And Ryno was the first to get up. He wins!
Brown Dog Wilson photos