"To do great work, you have to love what you do." - Steve Jobs

Hello, everyone, and welcome to The Rev Up. The month of November is probably the best month of the year to be a professional motocross racer. Gone is the strain of travel, the pressure of competition, and the pain of injury. These are the good times. By now the boys all have their contracts set and are enjoying their new race bikes at the factory test tracks. They are pulling on their new gear and practicing their tough guy stance in the studios.

For a moment, almost everything and everybody in their lives is positive. Their trainers, wives, and general "group" all have the same mindset that they are the man, and that 2013 is going to be their year. It has to be sensational to wake up in the morning knowing the only rubs in your entire day are working out at a state of the art gym then driving to either the factory race shop, or just cruising out to the test track itself. Some will have their gear bags with them, or the "gear guy/moto bro" will just bring their custom helmet and threads out for them. From there (while the bike and gear is still sano flush) it's, "Now whip it to the left a couple times" from Simon Cudby for your autograph card.

There is also some very serious team testing. The suspension guys, the engine guys, your actual mechanic, then of course your personal trainer...the team manager...the PR girl...are all there. Just for them. Factory testing is an effort that only the few are capable of performing. The riders pour their entire racing focus in testing. Testing isn't fun. Some parts and set ups suck. And it's no fun to do a few laps, and pull back in, over and over, day after day, when you'd rather just log some laps. And there are the normal crashes and mistakes associated with pushing it to the edge. It takes the best from world's best to properly shake down a set up and get the most out of the bike. And the bikes are capable of quite a bit today. With all of the data acquisition, EFI mapping, and "guys in white coats" action going on, it is really cool now a days.

Thinking about that on a side note: I wish teams would open up on more "tech" type features. I think if fans knew more about the different sidewalls and durametors of the factory tires they would eat it up. The things they are doing with the bikes is amazing. I never use that word (amazing) but I think it fits here. The banter of the factory teams today is so far removed from tightening the spokes and throwing on some chain lube, it's ridiculous. What is cool though is, all of the riders remember the times they looked at their semi-dirty air filter and said, "ah, it'll be alright." Not anymore. It's the big time now.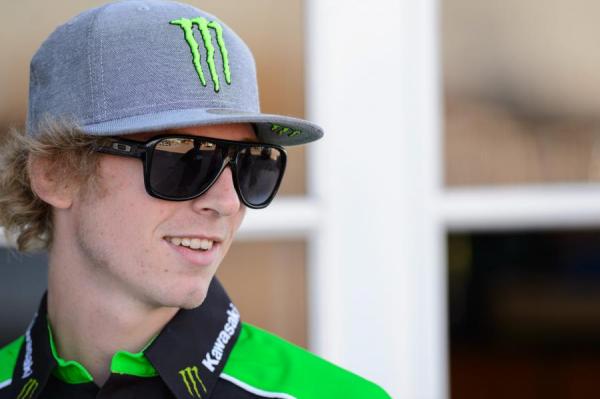 If you've got a factory contract locked down right now, you should be smiling. Because it doesn't get any better than, well, right now.
Cudby photo
Think back to the days when it was just the "Big Four" and maybe a KTM guy, racing out of box vans. It really wasn't that long ago. People kind of scoffed when factory Kawasaki showed up with their 18-wheeler in the pits. Now, think about the casino we'll see in the pits at A1 in a couple months. It has to be some kind of feeling to be a pro motocrosser and see yourself throwing pan along the side of a brand new Peterbuilt and Featherlight trailer. Look at how many teams and sponsors are in professional motocross today. Attendance is way up, and we're live on SPEED. From amateur racing to pro supercross we have a great program going, and people are noticing. There is a lot to enjoy if you have what it takes.

It ain't no disco though, my friends. These men live the most dangerous lifestyle in motorsports. For nine months out of the year they take the big risk every time they throw a leg over. It can come on lap five at the practice track just as easy as lap 17 in the main event. One of the most underrated aspects is the travel schedule of the tour. They have to weather 18 rounds of supercross and then comes 12 rounds of outdoor motocross. Their flight pattern across the United States (In some cases the entire globe) during those months looks like a spider web.

That's why I think the month of November is so special to them. I imagine that when Trey Canard is driving out to the factory Honda test track recently he is smiling. Lord knows he's earned that smile. In addition, riders on both coasts are getting to spend as much time with their families and home team as much as they will all year. All of the bad noise is over for now. They get to breathe a little and enjoy the fruits of their success. With all they have gone through to get there and what they have to do to stay there, I hope its going awesome for all of them.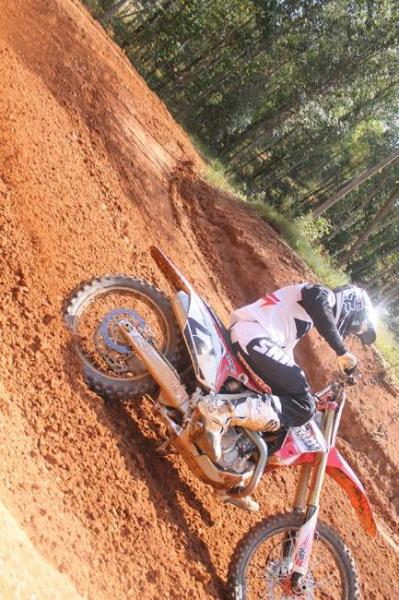 Chad Reed during less stress full times. Right now, he gets to hang with mom and dad down in Australia.
Weege photo
You have to love what you do. Those factory boys love them some motocross. It isn't about new helmets, big houses and fast cars. It's about #1 plates while kicking ass week in and week out. It's about the growing responsibilities of being a professionally marketed athlete. It's about struggle, fights, and poor finishes. All of them arrive for every single racer. But not now. Right now, it's "You're the man." Right now, everything is as positive as it will get all season and that's a very great thing.

Thanks for reading, see you next week.