Where's Brett Metcalfe? After a big crash over the summer ended his 2012 season early, we haven't heard much from the likable Australian. Between tending to his new baby boy, Nash, and rehabbing from his injuries, Metty gave us some time to talk about his crash, his recovery, and his future.
Racer X: Hey there, Metty. What are you up to today?
Brett Metcalfe: Right now I'm at home and I just finished up my leg exercises. Still rehabbing my leg from the broken tibia, and still rehabbing the wrist, I dislocated the lunate bone. They're getting better, but they're on the slower side of the scale, so I'm still a few months from riding again.
This is an exceptionally long amount of time. Was it exceptionally bad?
Well, typically tibias take longer to heal because it's a large bone. I had my last x-rays two weeks ago and there was still some healing to do. I had surgery to have a rod inserted, and that adds some stability. I also had surgery done on the wrist; there was some carpal tunnel damage on it from the dislocation. The wrist is probably more of a time consumer than the leg.
So explain what happened with this crash. We heard you ran out of gas—take us through it.
Sure. During that period of time, after round five, I was sitting fifth in points and things were going pretty good. I was really starting to ramp things up and push through that part of the season. I was at Glen Helen, I had just done a warm up and was ready for a moto. So we filled the bike up, the gas tank was completely full of gas, and that day I was using a practice mechanic I had used many times before. He has done a whole season with me in the motorhome, so he has good credentials. So, I did my 30 minutes and on the last lap of the moto, I completely ran out of gas on a rhythm section, and I was forced to bail over the front. I had my leg out front, and that's what broke the leg. I face planted pretty hard. I was actually pretty lucky to only have the wrist and the leg injuries considering how hard I crashed. It was a frustrating deal, something that shouldn't have happened. When you think about all the things that can happen in racing, running out of gas in a practice crash isn't very fun.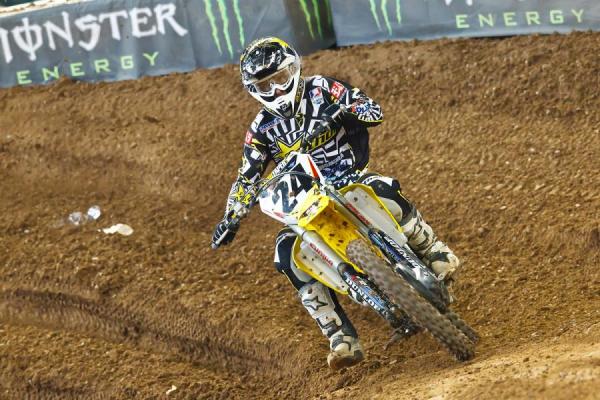 A crash in practice earlier this year. where he ran out of gas, will keep Metty on the sidelines through supercross.
Simon Cudby photo
Well, what leads to running out of gas? There are a million variables—you ran out of gas at Southwick two years ago. So anything can happen.
Yeah that's true. I ran out of gas at Southwick two years ago, and [Ryan] Dungey ran out of gas at Texas last year. Now with the four strokes it needs to be on peoples' radars that it can happen. I've been struck by a few things in my career that happened during the week that people didn't even know about. Back in 2009, on the 250, the engine locked up on like a 90-foot table top. I endoed and landed on my head. I was luckily able to walk away from that. In 2010 I had a chain break and I went over the bars on the face of a jump. I dislocated my ankle. Then I ran out of gas at Southwick on the GEICO Honda even with an oversized tank on. But all of those incidents, they were just mechanical things. On a motorcycle, things can and will break at any given time and as professionals we all understand and accept that fact. But this was a different set of circumstances. There was actually the wrong fuel tank on the bike, or if it was meant to be there, they never told me. At the time of the crash, I had it running through my head, 'How the heck did this just happen?' At the time I trusted in the team and they indicated to me that I would never run out—after Dungey ran out in 2011 and that would never happen again. It was frustrating. Once I had the surgery and got out of the hospital, I was looking over the bike and realized it had a stock tank. And stock tanks, they don't have enough capacity to run the full factory engine and our different mapping. That was the reason for the crash; the incorrect fuel tank was put on the bike.
How does that happen?
From my perspective, I would hope it was just an accident, but things like that aren't supposed to happen on factory teams. I haven't had any communication from them at all about it. I haven't gotten the bottom line on it and I probably won't get an answer. It was just unfortunate on my end to be on the short end of it. To my knowledge they have three fuel tanks, the stock one they had on my bike that day, the factory tank that's about a liter bigger, then a carbon fiber one that got made up after Dunge ran out last year while using the factory tank. We used the carbon one for racing and the factory tank for practice, but unfortunately on this day they didn't have either one on there.
Who preps your bike?
I live in California, so I'm 45 minutes from the factory Suzuki shop. So they prep up a bike in house, I generally go in there once a week, so that's pretty good for me to have a good bike to ride every week. But yeah, something was misplaced, and the incorrect tank was put on, and it shouldn't have happened.
A lot of times when a rider gets hurt due to a bike problem like this, the team has some sympathy and maybe offers the rider a deal for the next year—I know Andrew Short was hurt last year testing KTMs, and he could have come back to the team if he had wanted. So how did this impact your negotiations with the team?
Well, it changed a lot of things. For one, it changed my season because I wasn't able to race, so that hurt my chances to re-sign with Suzuki, or if they weren't interested, it hurt my chances of signing with another team. As far as Suzuki, I've tried to keep this as professional as I could, and that's why I haven't discussed this incident publicly until now. And when they asked for the bike back, I scrubbed it up as best as I could and returned it to them. Nothing was said since the crash, nothing has been said about what happened with the tank. So far my contract is expired and I haven't heard a word from them.
Traditionally your results do get better in the second half of the year—in both 2010 and 2011 your best finishes, including your win in 2011, happened late in the season.
Right and you can look back, since '08 the strongest point of my season really is the last half. And that's a little bit about how I set things up. There's no reason to take huge risks at the beginning of the season and put yourself out. So that was unfortunate to me to not get things rolling in the second half. But like you mentioned, it was only a little over a year ago that I won at Southwick, and it was with those guys at Yoshimura Suzuki. Since that time, the guys over here and the Japanese have been good to me. It was unfortunate that things ended the way they have. I had some good times with those guys.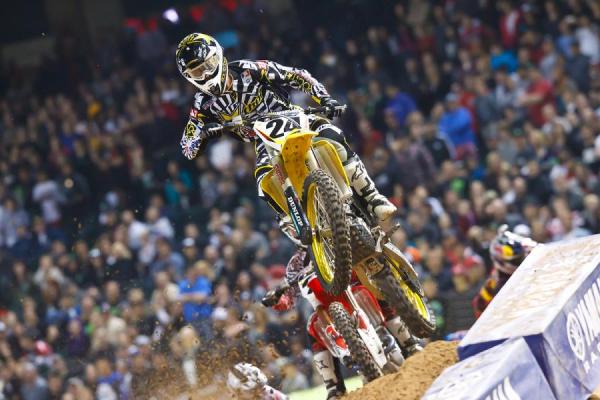 Metcalfe has been linked to Valli Yamaha for the 2013 season, but nothing is official.
Simon Cudby photo
We hear you're linked to the Valli team for next year. So, when do you get back on a bike, when do you race again, and who will you race for?
I'll start off with getting back on the bike. I won't come back until I'm 100 percent healthy, and that won't be in supercross next year. I've made a decision to race outdoors only for next year. I've talked to a few teams, and supercross is so big that's it's challenging to get a ride like that, but we've got a few things we're working on and they should be set soon. You can probably read about those rumors on other parts of Racer X! But for me personally I'm 28 years old, I'm not even near the end of my career yet. I don't want to come back too early in supercross, go down on my wrist and re-injure it. So my plan for now is outdoors only for 2013, then back to full-time supercross and motocross in 2014.
Through all of this you and your wife Sheena had your first child, a boy. What kind of condition where you in during that?
Yeah by then I was able to get into a walking boot, and use one crutch. I could only use one hand on a crutch because my other wrist was in a cast. So I was able to hobble around and support my wife Sheena through the whole process. Little Nash came out super healthy and everything turned out great, but it was a little nerve wracking for a while. When I crashed, I was thinking, 'This is the last thing I need to have happen right now.' And anyone who has been through both knows the wife can get a little cranky sometimes! So you just have to be there and give the most support you can. I was just glad I was able to hobble around and help her a little.
So the future looks good.
Yeah, I think there's a good picture being painted for the future. My position next year will have me racing the 450 nationals and being ready to go for another win. I'm looking forward to what the future holds.