Sam Boyd Stadium
Las Vegas

,

NV
Monster Energy Cup
Monster Energy Cup
The second-annual Monster Energy Cup has come and gone, and what a wild night it was. Early in the night there was a mechanical failure, mass confusion and a restart. And that was just the gate! Of course, Sam Boyd Stadium is known for producing crazy times, which prompted us to dig into The Vault and get bench racing about some of the other outrageous races that have taken place inside that very same stadium.
In case you haven't visited The Vault yet, or aren't quite sure what it is, allow us to fill you in. The Racer X Vault is a collection of every result from every single professional AMA motocross and supercross that has ever occurred. Want to know how Bob Hannah did at Cycle-Rama in 1975? Of course you do. Want to know where Barry Carsten finished in the points in the 1993 125 Eastern Regional SX season? Who doesn't? Want to shut your know-it-all bench racing riding buddy up by dropping some cold, hard facts on him? Well get clickin', because all that info and much, much more is just waiting for you to find it over at The Vault. But first, check out some of the wild results that have gone down in Sam Boyd Stadium, courtesy of The Vault.
The very first supercross race ever held inside Sam Boyd Stadium was won by Jeff Matiasevich in 1990. A young up-and-comer named Jeremy McGrath topped the field in the 125 West Class that same night. Although leading the points in the 250 class at the time, and looked on as a can't miss star, Matiasevich would never win another supercross race. McGrath? Yeah, he would go on to win some more.
In 1992, Damon Bradshaw found himself closing in on the 250 supercross title. With just four races left to go (Las Vegas wasn't the final race back then), Bradshaw was riding a seven-race-win wave of momentum. But in Sam Boyd Stadium, the train came off the tracks when Bradshaw came together with rival Jeff Matiasevich and went down in his heat race. Bradshaw was infuriated and his anger boiled over into the main when he came up behind Matiasevich, jumped out of an inside berm and deliberately T-boned Matiasevich, who was railing the outside. Bradshaw, who was later fined $1500 for the dirty move, finished ninth. He lost ten points to Jeff Stanton that night, who would go on to edge Bradshaw for the title by a mere three points.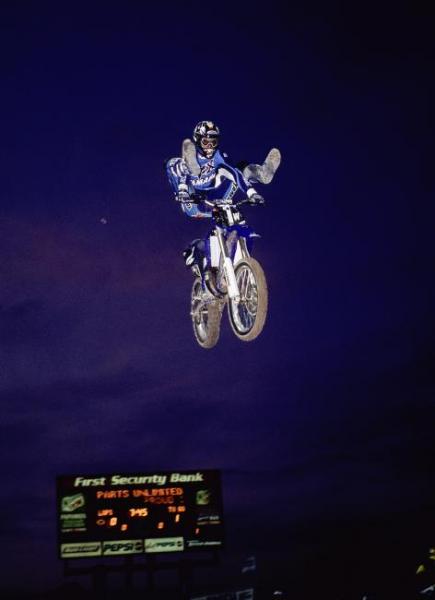 Kevin Windham was the first-ever winner of the Dave Coombs Sr. East/West Shootout.
Jim Sanderson photo
There have been some crazy times in Las Vegas, but one bizarre night in 1995 tops them all. The night was going along smoothly until the lights abruptly went out shortly before the main event got going. The promoter responded by bringing in portable emergency lights, but the situation was less than optimal, to say the least. Half the riders, including Jeremy McGrath, refused to race the event. Jeff Emig, who was one of the riders who chose to race amidst the chaos, secured his first premier class supercross win that night.
In 1997 the very first Dave Coombs Sr. East/West Shootout took place in Sam Boyd Stadium. Kevin Windham, that year's 125 Western Regional Supercross Champ, became the first to win the event by beating podium finishers John Dowd and David Pingree.
The 2006 finale saw Chad Reed and Ricky Carmichael come into Sam Boyd Stadium tied with 316 points each. Beating the other guy by half a millimeter meant walking away with the championship, but the two couldn't afford to get mired in a battle with each other, as James Stewart only trailed by several points. When the race concluded, Stewart took the checkers, followed by Carmichael. Carmichael took the title, while Stewart would edge Reed for second on the season. Reed and Stewart actually tied in points, but Stewart had won more races that year.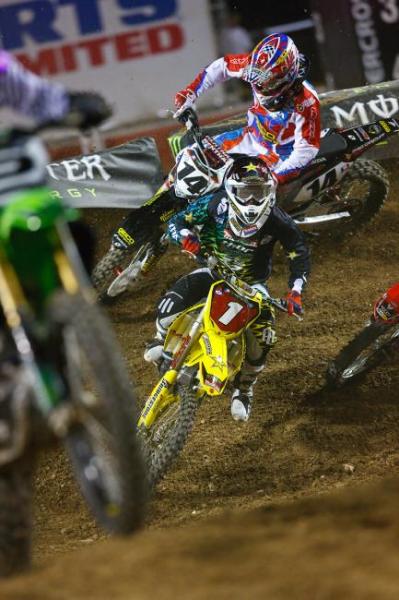 Reed fell short of the championship in Vegas in 2009.
Simon Cudby photo
The 2009 Las Vegas Supercross would see another epic title battle take place, this time between Stewart and Reed. Reed trailed Stewart by six points, and would need a crash or poor performance from Stewart to take the title. As the race played out, it was clear that Stewart was not going to finish far enough back to hand the title to Reed, and as Reed came up on Stewart in Monster Alley, he cut him off and gave him a love tap that sent Stewart off the track and caused moto-message boards across the country to immediately overheat and melt down. Stewart kept it upright and finished third behind Reed to secure the championship, while Ryan Villopoto would go on to win the second premier class supercross race of his career.
In 2011 Eli Tomac and Broc Tickle were deadlocked in a heated battle for the Western Regional SX Lites title. Separated by only two points (Tickle held the upper hand), both riders were faced with a do or die situation. If Tickle finished ahead of Tomac, he'd retain his points lead and become the champ. If Tomac finished ahead of Tickle, he'd either beat him by one point via a race win, or tie Tickle in points, which would still deliver Tomac the title due to his superior win count on the season. When the gate fell, all hell broke loose with both riders taking turns getting shuffled around in a pack of riders including Cole Seely, Josh Hansen, Ken Roczen and Kyle Cunningham. When it was over, Tickle had squeaked out a second place finish, Tomac finished fourth, and Ken Roczen secured his first every supercross victory.
There have been many other memorable nights in Sam Boyd Stadium, so click on over to The Vault and use the comment section below fill us in on what you believe to be some of the best nights of motorcycle racing in Las Vegas.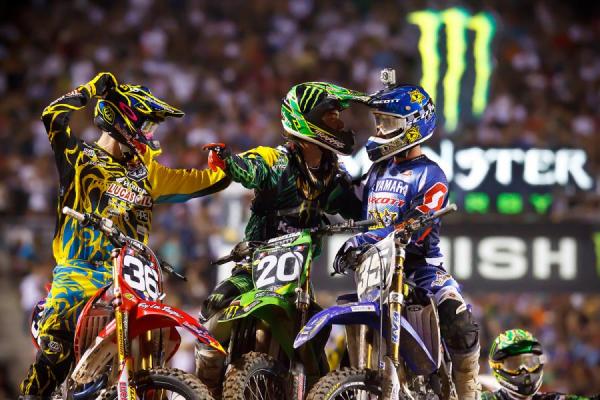 Broc Tickle (center) won a heated West Region Lites title at the finale in Vegas in 2011.
Simon Cudby photo