Sam Boyd Stadium
Las Vegas

,

NV
Monster Energy Cup
Monster Energy Cup
Before last weekend, there was just one more race on the calendar before hitting the snooze button and drifting off into the post season. Yep, the Monster Energy Cup, held right in my hometown of Las Vegas, Nev. The main sponsor, Monster, was very adamant to me that they do not want this event to be the 18th round of supercross. They wanted it to stand on its own and be different and unique in every way possible. And so with that in mind, did it work?
This is the second year of the event and last year in its inaugural running it was promoted more as a hybrid motocross and supercross track in the hope that it would attract some European racers. The phrase, "Supercross des Nations," was mentioned more than a few times by some people, but that idea failed to materialize. The track was very long, and it definitely had an outdoor-ish feel but in the end, I felt like the guys at Feld missed the mark. The mains were too long and the track wasn't very good, but the ideas and thoughts all had promise. I didn't come down on the guys very hard because I've been harping for years to switch up supercross and try some new innovations. I wasn't going to be the guy to say that the race sucked because I admired the limb that Feld sort of climbed out onto.
Since 1986, the supercross format has basically stayed the same as it is now. There are two classes with the smaller class divided into an East and a West region. Two heat races, an LCQ (we had semi races for years but those are gone--no real change made there) and a twenty lap main event (15 laps for the smaller class). Look at any sport you want; NFL, MLB, NHL, and there have major changes made to the game since 1986. Oh you say that we're nothing like the stick and ball sports and therefore, that's no comparison? Ok, I'll buy that. Look at IndyCar, F1 and NASCAR racing--all of those series have made major changes as well since the mid '80s. We need something in supercross, which is something I've gone on and on about. The bikes are way faster than ever and the stadiums haven't gotten any bigger. It's time to adapt and change the way we've been doing things in order to see if we can get it more exciting. Evolve or die, as they say, and we haven't exactly been evolving much these days.

The Talla-Vega turn worked my better than last year's venture into the stands.
Simon Cudby photo
Holeshot and passing points, reverse gate pick order, a "chase" style format, five races that have two-ten lap main events to see who's a sprint specialist, a twenty-minute main event, regardless of laps, one solid 250 Class at all the rounds, whatever you want to do, I'm down with it. If it doesn't work, we can change it back. The worst thing we can do as teams, riders, media and promoters is stick our heads in the sand and pretend that everything is fine.
The "SXDN" format isn't going to happen. The Euro guys don't want to travel thousands of miles just to get beat down, so this year, the outdoor-ish section was mostly eliminated and it was basically a supercross track with no whoops. I liked it and thought it was much better than last year's track. The section that went into the stands was approximately 374 percent better than last year, the three main events were shortened and there were no qualifying races. All the main event guys were selected from timed practices. There was also the addition of the Joker Lane (maybe a better name for that next year guys?) that added about four seconds to your lap time and you had to take it one time per main event. Add in a split start and you have one hell of a different event. This isn't your 18th round of supercross, that's for sure.
So did it work? How was it? What do I think? I think that the event was significantly better than last year and if last year's race was a double, this one was a home run. The guys at Monster and Feld, along with Ricky Carmichael (who designed the track and redeemed himself after last year's design) deserve some credit for making positive changes in each and every way. I can't think of anything the guys did that wasn't positive or didn't work.
The lane going into the stands offered more passing and options for the guys, the straightaway with sand rollers was awesome, the joker lane added mystique and excitement to the race, and even affected the race itself in the third main. The split start was exciting (ok, a tad sketchy, I'll give you that; after all the rear brake is on the right hand side and a couple of switchbacks aren't the best way to be on it) and as I said, great job to everyone involved. I haven't been this excited after watching something since Jaws came out on Blu-ray.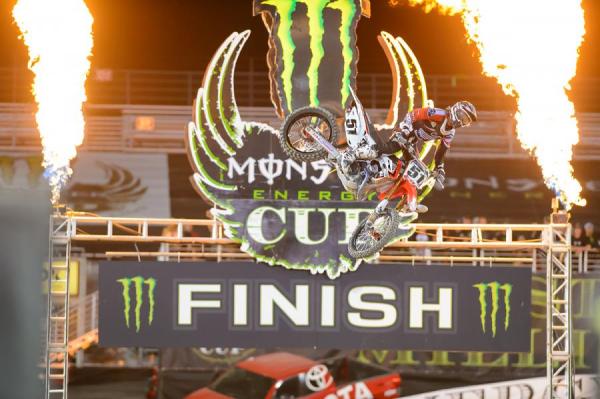 Justin Barcia was the big winner at the MEC in his Muscle Milk Honda debut.
Simon Cudby photo
So what should we, and what can we, take from this race into supercross? All of it! Part of it! Some of it! Whatever you can! We need to do something to supercross to liven it up (and the announcement of the KTM Jr SX Challenge coming back for five rounds next year just doesn't cut it for me. Especially after they stopped the kids from trying to double the triples), and the MEC is a breeding ground for new ideas. C'mon you teams and riders, open up your minds and let's try some crazy (for us) crap.
The big winner on the night was Honda Muscle Milk's Justin Barcia. Yep, the kid that many thought would be able to show something against the big dogs went out and won the whole darn shooting match. Besides being shocked at his speed (I thought he'd be fast but not THIS fast), I was also shocked at the fact that he didn't really get into it with anyone out there. Justin was very good, his starts have been on point all year and his debut ride on the debut race for the new 2013 CRF450 couldn't have gone any better.
After the race Justin didn't want to come off as cocky or expecting to win, but yeah, I think he felt that he can match up with anyone at any time. That's the attitude you have to have, and it's one that all the "big guys" have. Barcia's got that nice-sized chip on his shoulder and it's not coming off for anyone. I remember working for Yamaha in Chad Reed's debut season in the 250 Class and he shocked me a few times with his statements about RC, and how there was absolutely no respect given out on the track between any of the big names. Barcia's the same way and that's a big part of why he'll be successful in my opinion. If you're Honda and thinking of the upcoming 2013 SX season with Barcia, Reed and Canard, you've got to be thinking that you're looking pretty good.
Ok, the big news is that you can shred a ligament in your knee, get a replacement one out of a dead guy, install it in your knee and four months later, you're as good as new. And to that I say, who knew? Kawasaki's Ryan Villopoto came out in his first race since the knee injury suffered at Seattle and destroyed the guys in the first main event. Like, just wiped everyone else out like it was Anaheim 1 2012. But then he promptly wiped out while leading the second main and called it a night after that race. So it wasn't really a success for RV in the fact that he didn't win the overall, but he won the first main in a great ride and crashed out while leading the second. So yeah, he's got no issues with the knee, no issues with rustiness and really, he looks awesome. And he's only going to get better from here until Anaheim. That's a scary thought for his competition.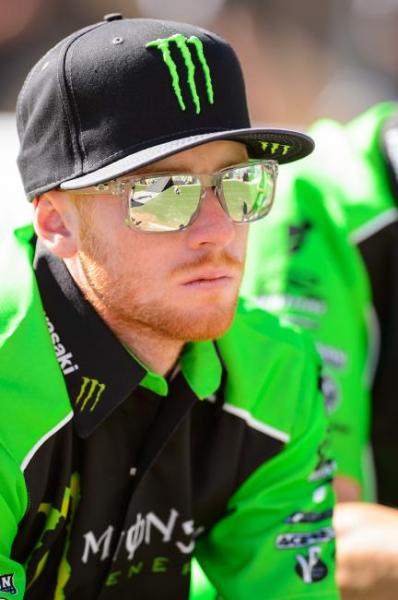 Villopoto looked sharp in his return from ACL surgery.
Simon Cudby photo
Big news for Villopoto and for Kawasaki in that they showed up with Showa air forks on both his and Jake Weimer's KX450Fs. Kawasaki has used KYB (Kayaba) suspension on their race bikes for, well, forever. This was big news made even bigger because the 2013 production Kawasaki KX450F comes with a KYB air fork. One would think that the natural move for the green team to make would be to go with the works KYB air fork, but instead they went with Showa.
Asking around with the guys on the team, they just fed me the usual stuff like looking to get better, trying everything out there and feeling like the Showa forks and shock were just a much better performing duo than the KYB stuff. But I have to think that the performance must have been a LOT better for the Kawi guys to switch. This is big news people, and it's going to be interesting to what the guys think about the new boingers as the 2013 season progresses.
A couple of years ago Kawasaki came out with a Showa fork for the production 250F that has a fork spring in only one fork. It's nothing new, it's been done for years, but it was a nice bit of weight savings. Well, now the Honda and Kawasaki guys have air forks and I imagine Suzuki won't be far behind. This technology stuff is interesting and the lesson is, as always, air is better than metal in all things but war.
Going into the MEC I thought that it was going to be a good race for Ryan Dungey, as he has kept his training and racing mentality the whole time due to the MXoN he raced. And in a way, it was a good race for Dungey as he ended up second overall on the night. And it's even more impressive considering that he bent his shifter in the first two motos by hitting a Tuff Block. This led to Dungey shifting his KTM in the air with his hand. Let me say that again: WITH HIS HAND. Very strange stuff, and it's impressive that he kept going out there with some pretty good speed. It's also an indicator of how good the 450 four-strokes are because, you know, he only one or two gears the entire track. This just in, Dungey's gnarly.
Chad Reed's got the perfect mindset (can I steal this from Jeff Emig?) for an older veteran guy. He's a two-time SX champion and hasn't been that focused this off-season on prepping for 2013 since recovering from his injury. Things are ramping up for the two-two, but he wasn't where he needed to be at the MEC and he knew that. The thing where his mindset comes in is that even though he got beat at the MEC, it doesn't affect him one bit. He's not the type to dwell on this stuff and think about how maybe he's lost his edge or whatever. Mentally, he's very strong, which goes along with being one of the greatest riders of all time I suppose. Anyway, in talking to Chad about the new Honda he admitted that at first he wasn't a fan, but the more and more time he spent on it has made him a believer in the machine and for the first time, he used the air forks on the bike and loved them. Now he's off to Australia to race the next three rounds of the Aussie SX series where I'm naming him as a huge favorite to win the next three rounds.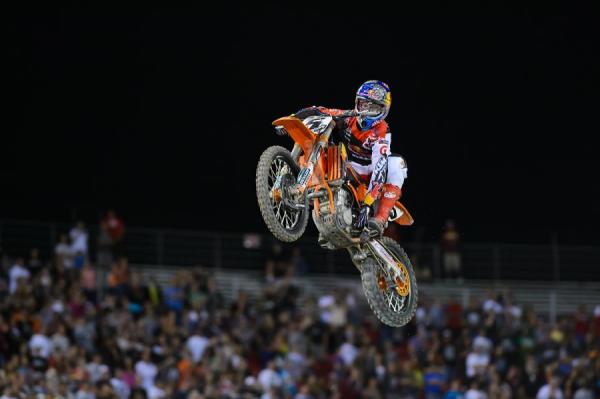 Simply amazing!
Simon Cudby photo
There were also Super Mini and Amateur All-Star races at the MEC, and perhaps you may have heard about this Adam Cianciarulo kid making his big bike debut? Yeah, I know, the one they have so cleverly nicknamed AC did seem to be a pretty big deal at the race, but I suppose that happens when you're a Monster-sponsored rider at a Monster event and you're one of the best mini-cycle racers around. But in the end, the winner of the race was Star Yamaha's Cooper Webb (a rival to AC in the mini ranks), who won the overall without winning a moto. Troy Lee Designs/Lucas Oil Honda's Shane McElrath won the first moto and AC won the second. There's no doubt that Cianciarulo did nothing to dispel the hype around him, especially considering he was going up against guys that had been on the bigger bikes much longer, but it also made me realize that there are some other fast guys coming up as well.
Let's take a gander at the results shall we?
Overall
Justin Barcia 2-1-2 Hon
Ryan Dungey 3-2-3 KTM
Eli Tomac 4-4-1 Hon- It's pretty obvious that Eli is really, really, really looking forward to his move to the 450 Class. He's always ridden the big bike well, and he mentioned after the race he'd like to ride some opposite coast 450 races, as well as the 450 outdoors. I hope he doesn't look so far forward that he kind of writes off the 250 Class and his defense of the number 1 plate. Tomac won the third moto with some gnarly speed and the Joker Lane that Barcia had to take made the pass easy for him. In a bit of a surprising move, Eli took it early in the race and then just hammered down to catch back up to Barcia. After the race, to no one's surprise, Barcia didn't like the Joker Lane while Eli said it was great. Shocking to see racers like something that goes their way and condemn something that doesn't.
Chad Reed 5-6-4 Hon
Josh Grant 6-5-5 Yam- Grant's debut ride for JGR Yamaha went pretty well. He was consistent in all three motos, which for Grant, is pretty good. I wonder what he thinks of the JGR Yamaha bike with a couple of seasons off of it, and all the work the team has put into it?
Kyle Cunningham 8-7-6 Yam- What is it about Las Vegas that helps out Cunningham? Kyle put in another good ride on the Star Racing Yamaha 450 to beat some pretty fast guys. He loves the hard dirt, no doubt about it.
Jake Canada 9-10-7 Suz- Canada rode an RMZ450, not his regular Honda 250F, and this has to be a real surprise right? Canada even battled with Reed at one point in the race, although Reed had gone through the Joker Lane and Canada had not. The plan for now on the MotoConcepts team is for Canada to do 250 West and then some 450 races on the East.
Kyle Chisholm 11-9-8 Kaw- Chisholm's MEC was a lot like his 2012 SX--it was all right, not great but not bad either. The Chiz has to get angrier off the start or something, and maybe throw four teeth on the back sprocket or something so he can get out there earlier.
Mike Alessi 7-3-19 Suz- Alessi came out with numbers that lit up for the opening ceremonies and then he proceeded to light it up in the second race when he got a third. In the third race he was looking good on the first lap but over jumped coming out of a rhythm section and bounced over a berm. His battle with Barcia indicates promising things for the 800 for 2013 SX season.
Ryan Villopoto 1-12-21
Justin Brayton 10-8-20 Yam- Brayton wasn't very good in his return for the JGR team, but remember last year when he debuted on the Honda and wasn't very good? Remember how good he's ridden in Vegas at the SX finals over the years? Weird, right?
Vince Friese 15-16-9 Suz
Jake Weimer 12-18-10 Kaw- Weimer didn't have a good MEC. Crashes (not all his fault) and more crashes hurt him. By the third moto, he probably felt like Larry Holmes in 1981.
Killy Rusk 14-17-11 Hon- I feel like this is a good result for Killy, right? We're happy about this right?
Antonio Balbi 13-13-16 Kaw- Balbi was back!
Christian Craig 21-11-12 Hon- I thought that Christian would be better, so not sure what happened. I know that he and Kyle Partridge almost came to blows off the track for something that happened on the track.
Austin Politelli 20-14-14 Hon- I've heard Politelli's name tossed around for a few 250 rides in supercross. You know who's a big fan? Jason Thomas, that's who. He's driving the Politelli bandwagon.
Ben LaMay 22-15-13 Yam- Where was the outdoor magic for LaMay? Where did it go?
Gareth Swanepoel 16-20-15 Suz- Gareth looked strange out there on the Suzuki after years on a Yamaha and in the end, he struggled a bit also.
Jeff Alessi 17-19-17 Suz- Jeff looked weird out there with #89.
Austin Howell 19-21-18 Suz- Yeah, NorCal!
Kyle Partridge 18-22-22 Suz – Yeah, Vegas local!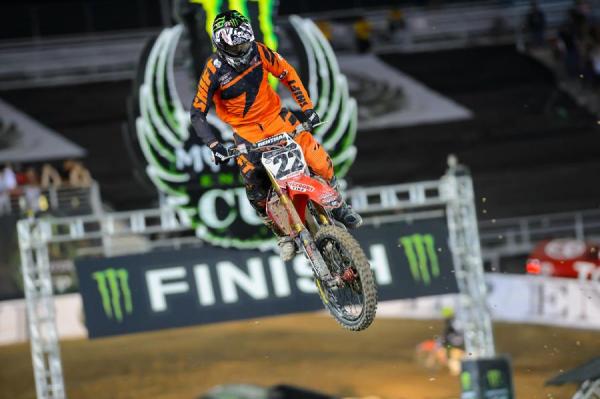 Reed is now headed to Australia to compete in the Australian SX series.
Simon Cudby photo
A couple of big name riders had terrible MEC races. Chris Blose and Tyler Bowers both failed to qualify for the main after crashes in the LCQ (which was held as the first race of the night; again, another hit!). Not disrespecting the riders that were in the 22-man main event, but how do Blose and Bowers not make the main event? Blose was on a KTM for a Mike Metzger-backed team of some sort and Bowers, the AX champion, is much better than what he showed.
Thanks for reading, email me at matthes@racerxonline.com if you want to share your thoughts with me on the MEC and all that went down.