It's been a roller coaster for Josh Grant the last few years, with injuries keeping him out of the races, and one-year stints with Team Honda and Jeff Ward Racing Kawasaki. Now he's back with the team he rode for in 2009 and 2010, signing a new deal with the JGR/Toyota Yamaha team for 2013. We caught up with JG during a recent test session at the JGR track in North Carolina to learn more.
Racer X: Okay, please explain how this all ended up happening. This is a strange development.
Josh Grant: Not at all, actually.
Well, it's rare that a rider comes back to a team in a pretty short amount of time.
Yeah, I think that tells you something, you don't see it happen very often with most riders, but I think it shows what this team thinks about me as a rider. It's a positive thing.
How would you say 2012 went? I know you got a slow start on the season, and you were hurt at this time a year ago, so how would you rate it?
Well, it all started when I signed with Honda for 2011 and ended up getting hurt pretty much that whole year. Having two ACL surgeries only allowed me to ride that bike at about four races. I did the first two supercrosses, Colorado and RedBud. And once I had gotten hurt again I had another six months off following the next surgery, so that didn't allow me to get on the Kawasaki with Jeff Ward Racing until about three weeks before Anaheim. So I think in the last three years, I had only raced about six supercross rounds, total. That was a big struggle for me, and I only had about three weeks to get ready, so my whole goal was to just race. Just be at the race. We did good, we started to build some momentum and improved the bike. We didn't have the resources to kind of improve the bike like the top guys, but at the same time, it was perfect where I didn't need to be rushed into making something happen, because I was just trying to get back into race mode.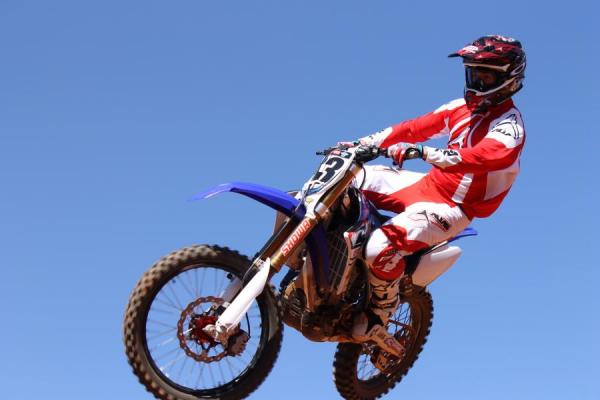 Josh Grant returns to JGR Yamaha after two years away.
Weege photo
So you felt like you needed a year like that?
Yeah. I needed a year to kind of be mellow, and not be the Josh Grant who would just send it, and either win or crash.
How did it end with that team?
Well, it was kind of weird. I had a two-year deal with JWR, but they were having some trouble with sponsorships, and they didn't know where they were going to be. So they told me there might not even be a team. And that came from the guy who actually owns it—Mike Kranyak, who is a good family friend. He just said, "Hey, we're not too sure, so if you want to go look somewhere else, you're more than welcome." He's helped me out through my whole amateur career, too, he's a good guy. So that led me back to talking to Jeremy [Albrecht] and Coy [Gibbs] with JGR and possibly coming back here. When they realized that was an option, it kind of lit everybody up, but Jeremy said they were going to have a hard time selling it to sponsors, because my results weren't really there this year. And that was due to the fact that I wasn't going fast, I was coming back from injury. So I said I would risk it for a few rounds just to show that I do have the speed to come back. And that was Washougal. [Note: Grant started the first Washougal moto second to Mike Alessi and held eventual champion Ryan Dungey behind him for several laps before crashing].
So you kind of felt like the whole time you were riding last year that you had more.
I knew I had it. But I wanted to slowly build up, instead of going out and doing it once and then having everyone expecting that each weekend. I wasn't worried about getting holeshots and stuff like that, because I was just trying to build myself back up.
And, you had a two-year deal, so you probably thought you had time to build back up.
Right. So when Jeremy and Coy asked me if I still have that flash, I was like, 'This is it. I have to show I still have it.' Even the podium I had at New Orleans, that wasn't the Josh Grant I know. That was just getting a good start and putting in 20 solid laps.
Then after Washougal, you were fastest in qualifying at Unadilla, and had an overall podium at Steel City. This year, you think we'll see a little bit more of the old Josh Grant?
Yeah. And I think Jeremy and these guys have seen it already, I'm riding pretty good right now, the bike is good and I'm comfortable. My goal for 2013 is to stay healthy and keep building that base, and have chances to win. I don't need to be the guy who is going to win every weekend, but I want to know it's a possibility.
And that's a different goal than 2012?
Yeah.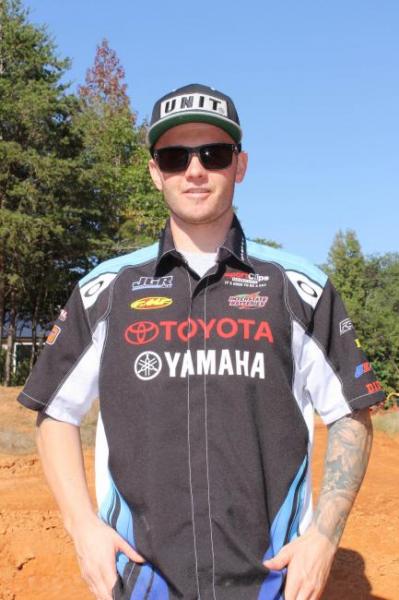 Grant will be sporting a familar look in 2013.
Weege photo
So you haven't been on this team since 2010. How much has changed? Does the bike seem totally different?
The bike is pretty different. What happened was, I had a pretty good year in 2009 with these guys, and we switched over to the new bike. I crashed right before Anaheim riding at Metty's and got hurt, so that set us in a spiral from there. I didn't get too much time on this bike, but we did win a moto in Colorado against Dungey, so we knew it was capable. At the same time, though, I didn't get much time to develop the bike. I think with a couple of years and some different riders they have used, including James [Stewart] to help develop it, when I first got on the bike, I was really surprised. You have to think of all the resources these guys have, between themselves and Yamaha. When a bike is new, you don't have many things out there you can try. Now that the bike has been out for a few years, we have a lot more things we can try.
So, back in your previous run with this team, they had the team concept where you had to live in North Carolina. How is that set up now?
Actually that was really the one reason we parted ways at the end of 2010. Ashley [wife] and I were getting ready to have a baby, and it would have been kind of hard to raise him on our own living back here. Back then, that was Coy's policy, so we said, 'Hey, we have to go home' and that was that. Now he's kind of opened up to letting you do your own thing as long as you're working hard. I have always liked it here, the only reason I left was because we had to. So, to have this facility and this kind of resource available to us on the east coast, it's really good. But I'm glad that Ash and I get to be around our family back in California, too.
But you will be back here.
Yeah, I've been out here for a few weeks already, and the plan is to look for a place to stay here over the summer, too.
So it sounds like with both of these moves, leaving this team in 2010, and leaving the JWR team now, none of these moves ended on bad terms.
No, no, no. I still like the guys over at JWR, and I still talk to them all the time, Paul and Oscar and all of those guys. It's not like we had a big falling out, it was Mike just being cool enough to tell me I might want to look around. You never know with this sport, it's all sponsor driven. So I felt like it was time to make a change when something didn't seem very sturdy. And I wasn't happy with some of guys who were joining the team—and not Dean Wilson, I like Dean, just some of the other guys in house. But I hope they do well, and I wish them all the best of luck.